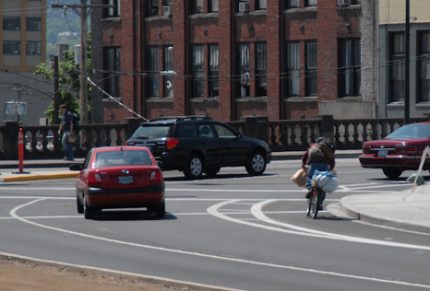 After re-striping and other changes by PBOT, people have more room on NE Couch.
(Watch slideshow below – Photos © J. Maus)
Reacting to publicity following a bike crash and an admitted lane striping mistake, PBOT has completed changes to NE Couch as it leads onto the Burnside Bridge — but the BTA says the lanes still pose a "safety risk for bicyclists."
Two weeks ago, safety concerns that resulted in a crash caught PBOT's attention. After realizing the lane striping was done incorrectly (a narrow lane was forcing cars into the bike lane), they decided to re-stripe the lanes along with other fixes to help facilitate safer travel by all modes.
The BTA took their concerns public (including air time on the 11 o'clock news) and two days later PBOT Director Sue Keil issued a formal statement outlining changes her department planned to make.
However, the BTA published a letter to Keil today saying that their safety concerns remain even with those changes in place. Also in that letter, BTA Advocacy Campaign Manager Gerik Kransky requested an on-site meeting with PBOT engineers to share input and come up with more improvements.
Today, Mayor Sam Adams' transportation policy advisor Katja Dillmann told me they disagree with the BTA's assessment. "We don't view it as dangerous… But at the same time we also feel it's not functioning at the perceived level of safety we'd like." Dillman maintained that they feel the bike lane is safe, but they'd like it to be "more comfortable for novice and intermediate riders."
"We don't view it as dangerous… But at the same time we also feel it's not functioning at the perceived level of safety we'd like."
— Katja Dillmann, transportation policy advisor for Mayor Sam Adams
To do that, PBOT has re-striped the bike lane to make it wider (from 5 to 6 feet). They've also widened the adjacent travel lane to give cars more breathing room and discourage encroachment. A buffered lane treatment with hash-marks and bumps on the outside stripes have also been added to the second (and more notorious) curve. Dillman said the bumps are to give people in cars "sensory feedback."
Dillmann said the matter has now been turned over to PBOT traffic engineers who are analyzing the situation and are due to report back with additional fixes. Dillmann said it was too early to elaborate on what specific options might be considered feasible. She attended the Bicycle Advisory Committee meeting last week to solicit input from citizens and members.
Meanwhile, members of grassroots transportation advocacy group, Active Right of Way (AROW, formerly TransCon) have been adding their ideas to a discussion thread titled, "We need more than paint — Couch St."
Among the ideas being thrown around include getting rid of the bike lane altogether, adding sharrows, and encouraging slower motor vehicle speeds.
I observed traffic at this location a few hours ago and found that the lane re-striping has resulted in improved conditions. During my observation, no motor vehicles entered the bike lane (although a few came very close). So, in that respect, the lane might be technically safe, but I wouldn't bike there with my four-year old daughter (we'd be up on the sidewalk).
And that's the crux of a lot of the bikeway issues we have right now in Portland. They are technically safe in that they don't have a crash history and seasoned riders have no problem with them, but do they really live up to our 2030 Bike Plan, "Bike City USA" rhetoric? Where are the bold, connected, comfortable (for everyone), world-class bike facilities it will take to significantly move the needle beyond the "strong and fearless" riders? I can't wait to report on those.
It's not complicated and it doesn't have to be expensive. It simply takes political will and some confident decision-making.
Watch the slideshow below for more photos of NE Couch and chime in with a comment if you've ridden or driven on it:

Contact Jonathan at @jonathan_maus on Twitter, via email at maus.jonathan@gmail.com, or phone/text at 503-706-8804. Also, if you read and appreciate this site, please become a supporter.