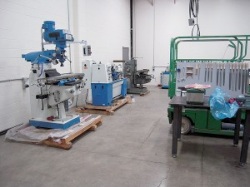 UBI's new frame building classroom.
(Photo: UBI)
The United Bicycle Institute will start its first framebuilding class on Monday (4/12) and the classes will be taught by two of Portland's most prominent frame builders — Tony Pereira and Joseph Ahearne.
Ashland-based UBI has been offering professional mechanic training courses since they opened their campus in North Portland back in October. Since then, they've been working to renovate one of their buildings (on the corner of North Williams and Shaver) to house their frame building classroom. Those renovations are now complete and brazing classes start Monday.
UBI announced yesterday that Portland-based builders Tony Pereira and Joseph Ahearne will assist with this Monday's brazing class. By summer, once they've learned UBI's curriculum, they'll teach their own classes. Pereira and Ahearne are both veterans of the craft who have won national acclaim for their work.
From the UBI:
"Both builders set new standards for creativity and quality with their brazed bikes, and we're excited to incorporate their input and talent into our frame building curriculum."
Ahearne and Pereira join an impressive list of UBI instructors that includes Mike DeSalvo, Jim Kish, Paul Sadoff (Rock Lobster), and UBI owner Ron Sutphin.
Learn more about UBI at BikeSchool.com and read previous coverage here.
If you have questions or feedback about this site or my work, feel free to contact me at @jonathan_maus on Twitter, via email at maus.jonathan@gmail.com, or phone/text at 503-706-8804. Also, if you read and appreciate this site, please become a supporter.