Posted by Jonathan Maus (Publisher/Editor) on February 11th, 2009 at 6:02 am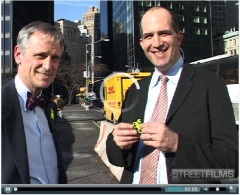 Rep. Blumenauer and Streetsblog's
Aaron Naparstek.
– Watch video below –
Streetfilms nabbed a few minutes with Congressman Earl Blumenauer during his recent visit to New York City. In the film below, Streetsblog Editor-in-Chief Aaron Naparstek asks Blumenauer how livable streets advocates can most effectively engage their leaders and influence national transportation policy (a very timely topic).

Blumenauer's advice? Make a difference locally to have a "galvaninzing effect" in illustrating to Congressmen how investments in biking, walking and transit can shape communities for the better. As for the stimulus bill, Blumenauer says it's been "harder than I would have liked" to get money for transit and bike/ped projects.
advertisement
In the nearly 7-minute film, Blumenauer has several important things to share about the stimulus bill, President Obama, and he even speaks about how bloggers can impact politics. You'll also see plenty of b-roll footage of Portland (and maybe even a few Blumenauer photos that might look familiar).