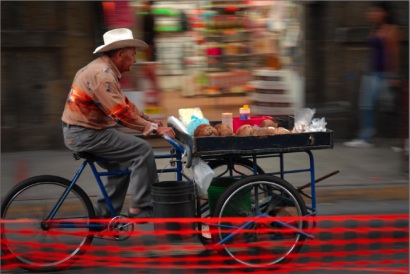 A hard-working (and pedaling) Tapatio makes his way through the streets of Old Guadalajara.
(Photos © J. Maus)
I arrived in Guadalajara on Tuesday. I'm here as a guest of the Portland Guadalajara Sister City Association to help share what I know about Portland's bike scene with the city's transportation department and urban planning students from Mexico's second most populous city.
I didn't have to wait long after leaving the airport to see my first Tapatio (that's what residents of Guadalajara are called) on two wheels. Despite the high-speeds of motor vehicles on the freeway/highway that goes from the airport into downtown, I saw several people biking in the shoulders. Most of them were even going against traffic.
At first I thought they were crazy, then it dawned on me that there might not be any other direct, paved roads for them to use.
We're staying at the Hotel Morales, just blocks from Guadalajara's famous historical plazas and buildings. Unfortunately, there is a massive roadway construction project underway that has many of the streets completely dug up. But on the bright side, I've learned that the project is part of an effort to re-vitalize the old-world charm of Guadalajara's downtown.
advertisement
Once settled into our hotel, I took my first walk into the heart of Old Guadalajara. A few blocks later I was standing in a lively plaza, an orchestra played in a gazebo and the setting sun drenched the stately facade of the Palacio de Gobierno (which houses an amazing mural by Orozco).
La Policia! (They rode in pairs).
This is a city that takes pride in public space. There are several large plazas in the historical part of downtown. Surrounding them is a network of pedestrian-only, outdoor shopping malls where people of all ages and social classes mix together and can buy everything from fabric for a new dress to spices and cell phones.
As for biking, the going is pretty tough. But that being said, I saw a steady stream of riders.
A messenger?
Not surprisingly, the bike of choice around here is a fat-tired, fully suspended mountain bike. The roads are bumpy and there are no on-street bike facilities at all. Since this is an old city, the streets are also quite narrow (one of them was no wider than ten feet curb-to-curb — but that didn't stop huge buses from barreling down them!).
I saw several Tapatios who make their living with a bicycle. I spotted a newspaper delivery man, a food delivery bike, and several cargo tricycles (including an old man pedaling loaves of bread). I also noticed many of what I assume to be a standard-issue messenger bikes with a large plastic crate (sometimes with a lid) attached to a rear rack. It was also nice to see several active police bike patrol units weaving through the plazas.
There weren't many people biking out of pure choice, although I did see what looked like commuters riding home from work.
The one bike facility highlight I stumbled across today was a bike rack. The racks had oddly shaped tubing (for a wide variety of tires sizes I presume) that could fit nine bikes. In the middle was a very nicely designed column used for signage that had arrows and time estimates for points of interest.
Biking is not completely absent from the streetscape, but here in Guadalajara, cars are clearly king. And where there are not cars, there are buses. Huge, loud, diesel-guzzling buses that have little regard for any right-of-way but their own.
Not much space for bikes.
Despite a roadway engineering perspective that isn't as friendly to bicycles as I'm used to in Portland, Guadalajara has something much more exciting going for it — a lively street culture. Of course, they have three-times our population, but still, it was inspiring to be around so many content people enjoying carfree public space.
Tiny babies ran through "globos" (bubbles) and chased pigeons while their "abuelos" (grandpas) caught up on the latest gossip and amorous young couples enjoyed each other's company in the evening breeze.
Stay tuned for more of my reports from Guadalajara (I return to Portland on Monday 2/16). On our agenda is a meeting with Mayor Alfonso Petersen Farah, a bike tour, and more…
— See more photos from Guadalajara in the Photo Gallery.