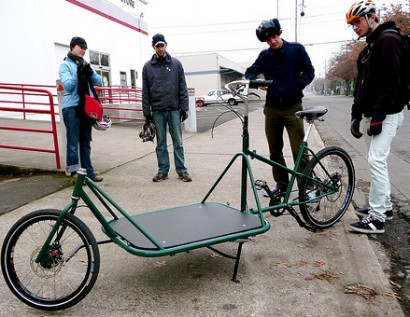 The CETMA cargo bike during a preview/test-ride session at Clever Cycles earlier this month.
(Photo:
cleverchimp on Flickr
)
When Clever Cycles co-owner Todd Fahrner speaks, I listen. That's because long before he helped make his shop a raging success, I knew him as an innovator and a deep thinker when it came to the geeky side of bike love (and no, I'm not saying this because his shop advertises with us). Bottom line is, Fahrner knows bikes. Especially cargo bikes, and he's not an easy critic to win over.
So when I heard he was excited about the latest creation from CETMA Racks' Lane Kagay, I took note.
Kagay is known for his well-reputed front-loader racks, made in his shop in Eugene. They're well-made and as a result they're sold in bike shops across the country. Over the past year, Kagay has been busy fine-tuning a another front-loader — a cargo bike.
Kagay delivered a sample of the production-ready version to Clever Cycles last month and Fahrner stopped by our office last Thursday for a test-ride.
advertisement
As I pedaled the bike around the block I asked Fahrner (he was sitting in the cargo deck) why he's such a believer. For starters, Fahrner said, Kagay took in a lot of advice and feedback throughout the design process. Kagay used the CETMA website as a sort of cargo bike development blog, where he detailed every step of the design/build process, open-source style.
Fahrner also pointed out that the bike has a promising strength-to-weight ratio. The main reason for this is in the design of the cargo deck. "The usual design for the cargo box," he said, "is to have one, overbuilt rod with a heavy box, which has no structural value". The CETMA design has more of a perimeter frame construction, which Fahrner says is a more efficient use of material.
Another noteworthy feature of the bike is its separability (is that a word? Kagay uses the term "bi-partable"). Just a few inches behind the head tube, the bike can be unbolted. This means different modules can be attached to the front (say, if you want a shorter cargo deck), and the bike is easier to ship.
Kagay says the bike can be broken down into a standard UPS shipping box and can get to any doorstep in the U.S. for about $200 (or ship it via Amtrak and pick up at a station for $50).
Lower weight than the traditional bakfiets, combined with an ability to use a different front end, is especially appealing to Fahrner because it means he would be able to install his Stokemonkey electric assist unit to it. Fahrner developed the Stokemonkey before he had visions of opening his own bike shop. Then, when the store opened, he shifted focus to the business and shelved the project (it is now available once again from Cleverchimp, the in-house brand of Clever Cycles).
Fahrner has been reluctant to "Stoke" (to install a Stokemonkey) a Dutch bakfiets because the weight of the bike, combined with the long front end, makes stopping (with the added juice of electric assist) difficult. The CETMA cargo bike provides a much better platform for the Stokemonkey (not to mention it has disc brakes versus hub-brakes on the bakfiets). Fahrner also likes the downtube design, which is sort of like a mixte, because it provides a perfectly sized space to house the Stokemonkey hardware.
According to Kagay, the new CETMA cargo bike is in full production and available now. Would-be buyers can choose between either a frameset, which they can build up with custom parts, or as a complete bike with a build of "good-quality components".
Frame sets are $1,850 and complete bikes go for $2,900 (plus shipping on both).
Fahrner says he's hopeful that the pricing structure will permit Clever Cycles to stock them and become a dealer, but that remains to be seen. U.S.-made bikes from small manufacturers like CETMA often have a hard time building in enough pricing margin to make anything but manufacturer-direct sales a reality.
Regardless, the CETMA is a welcome sign that the cargo bike revolution is alive and well. Kagay has created a smooth-riding (even at low speeds), versatile hauler that is sure to make going carfree or car-lite an even more viable option.
For more information on the CETMA cargo bike, check out CETMACargo.com.