A very cool new sign.
(Photos: Adam Reiser)
Custom Bicycles of Portland — the new Guru Bicycles concept store we profiled a few weeks ago — had their first official day of business on Saturday.
The store offers a unique, Dell Computer-like approach to bike retail. Only one brand is offered and customers can choose any color, style, and parts build-up they want. The shop also features a cutting edge fitting studio and the bikes are custom-made in Quebec and ready to ride in about four weeks.
Shop owner Adam Reiser told me he got a lot of foot traffic over the weekend (as one might expect on the busy shopping street of NW 23rd).

Reiser also sent along photos of the shop's interior (see below) and said he's planned a grand opening "soiree" for the shop on December 4th during First Thursday (6:00 pm on NW 23rd between Johnson and Kearney).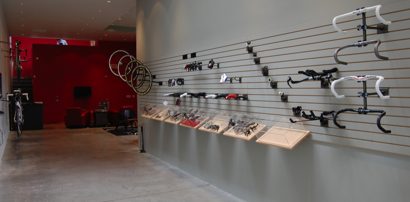 Pick your part.
Some examples of complete build options.
The fitting area.
It's great to see a shop like this open up on NW 23rd. From what I know about Reiser, Custom Bicycles of Portland is definitely a shop to watch.