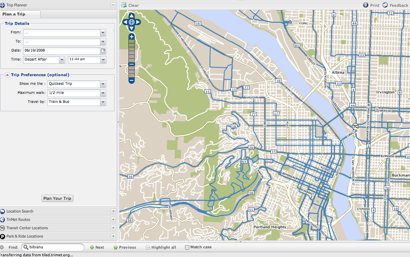 Screenshot from TriMet's new trip-planning map unveiled at the Carfree Conference yesterday.
Check it out here
.
During a presentation at the Towards Carfree Cities conference, TriMet unveiled a new, interactive trip-planning map.
A demonstration of the new map — available at maps.trimet.org — was given by Bibiana McHugh, TriMet's IT Manager for GIS and Location Based Services, at a presentation titled, How Online Information Can Encourage and Improve Carfree Mobility. The session was moderated by Joe Hughes, a software engineer from Google (he announced that Google Transit has gone mobile).
"We have a unique opportunity to change people's routines, and we hope this tool can help with that."
–Bibiana McHugh, TriMet
McHugh says TriMet's map is a new user interface built on top of their existing trip planner and it's integrated with Google Maps and Microsoft's Virtual Earth. This means users can interact with their trip itinerary in ways not possible with TriMet's existing map.
For instance, you can click to see Google Streetviews of Transit Centers and Park and Rides (where available) and you can also interact with your itinerary as it's laid out on the map. You can also zoom in and get detailed information for each stop location, such as amenities available (like bike racks) and see real-time arrival information via integration with TriMet's TransitTracker service.
What's even more exciting is that McHugh plans to overlay Metro's popular Bike There! map any day now and she is also working with Wyatt Baldwin of ByCycle.org and a team of developers with hopes to integrate bike trip-planning into the map as well.
(The Bike There! map overlay would not be interactive, but it would be very helpful to see bike routes in planning multi-modal trips.)
Also on the bike-route planning front, McHugh shared her enthusiasm for a product created by one of her co-panelists, David Emory. Emory is a transportation planner and citizen activist from Atlanta who has devoted hours of work to create a very impressive, multi-modal trip-planning tool that includes bike-friendly routes.
McHugh told me that once Emory open-sources his software code, TriMet will take a serious look at integrating that into their map for a truly multi-modal trip planning service (versus just mashing various tools together like they're doing now).
Clearly excited about the direction of this project, McHugh says,
"I never thought we'd get to this point. We were the first transit agency to have an interactive map, and when it came out in 2003 it was cutting-edge… but that was five years ago and it is clunky, old technology now."
She's also proud to have created the map with help from the open source community. "It's been really great working with them, and it also means that the development can be done for a lot less money."
High gas prices and record ridership numbers are not lost on McHugh. "Right now is a really interesting time," she said, "we have a unique opportunity to change people's routines, and we hope this tool can help with that."
Currently, the map works best on Firefox browsers but McHugh says they'll have all the bugs worked out for Internet Explorer by the public launch date of August 8th.
Check out the map at maps.trimet.org.