Posted by Jonathan Maus (Publisher/Editor) on April 14th, 2008 at 2:03 pm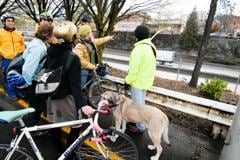 A group of concerned citizens look
out over I-405 at the future location of a
Flanders Street overpass.
(Photos © J. Maus)
A group of citizens and advocates led by the Willamette Pedestrian Coalition and the Bicycle Transportation Alliance will host a rally and walking tours of the area around the proposed location of a new I-405 overpass at Flanders Street in Northwest Portland.

The event is scheduled for Thursday and organizers say they hope to raise awareness of the urgent need of a safe crossing between two of Portland's densest neighborhoods. The event is intended to demonstrate public support for relocating the Sauvie Island Bridge span to Northwest Portland.
Transportation activist (and BikePortland.org contributor) Elly Blue helped plan the event. In a press release about the event she said, "It's currently impossible to travel safely and directly between two halves of our city…The basic right to free mobility is at stake here. We intend to use this effort as a springboard to take on dangerous intersections all over the city, particularly around freeways."
At the event, experts on traffic safety, transportation planning and local history will lead tours and answer questions about the bridge's new site and the currently existing options.
Flanders Street Bridge Walk and Rally
Walking tours of the proposed Sauvie Island Bridge relocation site
Thursday, 4/17
Press event at 5:00, tours leave at 5:15 and 5:30.
Location: NW 15th and Flanders
Jonathan Maus is BikePortland's editor, publisher and founder. Contact him at @jonathan_maus on Twitter or via email at maus.jonathan@gmail.com or phone at 503-706-8804 (texts ok).