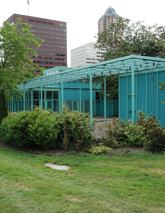 The former McCalls Restaurant building.
(Photos © J. Maus)
The Portland Parks Bureau wants to re-imagine and renovate the old McCall's Restaurant site in Waterfront Park (just south of Salmon Street Fountain).
As part of their ongoing process to select someone to redevelop and manage the building, Parks officials recently concluded a series of interviews with four groups that responded to a public request for proposals.
One of the remaining contenders for the contract is Ken Nichols. Nichols is the man behind Bike Republic and he wants to turn the architecturally significant building into cafe and bike rental/repair/retail shop.
The northeast corner of the existing building.
So far, Nichols has partnered up with bike advocate and businessman Richard Satnick (Laughing Planet Cafe) and Albertina Kerr Centers, a Portland-based non-profit organization.
The plan is for Satnick to sell the burritos and mexican food that has made his Laughing Planet Cafes (on SE Belmont and on N. Mississippi) a healthy success. Satnick will also deliver his food and drink by bike throughout downtown.
One of Wheel Fun Rentals' offerings.
(Photo: Wheel Fun Rentals)
The bike rental business will be operated by Kerr Family Bike Rental (under a franchise agreement with Wheel Fun Rentals). Nichols says Kerr will operate the bike rentals as a jobs program for their developmentally disabled clients.
Nichols himself will use the space to offer bike storage and parking, bike repair, and a small retail bike shop.
If he wins the contract, Nichols says he'll add a 10 kilowatt solar photovalic system to the patio (providing 40% of the building's power), manage 100% of his stormwater runoff, "address traffic flow of bicycles and pedestrians around the site", and restore the building to the former glory of its famous architect (John Yeon).
Other proposals still under consideration by the Parks Bureau are: Museum of the City, an effort to establish a new museum about urban planning and design of cities; Neo Design Studio, an interior architecture and design firm; and SM-Art Tower Group (I couldn't find any information about them).
An evaluation committee has conducted interviews and they will make a recommendation to the Parks Bureau and to Parks Commissioner Dan Saltzman. Public input will also be a part of the selection process and the final decision would be voted on by City Council. So far, no timeline for the decision has been set