A local bag maker has created a custom set of panniers that are just as gorgeous as the bike they were made for.
The bike is a custom commuter built by local builder Ira Ryan and the bags are the creation of Rebecca Pearcy. Pearcy founded Queen Bee Creations back in 1996 and has seen her business blossom in the past decade.
Her handbags and wallets can be seen all over town, but this is the first set of panniers she's ever made. I wanted to share them with you not just because they local and quite stylish, but also because Pearcy says she wants to measure interest in the bags in order to decide if she should make them part of her regular offerings.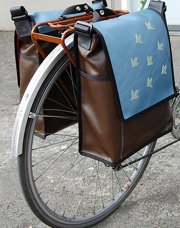 The bags are made out of a high-quality waterproof marine/auto vinyl material (Pearcy notes that she is working on a non-pvc material for future bags) and they're lined with water-resistant nylon. Percy says the bags include an adjustable seat belt webbing strap so that the bag can be carried on the body, as well as a webbing handle on the back for lifting with the hands.
As you can see in the photo at right, the handles can be snapped together so both bags can be easily carried with one hand. Other features are plenty of pockets and a standard hook and bungee-cord attachment system.
As for pricing, Pearcy says that depends on whether or not they go into production, or if they remain custom only (like this first pair was). That being said, she gave me a ballpark estimate of $150-$250 each.
Pearcy says she's, "more of an avid maker of things, than an avid bicyclist," but adds that making bike bags would, "seem like one of the best things Queen Bee could produce, to inspire people to ride their bikes more!"
But she won't do it until she hears some feedback on the bags.
So what do you think? Would you like to see her make more of these? Check out a few more photos on the Queen Bee Flickr page and let us know what you think in the comments.
Contact Jonathan at @jonathan_maus on Twitter, via email at maus.jonathan@gmail.com, or phone/text at 503-706-8804. Also, if you read and appreciate this site, please become a supporter.