Kloeppel's fork for sale on eBay.
Back in December, someone broke into Mike Kloeppel's Woodstock neighborhood home and stole four of his "irreplaceable" high-end bikes.
A few months later Southeast Precinct police officers recovered two of them.
Fast forward to a few weeks ago.
Out of the blue Kloeppel got a call from someone in Wisconsin who said they just won a bid for a bike frame on eBay. The caller said he suspected the bike might be stolen (it had a low price and the headset and bottom bracket cups were still in the frame) so he Googled it, found Kloeppel's stolen bike listing and phone number, and gave him a call.
Once Kloeppel heard the description and saw the eBay listing he knew it was his beloved Niner frame.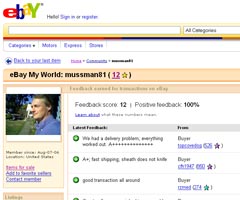 eBay profile of mussman81
A quick look at the seller's eBay profile (he goes by mussman81) and Kloeppel easily found the thief's name (Emil V. Mussman), a photo, and even his Gresham address!
Kloeppel also noticed other parts of his bike listed for sale (like his suspension fork). Once he had mussman81's phone number he punched it into a Craigslist search and found more items he suspected were stolen.
He then passed all this information on to Portland Police Detective Michael Frome who was working the case.
In the meantime, in order to engage Mussman and hopefully get more of his stuff back, Kloeppel won the bid for his suspension fork and had arranged to meet mussman81 to complete the transaction in a McDonald's parking lot.
Detective Frome was happy to hear Kloeppel had made these plans because he needed to witness Mussman sell the stolen fork in order to build his case and get a search warrant for his arrest.
So the stakeout was set. Here's a photo taken by Detective Frome at the McDonalds on SE 92nd and Powell that shows Kloeppel (left) and Mussman.
(Photo: Det. Michael Frome, Portland Police Bureau)
The stakeout went as planned and Det. Frome got his search warrant.
This morning at around 8:00am, Portland Police officers paid Mussman a visit. He was taken without incident to the Multnomah County Detention Center and charged with Theft in the First Degree and Possession of Methamphetamine, as well as a probation violation.
Kudos to the hard work and dedication of Detective Frome, that nice guy from Wisconsin and Mike Kloeppel's persistence.
Three down and one to go Mike! Let us know if that last one turns up…
Contact Jonathan at @jonathan_maus on Twitter, via email at maus.jonathan@gmail.com, or phone/text at 503-706-8804. Also, if you read and appreciate this site, please become a supporter.