Wednesday, April 14th, 2010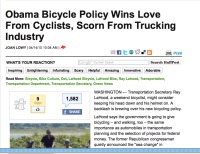 Headline on Huffington Post isn't quite true.
An Associated Press story about US DOT Secretary Ray LaHood that's making rounds on the Internet today (it's running on Huffington Post and BusinessWeek.com just to name a few) says there's "A backlash is brewing over his new bicycling policy."
There might be a backlash from some who still don't get it, but at least one voice of the trucking industry still thinks LaHood is great -- bike policy and all.
The policy is question is LaHood's recent proclamation that the Obama Administration will preside over the "end of favoring motorized transportation" over non-motorized modes. (more...)