Wednesday, August 14th, 2013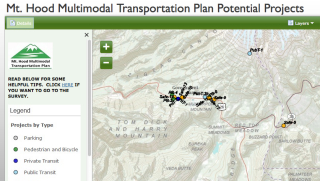 ODOT has created an interactive map of the projects.
The Oregon Department of Transportation (ODOT) has revealed their list of projects that could get funding through their Mt. Hood Multimodal Transportation Plan (MHMTP). Along with the list is an online survey where you can tell them which of the 40 projects you think are most important.
As we first covered back in March ODOT is putting a renewed focus on the highways that lead up to Mt. Hood (US 26/OR 35 between Sandy and Hood River) in an effort to improve safety and give people more options for traveling to and around the popular recreation area. This Multimodal Plan is a $650,000 effort to plan and then implement a number of small-scale projects that will make transit, walking, biking, and driving easier and safer. (more...)