Tuesday, November 4th, 2014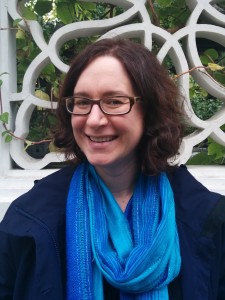 Talia Jacobson.
The Oregon Department of Transportation (ODOT) has a new voice on its transportation team. The agency announced last week that Talia Jacobson would be the new "ODOT Active Transportation Policy Lead."
Jacobson has been with ODOT as a transportation planner since 2008. In that time she's worked on major projects like the Southwest Corridor Plan, the Congestion Pricing Pilot Program, the Columbia River Crossing, the Sellwood Bridge and others. Jacobson is a graduate of the urban and regional planning program at Portland State University and she also has a degree in psychology (Whitman College) and a professional background in mental health and social services. At ODOT, she's used that background to lead internal trainings about diversity and cultural competency.
Asked about what she'll be working on at the 5,000-employee agency that holds many powerful cards in local and regional transportation decisions, Jacobson said that, "The Bicycle and Pedestrian Mode Plan is at the top of my list right now." (ODOT began an update to that plan back in April.)
(more…)