by Jonathan Maus ( Publisher/Editor ) on February 5th, 2013 at 11:27 am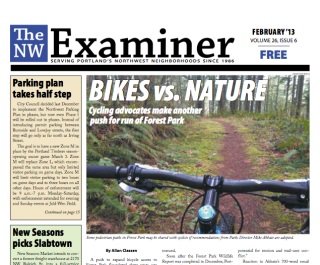 Bikes vs. Nature! Run for your lives! Front page
of February 2013 NW Examiner newspaper.
The debate about bike access in Forest Park has heated up once again. Last time we checked in on the issue we reported on a positive statement from City Commissioner Nick Fish. Then in December, Portland Parks & Recreation completed a Forest Park Wildlife Report that found, among other things, that bicycling does not pose a major threat to the park's ecology. Following on that, the Director of Parks, Mike Abbate shared his perspective on future recreational use in the park in an email to park stakeholders (which we've obtained).
With what seems like clear momentum from Portland Parks & Recreation for moving sensibly forward to expand bicycling opportunities in Forest Park, those who don't want that to happen are once again making their feelings known.
(more…)