Thursday, November 20th, 2014
With a few allies in other neighborhoods, it's possible to make huge changes to city neighborhood greenway plans. So step up — the time for your neighborhood association to shape the next round is right now.
(Photo: J.Maus/BikePortland)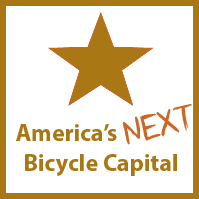 Part of our series of guest posts, America's Next Bicycle Capital, where we share community voices about the future of biking in Portland.
This week's guest writer is Terry Dublinski-Milton, land use and transportation chair of the North Tabor Neighborhood Association.
For years, Portland has been ahead of bicycling infrastructure curve. Recently, as has been reported on BikePortland, it seems we have lost much of our forward movement. But this may be changing.
As the transportation chair for the North Tabor Neighborhood Association, I knew a Transportation Systems Plan update was coming as part of the citywide Comprehensive Plan update. So over the past year, we've made significant progress towards our goals of having an integrated, interconnected network of bikeways north and east of Mount Tabor Park.