Tuesday, August 5th, 2014
City staffer Steve Hoyt-McBeth discussing possible bike projects at Portland City Hall, 2012.
(Photos J.Maus/BikePortland)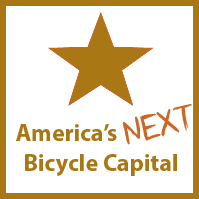 Part of our series of guest posts, America's Next Bicycle Capital, where we share community voices about the future of biking in Portland.
This week's guest writer is Kirk Paulsen (@PedalPortland), a traffic analyst for Lancaster Engineering.
If Portland is going to actually build its planned bike network, more people need to show up to neighborhood meetings to demand change. It's unfortunate that this is the case, but it is.
But here's the problem: this request from the city to active transportation advocates happens over and over again, with little increase in the number of people showing up. And this is Portland where, already, many more people are actively involved in transportation advocacy than in most any other place in the country.
Why aren't even more people showing up to the meetings? This is my personal experience with why more aren't.