Thursday, July 10th, 2014
This skill (standing up on the pedals) was several years in the making for the author. Yes, she still feels really cool every time.
(Photos by L. Mitchell.)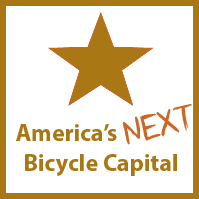 Part of our series of guest posts, America's Next Bicycle Capital, where we share community voices about the future of biking in Portland.
This week's guest writer is Talia Jacobson, a transportation planner and ten-year Portland resident.
For those who sort the world by the four types of cyclists (the Myers-Briggs of bike advocacy), most indicators would mark me "enthused and confident." I've been a full-time bike commuter for six years. I take lanes, haul groceries, and ride in just about any weather until ice gets involved. Run down the list of traits, and there's only one place I break type: skill level.
I could legally vote before I learned how to ride. Years later, there are still days when I'm a slapstick routine on two wheels.