Posted by Michael Andersen (News Editor) on April 11th, 2014 at 3:27 pm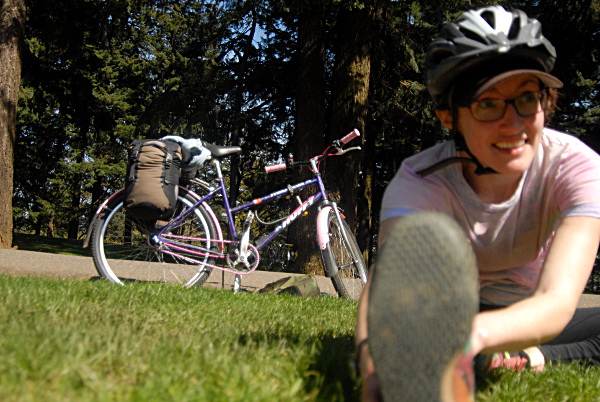 Every day, Rachael Pecore-Valdez trains by riding her 26-year-old Huffy to the top of Mount Tabor.
(Photos by M.Andersen/BikePortland)
Rachael Pecore-Valdez said her husband, for one, is thrilled that she's finally coming around to bikes.
She's a little nervous herself. For someone whose longest bike trip ever is 40 miles to Sauvie Island and back, a 1,200-mile, five-week mountain bike trek across most of Oregon will be, well, a leap.
"It's going to be painful," she said.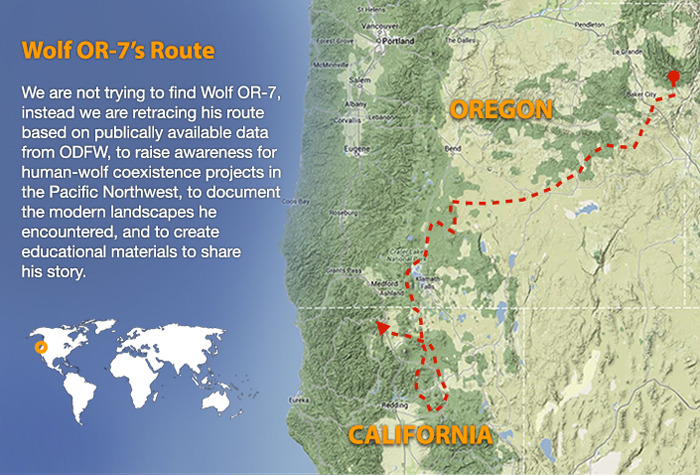 (Image by the Wolf OR-7 Expedition)
Pecore-Valdez, 36, leaves Portland May 17 as part of a six-person crew that's headed into the wilderness on bike, foot and van to follow the rough trail of OR-7, one of 64 wolves known to be living in Oregon right now. Though she doesn't hope or expect to find the four-year-old male, who made national news in 2011 as the state tracked him through the wilderness, she and her team are hoping to produce videos, photos and a blog that'll help spread awareness of wolves.
To prepare, Pecore-Valdez has been riding from her Southeast Portland home to the top of Mount Tabor almost every day for a month. She rides Riona, the battered purple 3-speed Huffy that her mother bought for her when she was 10.
"I didn't choose the colors," she said Thursday as she pulled Riona out of the household's storage shed.
Born in Aurora, Ore., Pecore-Valdez attended high school in Garibaldi and college at Oregon State University in Corvallis. She and her husband moved to Portland four years ago. They spent last year in Berlin and Freiburg, Germany, where he was working in renewable energy — and she was starting to enjoy biking for the first time in her adult life, thanks to Berlin's comfortable system of raised bikeways.
"I had time to dream," Pecore-Valdez said. "And this is what I came up with."
Wolves are also returning to Germany as they are to the West Coast, she said, and have again become a bigger part of the country's culture, as they were when the Grimm Brothers collected the folk stories that still shape public perceptions of the animal. Meanwhile, Pecore-Valdez, who had previously worked with aquatic wildlife as part of SOLV's beach cleanups, was becoming more interested in wildlife preservation.
Email This Post