by Michael Andersen (Contributor) on January 22nd, 2014 at 4:03 pm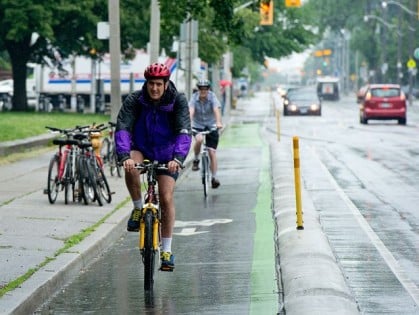 The new bike lane would be similar to this one in
Toronto, Washington County Bicycle-Pedestrian
Coordinator Shelley Oylear said.
(Image courtesy Washington County)
The main drag outside Nike's Washington County headquarters could soon be home to one of the region's first curb-protected bike lanes.
At an open house tomorrow, the county will present plans to widen 1.8 miles of Walker Road north and west of the fast-growing sportswear giant, making it a five-lane thoroughfare throughout the stretch and adding better sidewalks, storm drainage, street lighting and a low, rounded curb separating bike and auto traffic.
Washington County Bicycle and Pedestrian Coordinator Shelley Oylear said the project is part of a growing understanding in county government that it's impossible to build wider and wider roads forever — as the county gets more dense, there simply won't be space for almost all trips to involve a car.
"People are going to have to expect that if we build a four or five lane road, that's it," Oylear said in an interview last month.