Thanks to restoration efforts by Metro, a former landfill northeast of downtown St. Johns is already blooming with plants and wildlife. The next thing the agency wants to grow at the site is a path so more people can enjoy it.
Metro announced last week that initial design and engineering have begun on a new section of path and a carfree bridge that will go over Columbia Boulevard to connect Chimney Park to what's known as St. Johns Prairie, a 244 acre parcel of land between the slough and Smith and Bybee Lakes. The project is a joint effort between Metro, Portland Parks & Recreation and the Oregon Department of Transportation. In addition to the new bridge over Columbia Blvd, Metro is in early stages of design on 1.5 miles of new path and bridge that will connect Chimney Park over the Columbia Slough and onto the prairie, ending at a viewpoint overlooking the lakes.
Metro Senior Parks and Nature Planner Allan Schmidt said they've begun negotiations with a local engineering firm to design the new path. A public process to garner community feedback will begin early next year. Initial funding for the project comes from a service charge Metro collected on every ton of waste dumped at the landfill. More funding to complete the project still needs to be found.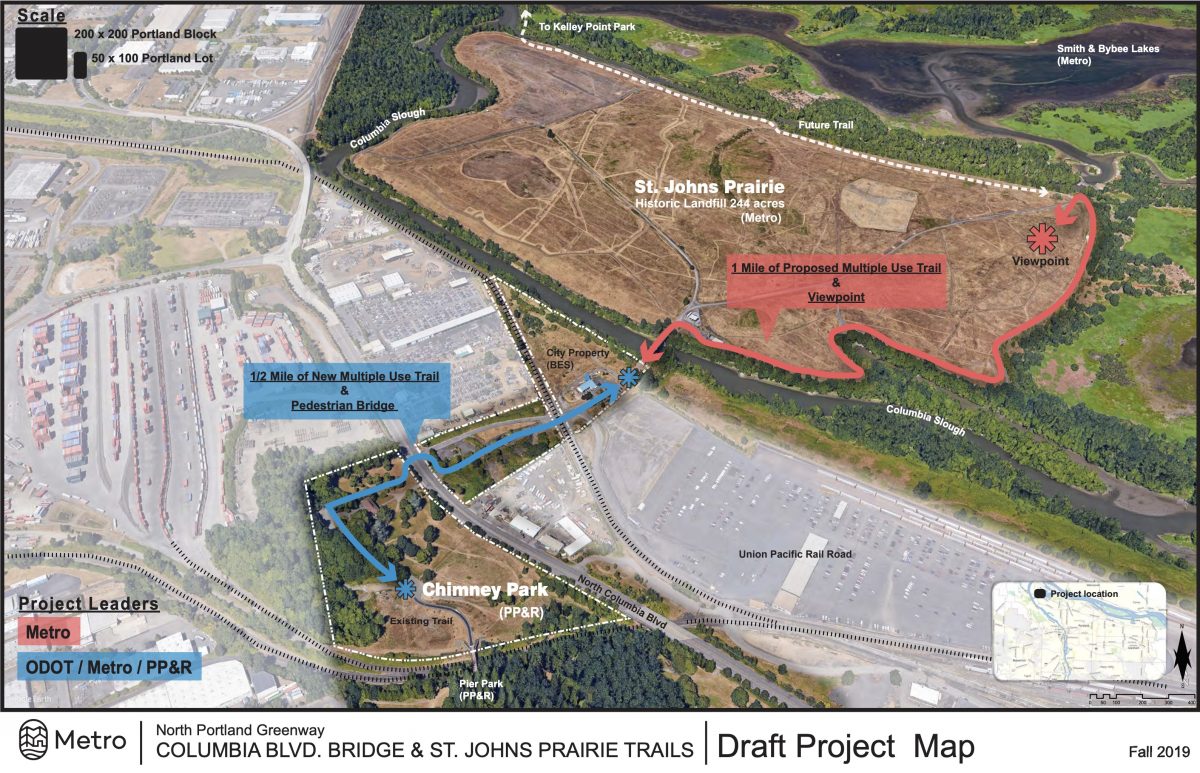 Work on the new bridge over Columbia Blvd began this week. That project is completely funded. Once initial design and engineering is done, public engagement will start next year.
Once complete, the new bridge and path will add about two miles to the North Portland Greenway and leave us tantalizingly close to having a carfree path from North Vancouver Avenue in the Piedmont neighborhood to Pier Park in St. Johns. PP&R completed a bridge that connects Pier Park to Chimney Park in 2014.
Sign up for project updates and learn more at OregonMetro.gov.
— Jonathan Maus: (503) 706-8804, @jonathan_maus on Twitter and jonathan@bikeportland.org
Never miss a story. Sign-up for the daily BP Headlines email.
BikePortland needs your support.