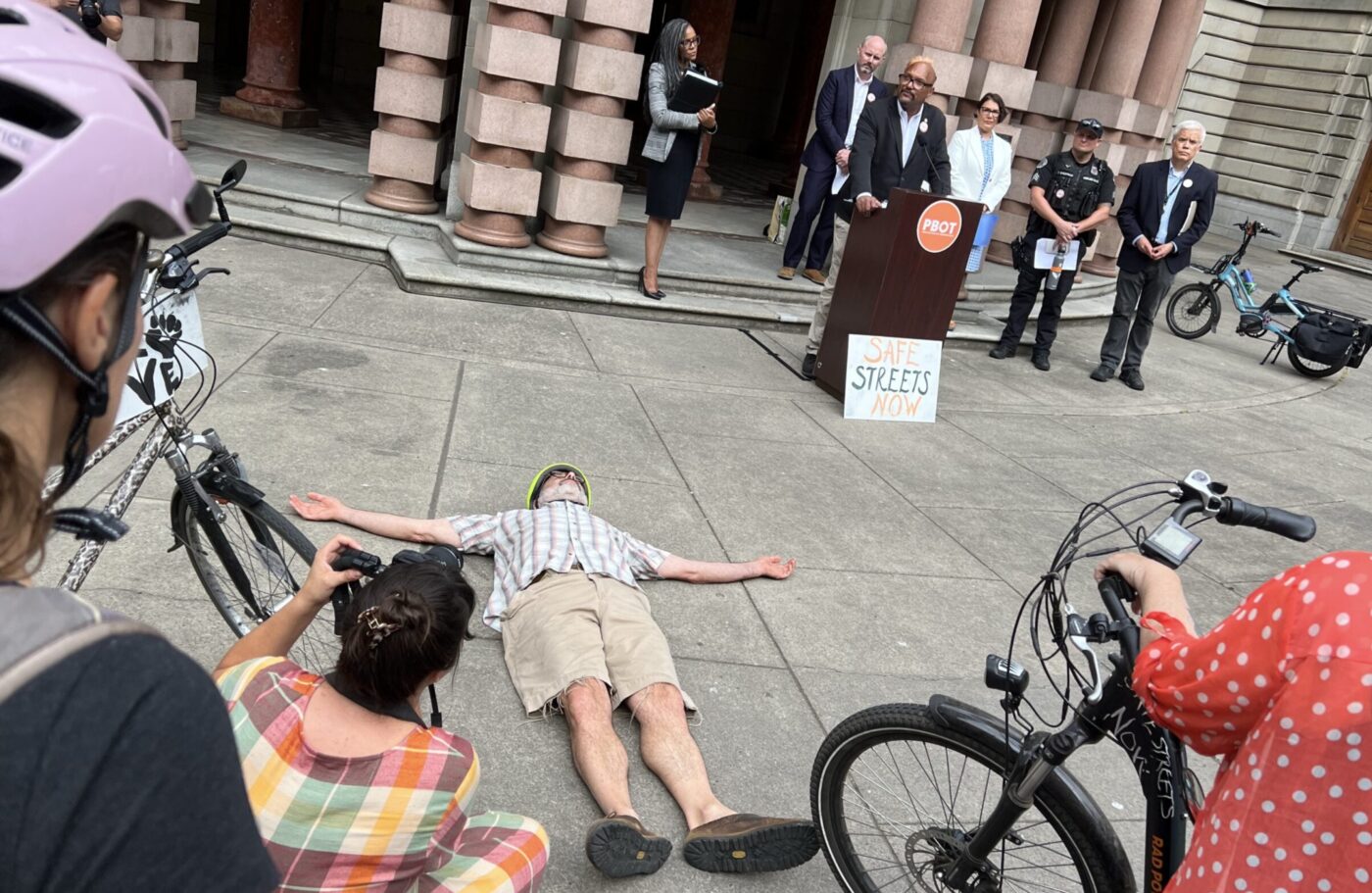 A phalanx of street safety advocates wearing the color of blood will gather on the front steps of Portland City Hall on Wednesday (9/6). Led by nonprofit BikeLoud PDX, the event aims to raise awareness and urgency to remedy what they feel is an "epidemic" of traffic deaths brought on by "streets designed to prioritize speed and capacity over safety."
The rally will coincide with an event planned by climate group 350 PDX who will be at City Hall to confront "reckless" city councilors they say are responsible for a "backdoor deal" with Zenith Energy, an oil company that operates on the Willamette River.
"We ask participants to wear red to represent traffic violence," says a statement from BikeLoud. "We will stand alongside our allies at 350PDX who also will wear red to bring attention to the City Council's negligence in allowing Zenith Oil to harm Portlanders by operating highly dangerous oil trains through our neighborhoods."
To put a finer point on the protest, BikeLoud has set out a list of four demands:
1) SAFE STREETS:

Our streets are failing us. We Demand the City to respond to every crash with a commitment to implement physical protection that protects our lives. The Safe System Approach is a USDOT program to rethink the planning, design, and operation of our road system to be forgiving of inevitable human mistakes, so that serious-injury outcomes are far less likely to occur. Implementing the Safe System Approach demands decision-makers do the right thing – to always choose to keep all people safe on our streets, whether they are walking, rolling, wheeling, or driving.

2) FUNDING:

The money is here. We demand our leaders fund safety first. Portland needs to fund programs that support Vision Zero, instead of forcing PBOT to cut programs and projects that keep us alive. A huge proportion of Portlanders do not have access to a car and have no choice but to be left unprotected on our roads. Ultimately: the most inequitable action is the City's lack of action allowing this harm to continue.

Pricing Options for Equitable Mobility (POEM) has a thoughtful menu of smart revenue building mechanisms that are linked to reducing traffic deaths and injuries. Another funding source could be to use liquor/cannabis sales to tax a fund for victims of DUI-involved crashes. We demand Portland reprioritize where our transportation money goes and support safety first.

3) AUTOMATIC ENFORCEMENT:

Short-term: Provide a detailed memo of what is delaying the implementation of roadway traffic safety cameras throughout High Crash Corridors (HCC). Use your positions as leaders to elevate this critical piece of planned infrastructure to state and federal supporters to remove barriers in procuring traffic cameras.

Long-term: Implement automatic enforcement as a standard on Rose Lanes/enhanced transit corridors that will be placed on many high-crash corridors in the next 10 years per the current METRO RTP. Outline clear goals for future expansion of traffic camera locations, including speed enforcement for all schools on arterial streets.

4) VEHICLES:

Large cars are killing us. Oversized, overpowered cars and pickups are 90% more likely to seriously injure or kill people walking, and 50% more likely to injure or kill people in other cars. While there's no way to completely limit the size of vehicles permitted on Portland's streets, the City can discourage their use with registration fees and parking permits tied to vehicle size. As vehicles have gotten larger, it's become more critical that we consider limiting their size as they have a profound impact on roadway users outside these vehicles. Use your roles as city leaders to work with the US Department of Transportation and National Highway Traffic Safety Administration to rein in oversized vehicles on our roads.
This rally comes one month after protestors shouted-down Portland Bureau of Transportation Commissioner Mingus Mapps at a press conference back in August. Mapps held that event after a record 13 people were killed using Portland roads in just one month. After a fatality-free August, there have been two traffic deaths so far this month, bringing the annual total to 47.
Despite telling protestors in August that he shares their rage and frustration, and that the current state of our roads is a "dire threat to public safety," Mapps has revealed no new plans or further statements about how he's going to turn things around.
In the past 10 days, we're aware of at least two horrific cases of drivers showing complete disregard for human life and using their vehicles to badly injure unprotected road users. On August 26th, a woman intentionally drove into a teenager who was walking near NE 72nd and Lombard in the Cully neighborhood. The victim was sent to the ICU with life-threatening injuries and the driver was arrested for attempted murder. And last Thursday, a person drove their car into a bike lane on NE 21st Avenue and slammed into a bike rider going the opposite direction. The rider was injured and is on the road to recovery, while the driver was arrested Sunday (and then released yesterday) for felony hit-and-run.
On August 18th, BikeLoud was one of six local advocacy groups that signed onto a letter to local leaders calling for more action to make streets safe. Following the protest tomorrow, current BikeLoud Chair Nic Cota and another volunteer have signed up to testify in front of Mayor Ted Wheeler and other council members. That testimony is part of the coordinated plan outlined in the 8/18 letter where local groups say they'll do more lobbying at council each week to make sure leaders hear their voices.
The BikeLoud protest will take place on Wednesday morning from 8:30 to 9:30 am (to coincide with City Council meeting) at City Hall. More info here.