The 40 Mile Loop is having a moment.
The 150-plus mile network* of off-street paths that marks its origin to 1983 — and the similarly named nonprofit group behind it — is coming off its most successful funding year in over two decades and was just recognized by Portland City Council with high praise and an official proclamation to mark its 40th birthday.
Why? Well there's something to be said for anything that remains vibrant after 40 years. Then there's the positive feedback loop where each piece of new path makes the network more valuable, which makes it easier to get new pieces of path funded, and so on.
It helps too that the seed for the idea is 120 years old and came from the Olmsted brothers who envisioned an interconnected system of paths and trails around Portland that would keep everyday folks in close proximity to parks and nature. (The effort to build it began in earnest during the gasoline shortages of the 1970s when planners wanted to give folks a way to get around without a car.)
Another factor in this success are volunteers with the 40 Mile Loop Land Trust. One of them, retired Portland Parks planner Jim Sjulin, has done yeoman's work to (quite literally) put the path network on the map.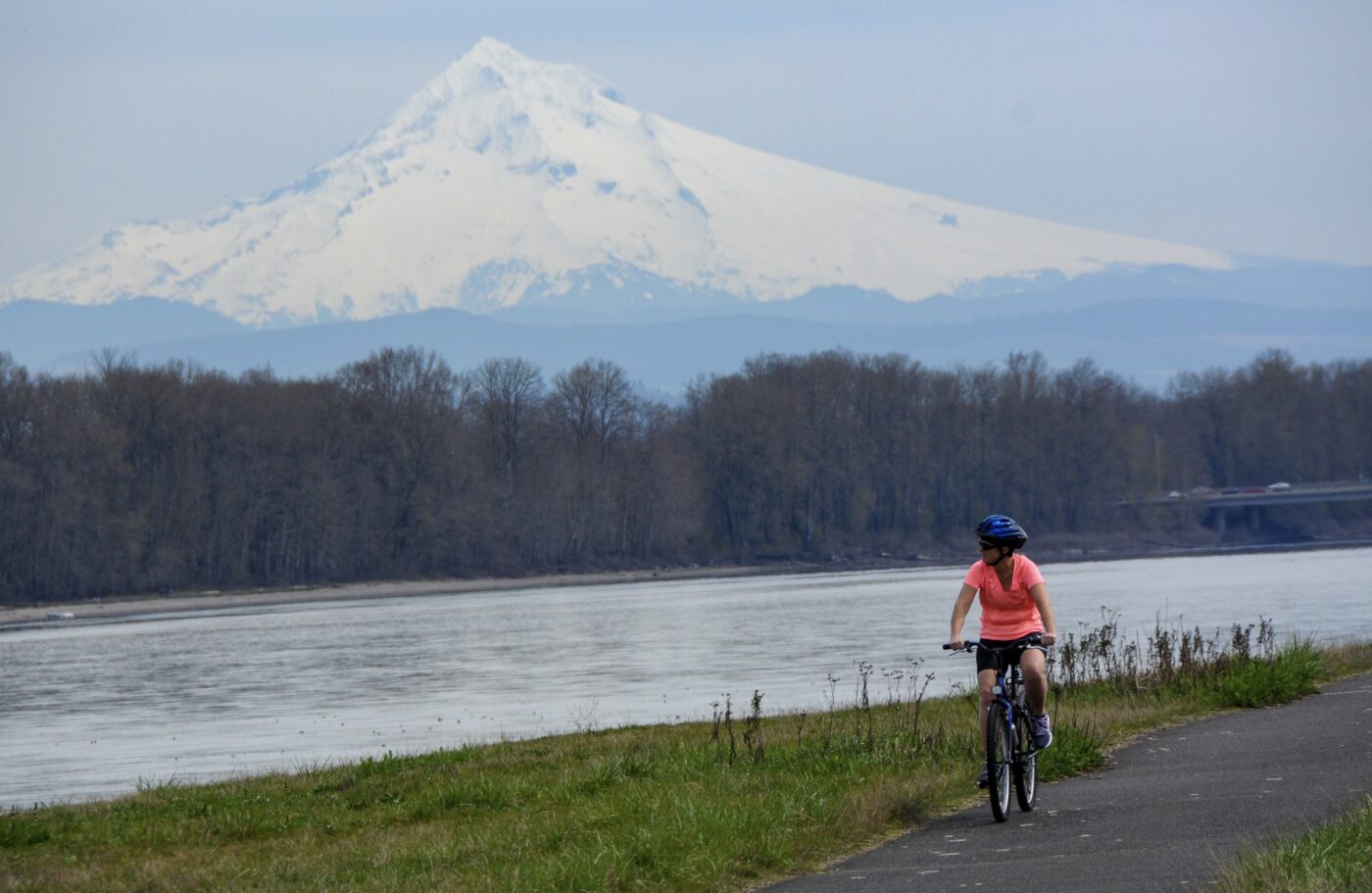 Two years ago we shared Sjulin's 40 Mile Loop gap map. Now he's really outdone himself. He's expanded that effort to encompass every bike trail and path in the region. It includes what's completed, where the gaps remains, and any other information Sjulin knows about the segment. In short, he's created an invaluable resource for trail planners, advocates, riders, and dreamers.
When he shared this map with me recently and I replied with "Wow!!" he admitted that he got carried away. Here's more from Sjulin:
"The map now aims to include all regionally significant trails and their status. And it also includes what many call 'Community Paths' which are really important connectors in neighborhoods. Nothing below 8 feet in width however. For significant parks I added site trails. See Forest Park, Mt Tabor, Washington Park, Powell Butte, Tualatin Hills Nature Park. Perhaps the most exciting parts are the exurban routes. Salmonberry, Chelatchie, Columbia Gorge, and the beginnings of a Willamette Greenway Trail on the eastside and on the westside."
Sjulin has had major help collecting the information from other volunteers and the group's partners partners including: Portland Parks & Recreation, Tualatin Hills Parks and Recreation District, City of Tigard, SW Trails, Metro and other 40-Mile Loop Land Trust board members.
Asked what he hopes the map achieves, Sjulin said, "Nothing would please me more than for trail planners to use this to see the bigger picture and to help them 'make the case' for their project. Equally importantly, I'd like more of the general public to understand what a fabulous system of off-street trails this region is working to put together."
And with each gap filled, the vision of a continuous path around the region comes into clearer focus. Sjulin says once the currently funded gaps are complete, the network will be 73.5% complete.
The biggest challenge? Safety and perception of danger on the trails from people who live in adjacent encampments. At a presentation by Sjulin and other board members at Portland City Council on June 14th, Commissioner Rene Gonzalez said he loves the 40 Mile Loop but he also said parts of it have become, "dangerously unsafe in recent years." "There are parts of the loop that I simply don't want my children on in certain parts of the day," he said.
But Sjulin told Gonzalez, Mayor Ted Wheeler and the rest of the commissioners at a City Council that, thanks to more attention and investment on the issue of late, "I think we're turning the corner on this issue."
Hopefully, new resources like this map will impress upon elected officials and policymakers that these paths are worth fighting for. As the climate crisis rages on and the popularity of cycling continues to grow, we should approach the completion of this network with the same zeal as our interstate freeway system. We're so close to completing the network, we shouldn't slow down now.
---
*The name "40 Mile Loop" is an arbitrary one. It came about when the original Olmsted plan maps re-emerged and a planner measured the original vision of connected trails with an opisometer — a tool used to measure curved lines. The result was about 40 miles. The name was set in stone when the 40 Mile Loop Master Plan was published in 1983. Learn more at 40MileLoop.org.