Transportation agency leaders in Oregon are in a bind. On one hand, it's necessary to take urgent action to reduce greenhouse gas emissions. But agency leaders know that every step they take in this direction will mean less money for our state's transportation systems down the line.
As state leaders vote to do things like phase out gas-powered cars by 2035 and advocates encourage people to ditch their cars entirely and take up modes of active transportation instead, the pot of money keeping our transportation system alive is drying up. And it's happening quicker than they thought it would.
This was the topic of one of the final panel discussions in the Oregon Active Transportation Summit, which wrapped up Wednesday. The conversation was moderated by Hau Hagedorn, associate director of Portland State University's Transportation Research and Education Center, and consisted of four people who spend a lot of time thinking about the future of transportation funding: Oregon Department of Transportation Chief Economist Daniel Porter, Portland Bureau of Transportation Intergovernmental Resources & Policy Affairs Manager Shoshana Cohen, Washington County Commissioner Nafisa Fai, and Forth Mobility Executive Director Jeff Allen.
The problem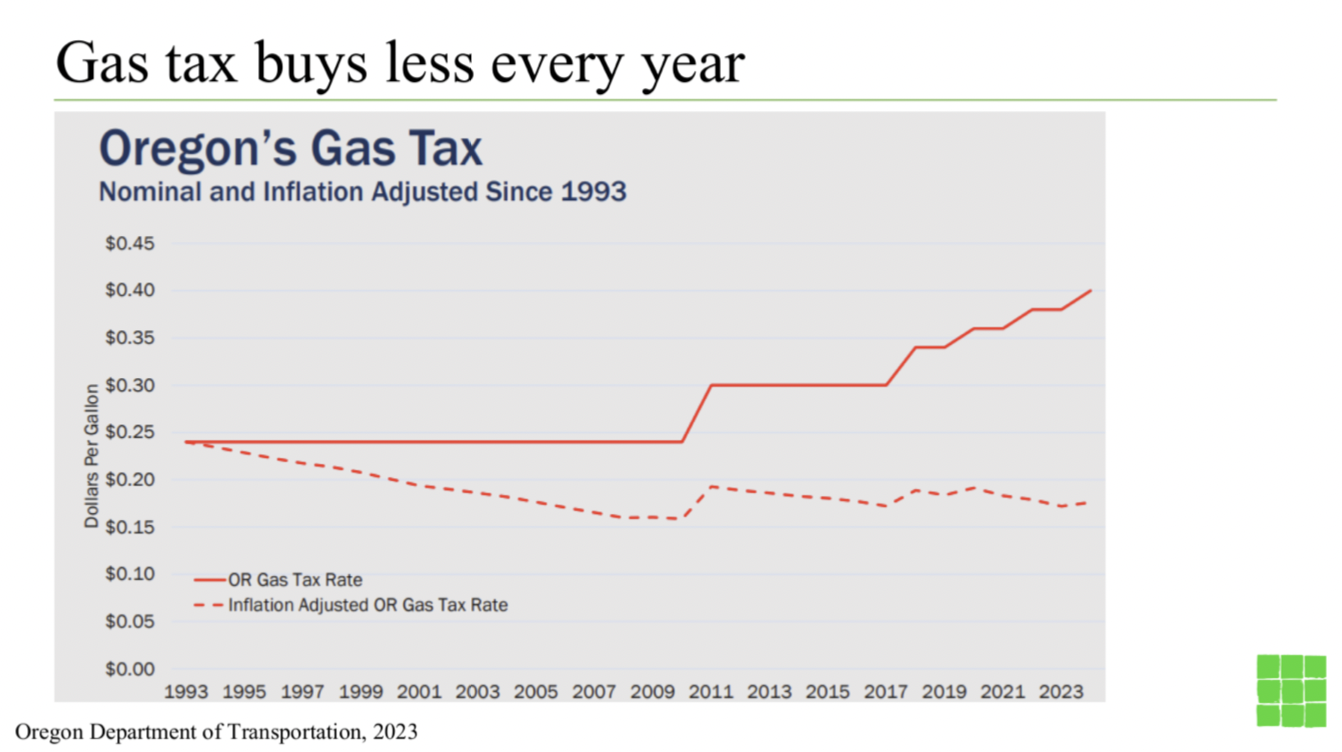 To begin the panel, Hagedorn provided an overview of the problem. Right now, a significant amount of ODOT's funding comes from its State Highway Fund, which raises money by taxes on gas and diesel fuel, heavy trucks operators and from driver and vehicle registration fees. About 40% of this money is doled out to local governments — so as revenue from the gas tax dries up, cities and counties will face a funding deficit.
Meanwhile, PBOT's budget is also heavily reliant on the gas tax, as well as parking meter revenue. And when people stopped commuting downtown for work during the pandemic, the agency realized just how much this parking revenue was keeping them afloat — and how quickly it could all be gone. This is a problem, because car parking revenue means more people driving, which is not in step with PBOT's stated goals to get people out of cars and onto other, climate-friendly modes of transportation.
"The more successful Portland and other areas are at meeting [climate] goals, the less revenue they'll get to fund the system," Hagedorn said.
Hagedorn laid out five major reasons why Oregon's transportation system is in a funding crisis:
Aging infrastructure across the system
Growing needs and community expectations to improve safety, equity, climate, resilience outcomes
Gas tax revenue is declining
With inflation everything costs more
Even recent windfalls have not filled the gaps
Porter said that it's becoming more clear to legislators how urgent the situation is.
"We have visual evidence to show in front of the legislative committee that this is the future, this is what it is. We're going to have to change something," he said.
But could this urgency lead to much-needed reorganization and changes within our statewide transportation system?
Opportunities for change
So, what are we going to do about this? One thing leaders know: it's going to be tough to convince people to pay more taxes and fees.
"There's fatigue around any new revenue sources," Cohen said during the panel. "But something's going to have to change if we want to continue to deliver the transportation system we think Portland deserves."
Allen, who advocates for transportation electrification at Forth Mobility, talked about how the rising popularity of electric cars contributes to the problem of dwindling gas tax funds. Allen said that over the past few years, he thinks the conversation about transportation funding has morphed into "how are we going to squeeze money out of these latte-drinking EV drivers who aren't paying their fair share."
"Some of it is punitive. Some of it is ignorance. But some of it is this is a real legitimate problem — people who drive electric cars do still need to be paying their fair share," Allen said. "The challenge is how do we do this in a way that doesn't impair electrification… the opportunity is to create a whole new system of paying for transportation that doesn't just raise money, but is actually a better system."
Transportation advocates and officials are anticipating the 2025 legislative session as their chance to push a major transportation funding bill — like House Bill 2017, but better.
Oregon's House Bill 2017 was a big step for finding new transportation funding sources. The bill included a 0.5% vehicle dealer privilege tax on new car sales (including electric cars) to fund rebates for electric cars and the ConnectOregon program, as well as a 0.1% employee payroll tax to improve public transportation service across the state. But HB 2017 also obligated hundreds of millions of dollars to freeway megaprojects like the I-5 Rose Quarter. We can also thank HB 2017 for the $15 tax on new bike sales, a controversial program that now pulls in about a million dollars annually for bike and pedestrian infrastructure.
It's not yet clear what this potential 2025 bill would look like, but some people have daydreams about funding the transportation system with road use fees or a carbon tax. And others are asking for a restructuring of what the state currently spends money on.
"I actually believe there is a lot of money for transportation and we are spending it on the wrong the wrong thing," Fai said. "We just need to reimagine what different looks like and what we can do differently."