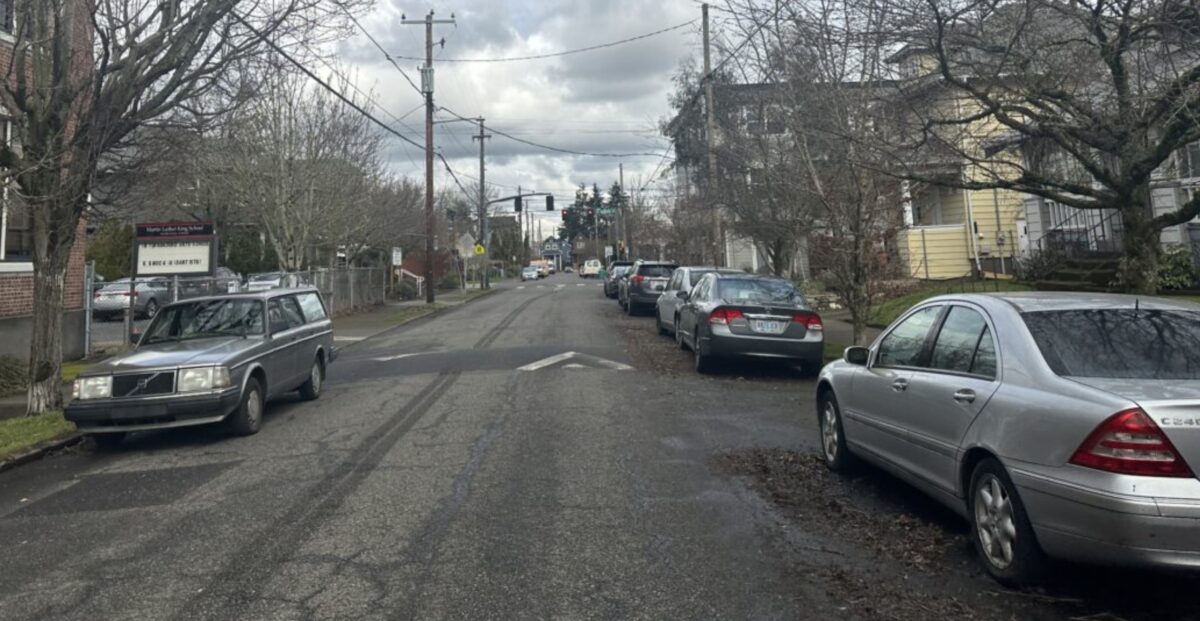 There are more changes afoot on NE 7th as part of the Portland Bureau of Transportation's Lloyd to Woodlawn Neighborhood Greenway project. When PBOT began planning this greenway project, they decided to build it on NE 9th instead of NE 7th like many advocates hoped for. But PBOT has made some changes to 7th even though it won't be an official greenway street.
After finishing up the hotly contested treatments at the NE 7th and Tillamook intersection last fall, PBOT is moving onto other stretches of 7th. And one of the treatments they're trying out in hopes of reducing car traffic speeds may raise some eyebrows amongst critics of on-street parking.
In order to reduce car traffic speeds outside Martin Luther King Jr. Elementary School, PBOT has added street parking to the west side of NE 7th between Alberta and Prescott where it previously wasn't allowed. On-street parking has been shown to reduce driving speeds by narrowing a street — when cars are parked on either side of a street, there's less room for through car traffic to pass, forcing people in cars to slow down.
But on-street parking creates other problems, too. A line of parked cars creates a visibility barrier between people using the sidewalk and car drivers, and more street parking also increases the likelihood of a bike rider getting "doored" by someone getting out of their car. The additional, free parking also may incentivize more people to drive on this stretch of NE 7th.
These safety concerns are especially pertinent considering the proximity of an elementary school to this street. But PBOT says the additional car parking will be helpful for traffic calming, and the visibility concern won't be an issue because they've removed parking near the intersections on NE 7th to ensure people are clearly visible when getting ready to cross the street.
PBOT currently has other plans in the works that will reduce on-street parking, like the plan to build a protected bike lane on NE Skidmore near Wilshire Park. They're also looking at an initiative to plant trees in the curb zone, which has all the traffic calming benefits of street parking without the cars. There are many ways PBOT attempts to reduce car driving speeds other than opening up more space to cars, so this seems like a missed opportunity to try something else.
Another aspect of this project is the removal of the center line striping on 7th from Alberta all the way south to NE Schuyler, just north of the Lloyd neighborhood. This is another tactic to promote slower car traffic speeds: research has shown that removing centerlines makes people more hesitant and cautious about how fast they're driving.
According to PBOT, NE 7th will also soon be equipped with upgraded lighting at several intersections, and new lighting will also be installed at several intersections on NE 9th in between Prescott and Ainsworth streets. This will be done within the next few weeks.
Right now, it's hard to tell how the changes on NE 7th will impact the feeling on the street. When I rolled over there earlier today, there weren't a lot of cars in the new parking zone, so I wasn't able to get a sense of how it would feel if all the spots were utilized. But in the places where the center line striping has been removed, 7th does already feel more like a neighborhood street and less like a busy throughway. It's very interesting how a little bit of paint (or a lack thereof) can make a difference.
All of this is part of phase 1 of implementing the Lloyd to Woodlawn Neighborhood Greenway project. Once the first phase is complete, PBOT hopes to begin work on the next round of plans for the greenway project construction, but this second phase is currently unfunded.