Oregon's first ever electric bike rebate bill received a hearing at the Oregon Legislature today. Supporters of the bill were well-prepared and it was an almost entirely positive affair with no major speed bumps. There was no vote (that will hopefully come later), but it was our first chance to gauge the temperature of lawmakers and see how supporters frame the bill. It was also the first chance for any detractors to emerge from the woodwork.
HB 2571 would give people up to $1,700 cash back on the purchase of an e-bike with a goal of getting more Oregonians to consider bikes as their next EV. Oregon currently has generous purchase incentives for electric cars, but does nothing for their much smaller, safer, cheaper, and more eco-friendly, two-wheeled brethren.
The bill was heard in the House Committee on Climate, Energy, and the Environment. Prior to the meeting, well over 80 people submitted written testimony in support of the bill. Only one of them opposed it — and it was only partial opposition. The person said they support rebates for the purchase of e-bikes, but only certain types. "I do have a problem with my tax dollars going to purchase a mountain bike that somebody uses for their weekend hobby. That only benefits the individual and is not a valid use of taxes," the person wrote.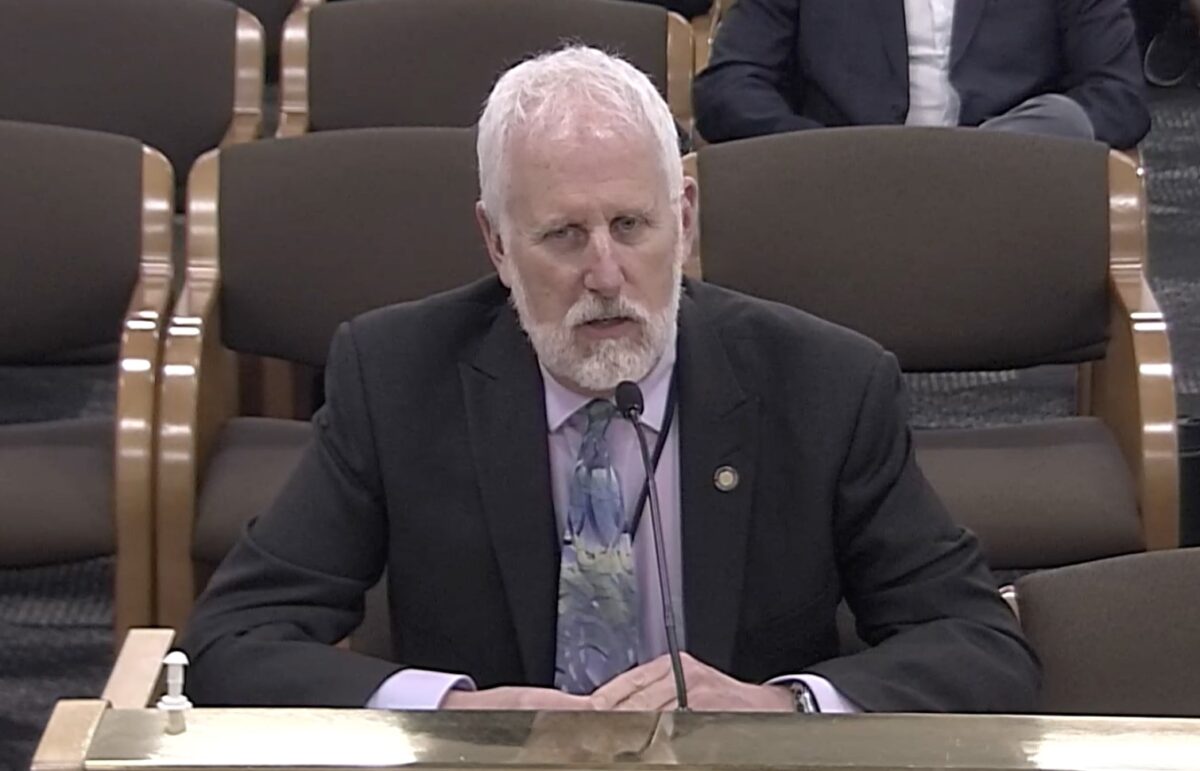 Portland nonprofits The Street Trust and BikeLoud PDX have been whipping up support of the bill among their members. A new group, E-bike Oregon, has also emerged. They have a website and are working to get bike shops and organizations statewide to formally endorse the bill.
The bill's chief sponsors are Democrat House reps Dacia Grayber and Mark Gamba. (Rep. Khanh Pham is a co-sponsor, and she is also a member the committee where the bill was heard today, but stayed quiet throughout.)
Rep. Grayber introduced the bill by reminding committee members of Oregon's goal of phasing out gas-powered vehicles by 2035. "In our efforts to make that a reality we need to ensure a wide range of electric vehicle alternatives are accessible to Oregonians in both urban and rural communities. E-bikes have emerged as one of — if not the — most popular alternatives." "And I'm just going to put it on the record," she continued. "It's a lot of fun as well."
Bill co-sponsor Rep. Mark Gamba, a former mayor of Milwaukie who knows a lot about e-bikes as a regular rider himself, extolled their virtues, saying they are "extraordinarily different" than bicycles and make longer and more difficult bike commutes possible while allowing you to arrive at your destination, "a lot less sweaty and smelly than you would otherwise." Gamba also said e-bikes make transportation cheaper for people with less money and they can relieve freeway congestion in busy metro areas.
Rep. Virgle Osborne, a Republican from Roseburg, asked why the bill offers a rebate instead of a tax credit. Grayber and Gamba answered by saying research shows cash rebates work best to spur sales and reach a wide variety of people — and that many Oregonians don't have enough money in the bank spend $3,500 on an e-bike. "But if you walk in [to a shop], and it's going to be half [the price] of what it was going to be otherwise, that's reachable for folks," Gamba answered.
After testimony from Portland State University e-bike expert John MacArthur, Rep. Bobby Levy, a Republican who represents the area around the town of Echo in eastern Oregon, said she lives on a gravel road. "How do these [bikes] work on dirt and gravel?" she asked. MacArthur channeled his inner-bike shop salesman and replied, "There's lots of different types of e-bikes… So it's about finding the right e-bike for you."
Megan Ramey, a youth and family cycling advocate from Hood River, testified in her Bike Train Conductor costume. She told stories about people she knows whose lives have been changed for the better because of their e-bikes. "E bikes are a great way to build resiliency and preparedness in communities," Ramey said.
Nick Wood with Portland-based e-bike company VVolt, told lawmakers he thinks the incentive will have a "viral effect" with many people currently on the fence due to cost concerns deciding to to buy an e-bike and "make the leap into the bike lane." Wood also said he believes hundreds of small business across Oregon will benefit from the additional sales spurred by the rebate.
National nonprofit industry group People for Bikes Deputy Director of State and Local Policy Ashley Seaward also testified. She said the bill checks all the right boxes, but proposed two amendments that would make it even better. Seaward said her group thinks it's a bad idea to define "electric cargo bicycle" in statute (which the bill does). "The types of electric bicycles are usually detailed once the [state administrators] begin working on the program. And this allows for more flexibility in the planning process… You wouldn't define an electric minivan within state statute for an electric vehicle rebate program so you wouldn't do the same for an electric bicycle incentive program."
Seaward also thinks the bill would be stronger if it had an amendment to provide additional incentives for people with lower incomes (which came as no surprise to bill sponsor Rep. Grayber, who said at the outset of the hearing she would welcome amendments that help the rebate program, "serve the broadest range of Oregonians.")
The only substantive critique of the bill from the public came from Jody Wiser, a lobbyist with Tax Fairness Oregon. She said her group feels the rebate is way too high, especially compared to what Oregon offers for e-cars. Here's her argument:
"My electric car subsidies from the state were about 15%. If you buy a $26,000 electric motorcycle you get $750. [With the e-bike rebate] If you buy a $900 bike and a bunch of equipment, you can walk out of the store with $1,400 worth of equipment costing you $200. That's just way out of line with how we are subsidizing other electric modes of transportation."
I'm not sure where you would find a $900 e-bike, but she made her point. Wiser also thinks the bill should have an Oregon residency requirement so that people who live out of the state aren't able to benefit from our taxes.
Overall impression it felt like a very strong first outing for HB 2571. There were so major objections from lawmakers, bill sponsors received excellent advice on how to make it even better with various amendments, and thanks to solid testimony there was some solid learning that took place. From here, the bill could return to this committee for a second reading to consider amendments.
Stay tuned for further developments on this and other bills. See our 2023 legislative guide to learn about the 23 bills we're currently tracking.