— This post is part of BikePortland Staff Writer Taylor Griggs' trip through Europe. See previous dispatches here.
Paris is known for a lot of great things, but unlike the European bike capitals of Amsterdam and Copenhagen, biking facilities haven't historically been one of them. That is, until recently. Paris Mayor Anne Hidalgo has become an icon among those of us who follow global bike news for her campaign to make the city "100% bikeable" by 2026, a plan with a nearly $300 million budget for separated bike lanes and bike parking spots.
I've had a somewhat fraught relationship with the City of Lights in the past, having been targeted for theft three separate times in a week when I visited in 2017 (I lost my suitcase of clothes, my phone and nearly my passport). If it weren't for all the new cycling buzz, I might've skipped over it this time around. But after hearing about the Parisian bike revolution, I was sure to add the city to my list of places to visit in Europe. And when I arrived last week, I was excited to rewrite the script for "Taylor in Paris" with a happier — or at least uneventful — ending.
How did that turn out, you might ask? Well…
An American (biking) in Paris
I wanted to meet with a Paris bike advocate to find out how they'd been able to encourage the city to take such rapid action on a scale very rarely seen in the United States. So I emailed the organization Paris en Selle (Paris in the Saddle), which has been working since 2015 to hold their government accountable and make Paris a better city to bike in, and I heard back from Alexandre Becker, who offered to take me on a tour of some of the new infrastructure. He also kindly offered to let me borrow one of his bikes to use throughout my stay.
We planned our tour for Friday, but I went to meet Becker on Wednesday afternoon to pick up the bike. We ended up getting lunch and chatting a bit about Paris en Selle's approach to advocacy. One thing Becker told me during our lunch is that he's noticed people being a bit disappointed by the reality of Paris' current cycling infrastructure compared to the hype it's been getting in the media.
"Oh, I don't know about that," I said.
About an hour and a half later I was in the emergency room trying to explain the big gash in my left hand to a group of French-speaking medical staff.
Here's what happened: after I said au revoir to Becker, I took off on his bike to see the city. It was sunny out, the birds were chirping and all was going well until I hit an unexpectedly deep bump on the parking-protected bike lane I was riding in. I was riding a Dutch-style bike with coaster brakes —which I already wrote about using in Amsterdam and thought I was pretty adept at by that point — and I momentarily forgot how to brake in time to course-correct gracefully. I ended up with my left hand inside the rear light of a parked car adjacent to the bike lane and a really nasty cut on my pointer finger.
At first, I was just embarrassed — my typical reaction to wiping out on my bike. But after some persuading from concerned bystanders, I realized the situation was pretty serious and I should probably get medical attention. I wrote my number down on a piece of paper and taped it to the car with the light I had just smashed and headed to the hospital.
After multiple consultations at two different medical centers, I wound up on the operating table getting my finger sewn up by orthopedic specialists who wanted to make sure I hadn't hit an artery or given myself serious nerve damage. All is well now — my finger should heal just fine. I also met a lot of interesting, kind people and was able to experience life in a country with a humane healthcare system (my entire medical treatment cost $0, can you even imagine?). But an uneventful week in Paris? Not a chance!
Where does Paris stand on cycling?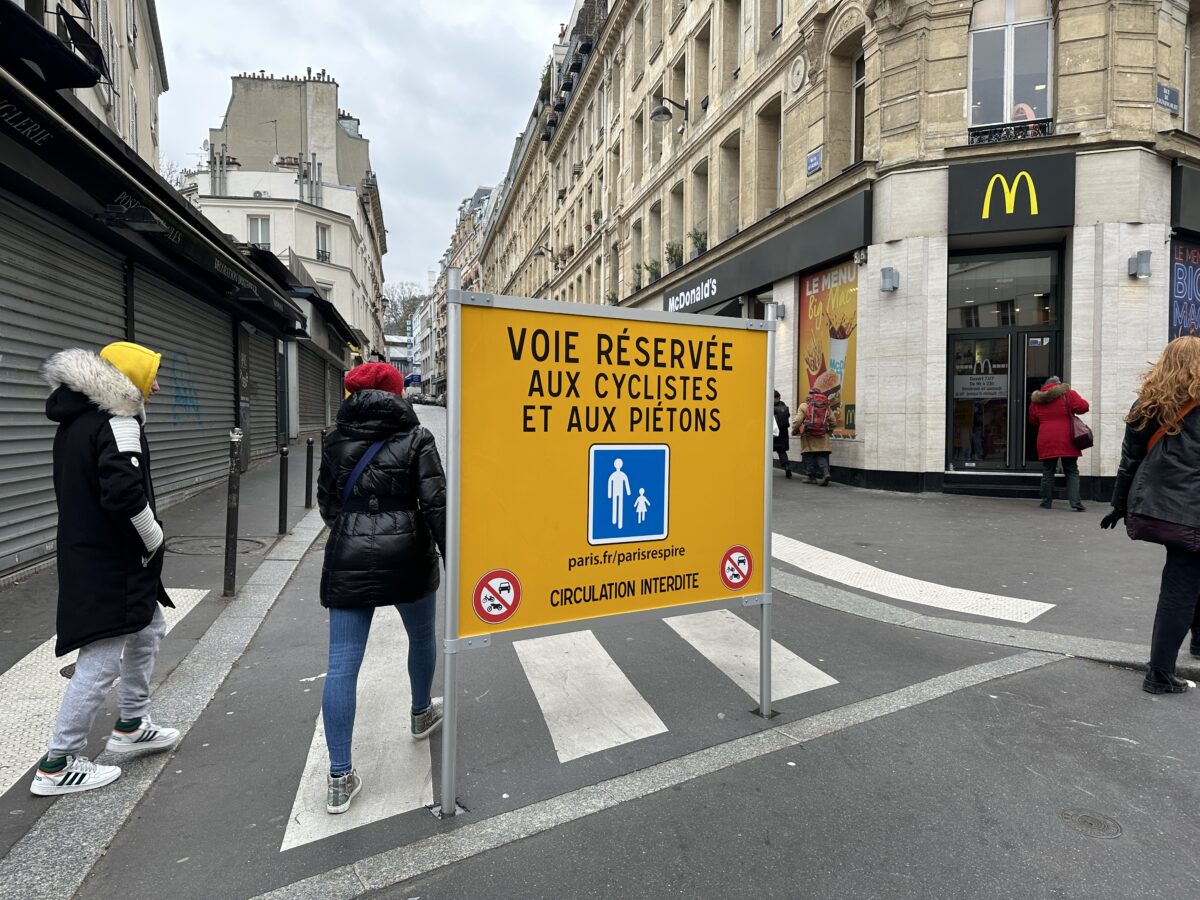 From a cycling perspective, this story has been difficult for me to figure out how to talk about. It wasn't anyone's fault, really — the person who'd parked their car in a designated spot next to the bike lane didn't do anything wrong, and although Becker felt responsible because he'd lended me the bike, I assured him that of course he wasn't to blame either. I'm inclined to fault myself for not paying close enough attention to the ground ahead of me, but while I probably could've done more to be aware of my surroundings, you can't prepare for everything. The only way to prevent situations like this is to make sure bike infrastructure is as smooth as possible and designed to accommodate human error.
So, what does this saga say about Paris and its path to being 100% bikeable? Well, sadly, I didn't get to go on the bike tour of the city after all, so I wasn't able to get as deep of a look into the new infrastructure as I'd hoped to. But between my injury and my time watching how bike, pedestrian and car traffic plays out in the city (oftentimes pretty chaotically) I would say Paris certainly has some snags to overcome before it becomes the new Amsterdam or Copenhagen.
All hope is not lost, however.
In addition to the bike plan, I was impressed that Paris has a plan for cars à la Portlander Cathy Tuttle's "Car Master Plan" framework. Hidalgo wants to ban most car traffic from the city center by 2024, making more room for people walking and biking. This is a really important part of creating a bike-friendly city that most transportation departments in the United States can't bring themselves to approve for fear of retaliation.
Between plans like these, a rich ecosystem of advocates to hold the government accountable and a population of people who are clearly interested in biking (as well as rolling on scooters and rollerblades) I feel confident that Paris will fully transform into its best biking self. I think American advocates should pay a lot of attention to how the story in Paris plays out over the next few years.
That being said, I'll have to reassess my risk aversion levels before committing to a trip back there. But that has to do with more than just bicycling.