Conceptual renderings supplied by City of Portland.
Hopefully the experience of riding among treetops on the Red Electric Trail bridge away from the noise and stress of Beaverton Hillsdale Highway will be enough to take the sting out of years of delays.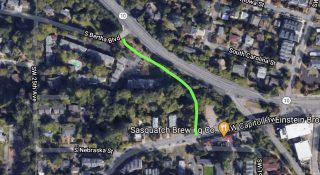 Work began on the Red Electric Trail project with a planning study in 2003 that was adopted by Portland City Council four years later. Since then there's been some progress, but major pieces remain. The Portland Bureau of Transportation says a key, 600-foot section over a ravine at the west end of the Hillsdale Town Center will break ground early this summer. The ultimate aim is to create a low-stress biking and walking route on a 16-mile historic railroad right-of-way between the Fanno Creek Trail in Beaverton and the Willamette River near downtown Portland.

According to PBOT, the Hillsdale bridge segment will be 10-feet wide and will go from the intersection of SW Bertha and Beaverton-Hillsdale Highway (BHH), south over the ravine and then connect to SW Capitol Highway at Nebraska (across from Sasquatch Brewing). The $4.9 million project will also include new crosswalks and curb ramps at each end. City Council is expected to approve the construction contract at a meeting in early February.
The new bridge will give bicycle riders an option to avoid the high-stress location where drivers on BHH merge across the bike lane at Bertha. Drivers are supposed to yield to bicycle riders and PBOT has striped the section with green coloring, but most people disregard this and put bicycle riders in danger. BikePortland reader Shawne Martinez posted a video of this exact location on Twitter a view days ago.
(Video by Shawne Martinez/@RescueEwe on Twitter)
Veteran advocate with SW Trails Don Baack, who has pushed for the Red Electric for over 20 years, shared with us via email that, "PBOT has postponed this project for a decade. Every time the next version had a smaller scope, until we now have a bare bridge with a north end connection that does not fit the expected bike or pedestrian traffic."
On the good side, Baack added that this bridge, "Will make it possible to safely walk to Hillsdale from the west and north." "Currently nobody walks and few ride east on the south side of Beaverton Hillsdale Highway because it is a suicide mission to cross 30-59 mph traffic turning onto Bertha toward Fred Meyer and the freeway on ramp. With the bridge, bikes and pedestrians will be able to get to the Hillsdale commercial area and Capitol Hwy in a safe manner."
We'll share more from Baack and about the Red Electric Trail in a future post. For now, check out PBOT's project website and stay tuned for updates.
— Jonathan Maus: (503) 706-8804, @jonathan_maus on Twitter and jonathan@bikeportland.org
— Get our headlines delivered to your inbox.
— Support this independent community media outlet with a one-time contribution or monthly subscription.