Catie Gould is volunteer activist with Bike Loud PDX and a member of the City of Portland Bicycle Advisory Committee.
I didn't consider participating Parking Day until I discovered that it was the same day as the Climate Strike. It was a coincidence that I couldn't stop thinking about. "What would a parking space look like if it went on strike?" I wondered.
The thought of life-sized parking symbols picketing against city policy had me laughing for days, so I decided to sign up. Turns out getting a permit to use one parking space is much more complicated than I expected.
Parking day traces its origins to 2005, when an architecture company in San Francisco paid a parking meter and rolled out some grass sod to make a parklet. Since then Parking Day and its associated parklets have spread to many cities.
Here in Portland, Parking Day is an official event that's been sanctioned by the Bureau of Transportation since 2006. The city requires would-be participants to follow a long list of rules to get access to a space. I found it interesting that these requirements are significantly more work than it takes to park a car — as if storing private automobiles is the highest and best use of our public space and anything else must be highly regulated.
Here's a sampling of what it takes to get a permit…
Notification
You must notify adjacent residents and businesses of your installation one week in advance, but I was uncomfortable giving out my personal contact information just to use a parking spot. Was PBOT going to back up my right to use the public street, or would I have to go door-to-door trying to find a sympathetic ear to let me use 'their' spot? Every day I store my car on the street and walk away without notifying anyone.
In the end, I applied for a spot adjacent to a city park. I figured the Parks Bureau wouldn't say no.
Height Maximum
The maximum height PBOT allows in the front half of the parking spot is three feet. My small car, a Scion xD (visible in lead image above), measures five feet tall. Except for a convertible, I can't imagine any car that would be able to meet this requirement. Due to this height requirement, tent canopies are banned, which makes planning for weather a bit tough during a rainy September.
BYO Cones
Another requirement for the installations is that each space must have five, 36-inch tall traffic cones. There is no option on the application to get them from PBOT. I borrowed cones from Better Block PDX (thank you!) because as non-traffic engineer I had no idea where to buy them and didn't want to just for one day. This was a significant barrier to participating in Parking Day. I had to find time to get and return these cones, in addition to creating the props and art for my space.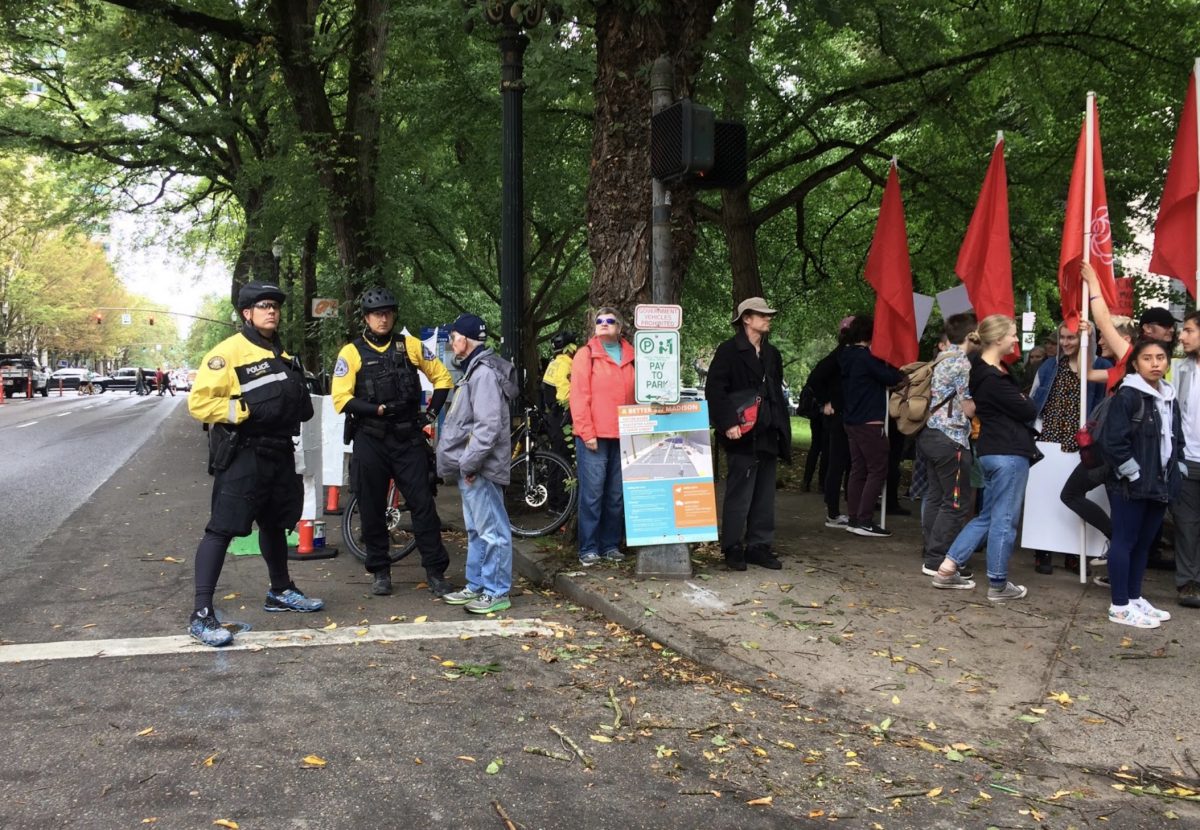 At one point during the day, since my spot was close to city hall, police officers took several of my cones from my spot to block street traffic. I had to run around to multiple police officers to ensure the cones would make it back to my spot after the Climate March left (they did). This is the one occasion where I was happy to have a permit.
Not political
I was worried that my permit might not be approved because the artwork I was planning was literally staging a strike. What exactly is political? Climate change isn't on the ballot and can't run for office. Maybe this rule is intended so that campaigns don't do their own parking days? (I actually think a candidate Parking Day competition would be cool!). There is certainly no similar restriction on cars, whose owners often adorn them with political flags and bumper stickers (my has had a Bernie bumper sticker since 2016).
Clean your space
The Parking Day manual suggests bringing cleaning supplies like trash bags and a broom so you can clean up your space at the end of the day. This is a reasonable request, but we certainly don't expect the same of drivers. For example…
The night before the event I ran out of paint after the stores closed. The only feasible solution was to buy more paint on the way, and finish painting in the street. There was not enough time for it to dry at home. After seeing a few splatters of white that spun off of my paint roller and onto the pavement I covered the street in paper. I felt bad until I looked up across the street and saw a terribly damaged light pole. As anyone who uses bike lanes knows, drivers regularly destroy city property, leave oil spills, shattered car parts, trash, and other debris on our streets with no consequence whatsoever.
With all these requirements, maybe it shouldn't have been a surprise that I couldn't find anyone to partner with me on this project. It's too bad that Parking Day — a day when people have the opportunity transform huge swaths of our public right-of-way into public art and hang-out spots — only had twelve participants.
Turns out that Parking Day is a lot like Portland: lots of potential but riddled with roadblocks that protect the status quo.
— Catie Gould, @Citizen_Cate on Twitter.
Never miss a story. Sign-up for the daily BP Headlines email.
BikePortland needs your support.
Catie is co-chair of Bike Loud PDX and member of the PBOT Bicycle Advisory Committee. She writes mostly about climate change and life as a volunteer activist.