Have you seen this new art rack downtown?
(Photo: Christina Lacy)
We've reached that point again where I have so many interesting and cool bits of news on my story list that I've decided a Big Bike News Roundup is the best way to share them all.
In the past I might have just posted each of these small items as Front Page stories, but these days Michael and I are more drawn to doing longer, more meaty stories. Page Two might also be a good home for some of these but I realize that many people miss those stories since they don't appear on the Front Page. So, enough with this boring under-the-hood stuff, let's get to the news!
Here are eight great things happening in our community (posted in no particular order)…
Community Cycling Center expands youth Bike Camp programs
A CCC "Coasters" bike camp explores the Failing Street Bridge in North Portland.
(Photo: J Maus/BikePortland)
The CCC's summer bike camps are almost a rite of passage here in Portland. Parents love them and kids love them. After all, what better way for the little ones to spend summer break than learning how to fix their bike, meeting local bike business owners, and exploring city streets on two wheels? The CCC has been doing this stuff for so long they have it down to a science. And they also have some pretty fantastic staffers who will show your kids that biking is not only a smart way to get around, but also just a lot of fun.
This summer, the CCC will offer their Bike Camp programs in two locations: their headquarters at NE Alberta and 17th and at a new location on SE 13th at Sellwood Cycle Repair. In addition to another location, the CCC is adding several new camp varieties. There's a new Bike Craft camp where kids entering 4th and 5th grade will do the usual daily rides but will also get to create of a daily craft from recycled bike parts. Another new camp will complement kids in Spanish immersion programs in school. The Spanish Immersion Bike Camp will be taught by bilingual instructors. And for the older kids (6th through 8th grade), there's a new Mechanics Camp.
Learn more and register at CommunityCyclingCenter.org.
Kenton Cycle Repair owner now offering custom frames, racks
Starmichael Bowman, co-owner of Kenton Cycle Repair, has spread his wings into framebuilding. Local illustrator Karl Edwards got in touch with us recently to share Bowman's new logo and his experience working with Bowman on a bike restoration project. Here's more from Karl:
"StarMichael's expertise as a frame builder enables him not only to build custom frames, but do frame repair, fabricate custom racks, and do some incredible modifications — as he's done for me. I'll share some of the process of how we collaborated on developing his graphics, and how he modified an old frameset for me. Both projects are a success."
Kenton Cycle Repair is a great little neighborhood shop. Stop by and support these guys!
Gladys Bikes moving to Alberta Street
Leah Benson's current space is too small so she's movin' on up to Alberta Street.
(Photo: J. Maus/BikePortland)
Six months after opening up her women-focused bike shop on N. Williams Avenue, Gladys Bikes owner Leah Benson says she needs more space. Benson plans to move to 2905 NE Alberta Street, where she'll have not only more square footage, but valuable street front access (her Williams location was tucked into a building that was hard to find from the street). Looks for the new shop to carry more new bikes, a bigger selection of accessories, and host even more events. There's a bike move planned for May 3rd. Learn more via the latest Gladys Bikes newsletter.
Cargo bike documentary project launches on Kickstarter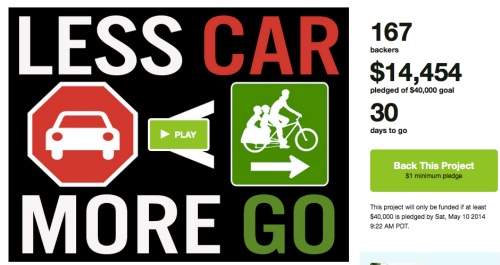 Less Car, More Go, a documentary about the cargo bike revolution that has swept America, is currently up for funding on Kickstarter. While the creator of the project, Liz Canning, is based in California, the film features a lot of Portlanders and Canning spent several days shooting here. The documentary itself features crowd-sourced videos sent in from cargo bikers all over the country. Portland looms large in the story of cargo biking in America, so this documentary is something we think many people here will appreciate and should support. So far, the project has raised about $15,000 and the goal is $40,000. Check it out on Kickstarter.
The Filmed By Bike/Portland Timbers mash-up you have to see to believe
Filmed by Bike is coming up later this month and organizers of the annual event are up to tons of cool and creative projects to help promote it. Case in point, this fun video shot with Portland Timbers fans…
The 12th Annual Filmed by Bike // April 19-22 from Filmed by Bike on Vimeo.
Local law firm shows its legal pride with 'Scales of Justice' bike rack
Swanson, Thomas Coon & Newton is one of the most bike-friendly law firms in the entire state. So, it's only fitting that they had a special, one-of-a-kind, "scales of justice" art bike rack installed right outside their building on SW 2nd Avenue in downtown Portland. Check it out…
(Photo: Christina Lacy)
Super Swap returns to Portland on April 20th
A teaser of what to expect (taken from Super Swap on
Instagram
)
The folks behind the Super Swap bill their event as "Portland's premier one-day cycling sale" and after attending last year's inaugural edition, I won't disagree. This event brings in vendors and items you simply cannot find anywhere else (besides eBay). And they do it with style and panache by combining amazing vendors with good food, drinks, DJs, movies and cycling events on big screens, and more. Some of the brands you'll see at Super Swap include: Chrome, Chris King Precision Components, Breadwinner Cycles, Golden Saddle Cyclery (from L.A.), MASH, Mad Alchemy, Planet X, The Athletic, and others. Everyone offers their stuff at rock-bottom prices and you'll even see some "truly one-off pieces" says organizer Simon Robins. And this year they've rented out the Leftbank Annex, a gorgeous venue at Weidler and Vancouver (across from the Moda Center). The event is open from 11:00 am to 4:00 pm on Sunday April 20th. Early bird tickets are available on their website for $10 but it's free to enter after 12 noon. Follow @pdxsuperswap on Twitter for the latest updates and teasers.
Chris King's Gourmet Century expands to Bend, Sonoma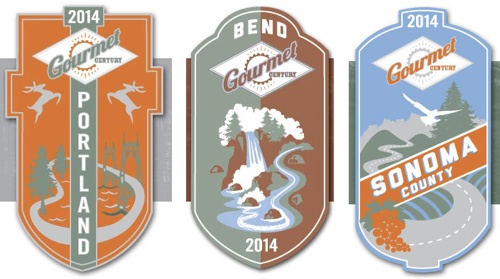 Portland-based Chris King Precision Components (the largest bike company in town based on number of employees) has added two new locations and dates for their very popular Gourmet Century ride. The event blends beautiful riding with excellent, sit-down meals in a way that elevates food to the same level of respect and quality that Chris King brings to their world-renown products. (I did the ride last year and published a recap.) The inspiration comes from company founder Chris King himself, who is a lover and student of gourmet food and coffee. To give you an idea of how serious King takes this stuff, late last year he hired Chris DiMinno as their full-time event chef. DiMinno complements King's current chef Robert McSpadden (yes, the company has two chefs on the payroll).
For 2014, their will be three Gourmet Century events: an off-road mountain biking version in Bend in June; the Portland edition in July; and Sonoma County in October. Unfortunately I hear the Portland ride is already sold out. You can learn more and register for the other two on their website.
If you have a news tip — no matter how small — we'd love to hear about it. Contact us via email, Twitter or text to (503) 706-8804.