Lessons learned: show up early, bring extra water, snack before riding.
I've had the pleasure of participating in quite a few Portland bike events during visits from Seattle — Fiets of Parenthood 2012, 2013, and 2014, Disaster Relief Trials 2013, one and a half TNRs, and a few smaller Pedalpalooza 2017 rides — but my experience at the 3rd 1st Annual Ladd's 500 was the Portlandiest bikiest thing I've done yet! There were so many amazing bikes: tall bikes, swing bikes, cargo bikes, mini bikes, grill bikes, and a lot of skateboards.
The Ladd's 500 is a biking relay race of 500 laps around Ladd Circle with a bunch of rules I didn't notice until after I got home (they were pinned as the top post within the Facebook event so they weren't exactly hidden):

THE RULES:

"It's not a race, it's a relay"

You are responsible for the people around you. Call your passes. Don't cause a wreck. Don't be a dick. If a wreck occurs, report it to the booth.

We are allowed to be in the park, and we are allowed to ride on the road. If anyone feels otherwise, please be judicious in your diplomacy or find someone who is able to do so.

Faster traffic to the outer edges of the circle.

Try not to fuck with cars. This is not a closed course, share the right of way.

Absolutely don't fuck with pedestrians. Hitting a ped will result in a DQ. This is not a joke.

If you crash, get the fuck out of the way. If you're helping someone who crashed, help them get the fuck out of the way. Don't crash, dumbass.

There will be a pit lane by the start/finish line for rider/bike switches. If you enter the pit, you must come to a complete stop. Failure to do so will be penalized in whatever manner seems funniest at the time.

If a red flag is shown, the relay has been stopped temporarily; riders are to proceed immediately to the pit lane and come to a complete stop. A green flag will be shown to indicate that the relay is resuming.

Record your laps and finish time at the booth. Don't lie, that's stupid.

The Belligerante Rule: Cheating will be tolerated if it's funny. Laps are to be run consecutively, not concurrently.

The Nathan Jones Rule: Riders wishing to enter solo should bring two bikes in order to make their switches.

No motors unless your machine is very slow and heavy, or if a motor is necessary for your mobility.

Solo participants using machines with one or fewer wheels are exempt from required equipment switches, unless they want to.

As always, leave no trace. Pack it in, pack it out.
I figured I'd find a team upon arrival until my friend Armando (Pedalpalooza 2017's #1 fun seeker) posted to the Facebook event a day in advance that he was looking for teammates so I joined up!
So the team was a decision easily made, but I had a lot of trouble choosing a bike. So I decided not to choose at all; after having spent Friday biking all over town with no fenders in unexpected rain I brought all my fendered bikes — longtail cargo bike, Brompton folding bike, and a single speed. And also my longboard skateboard for good measure. I brought Pixie, but I didn't bring the kids (but they have fenders, too, for the record). Approaching Saturday the forecast called for lots of rain, but the day started gloriously dry and grey.
Apparently things started promptly at 10 so when I arrived at 10:20 I darted right into the action. It seemed easiest to keep my momentum and enter the fray, even though I had all the bikes on my bike. I figured I'd only have to ride part of a lap with my laden cargo bike to find Armando, but it turned into four laden laps of looking and then one more of working up the courage to pull over and stop (not that those five laps counted for my team — no cheating for us!). So next year I know to show up early. Since it's a relay it's certainly not required to show up early, but in the interest of having the most fun possible and the least confusion possible, early is the way to go.
I grabbed an ice cream cone handup during my first lap. Not only did it sustain me for the 30 laps, but I biked a bit slower for the first few laps while eating the cone and easing into the race rather than hitting it full steam ahead was nice. My hand got a bit sticky, but I figured sticky was better than slippery.
—
Our team Aching Knees (play on Ankeny) split the 500 laps into 30-lap chunks that we counted ourselves as we rode. I found it hard to keep track and may have done 33 laps my first leg. One team sent their riders out with bags of a certain number of jelly beans to eat one per lap. Another had a lap counter who held up a numbered piece of paper each lap. I'm sure there were some other methods, too. I suspect there were a lot of people just riding for fun, not even worried about counting. What freedom!
I did my first 30 laps on my cargo bike with Pixie in the basket. Half a lap in I realized I was hungry, but I'd left all my snacks in the center circle. So next year I'll eat before my turn and also bring snacks along for the ride for good measure. But other than mild hunger it was an exhilarating time! I quickly discovered the nuances of the course, namely the headwind on the west side and tailwind on the east side, and the gradual transition between the two. Rounding the corner towards the start/finish line (at the north tip) after coming out of the tailwind but not yet hit with the headwind was the funnest part of each lap. There seemed to be more spectators there, too, which added to the urge to go fast (or at least look serious). Most riders were good about keeping in the appropriate "lane" based on speed, slowest near the center, fastest on the edges. There was still quite a bit of passing on the left, but I felt safe and didn't experience even any near misses.
After quite a long and much-needed rest (we had 10 team members splitting the work) I was up again. This time I left Pixie in the lap of a teammate and took my zippy single speed out. It was quite a different experience. I was quick enough that it wasn't hard to keep track of my laps and I couldn't feel the headwind! But the best thing about this second leg of mine is that I grabbed an ice cream cone handup during my first lap. Not only did it sustain me for the 30 laps, but I biked a bit slower for the first few laps while eating the cone and easing into the race rather than hitting it full steam ahead was nice. My hand got a bit sticky, but I figured sticky was better than slippery.
After that I went off script and rode a bunch of bonus laps carrying Aaron Flores of The Sprocket Podcast on my cargo bike deck while he interviewed people biking alongside us. Then I carried Drew the photographer around for a while. He sat backwards on my deck (as did Aaron before him) so he had a clear view of the field of faces (rather than a blocked view of a field of backsides). And then I carried another even bigger photographer around for a bit. Pixie was in my front basket for all of this so while she wasn't the only dog doing laps, I think she may have been the dog who did the most laps.
I didn't end up doing any laps on my Brompton, but I unfolded it for a friend to ride and it made for a great prop.
My longboard saw a bit of action, too. I don't skate much these days, but when I met NW Skate Coalition's Cory Poole at the DRT five years ago I was inspired to dust off my old board. It ended up coming in very handy when my younger son was on a 12″ pedal bike because I couldn't keep up walking and I didn't bike slow enough without falling over (and jogging was out of the question). For Ladd's I did just three laps while holding Pixie and found more tiring than any of the biking.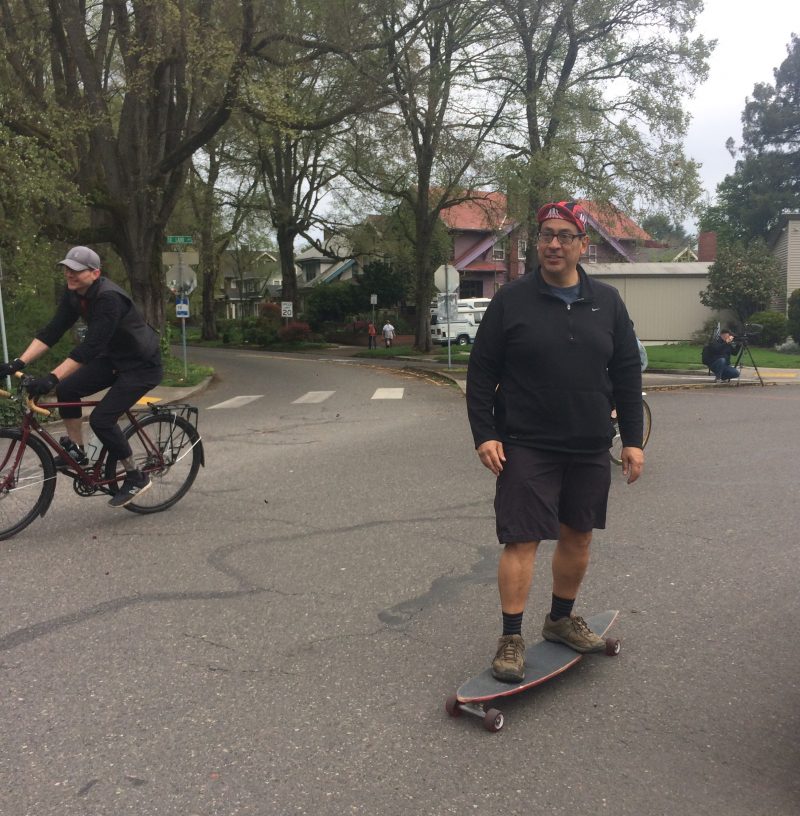 Then I finished up back on my cargo bike for 10 laps with the whole team to hit 500 together. We ended up coming in 13th! I have no idea how many teams were signed up, but I'm very happy with our results. Apparently I did 124 laps total which explains why I was too tired to visit the after party. I also developed a bit of a headache from not drinking enough water during the course of the day. It was so cold when I left home that I only thought to bring my one water bottle, but the sun peeked out for a bit and it got positively warm. I even took Pixie's thick knit sweater off. Heading home at 4pm it started drizzling and it was glorious! Of course I wouldn't have felt that way had I adequately hydrated so next year I'll bring lots of water and plan to take breaks. It takes a bit of courage to leave the center circle, but visiting a local business to purchase a snack and use the restroom will be part of my future Ladd's 500s.
I'm not sure if my kids would have wanted to hang out there for all six hours, but it's definitely a kid-friendly event. I pedaled alongside a few giddy kids on cargo bikes and even saw a couple kids riding their own bikes here and there. And "Best in Show" was one of my favorite kids, Penny, who did laps by skateboard, unicycle, and shuffling atop a big ball.
Thanks for reading. Feel free ask questions in the comments below or email me your story ideas and insights at madidotcom [at] gmail [dot] com.
— Madi Carlson, @familyride on Instagram and Twitter
Browse past Family Biking posts here.
Get this and other BikePortland posts delivered directly to your inbox.
BikePortland needs your support.