A reunion of old friends has sparked a resurgence in Portland's fixed-gear freestyle scene.
Matt Reyes, Ramon Antonio, and Devin Tolman first met through the San Francisco Bay Area cycling scene. Lovers of fixed-gear freestyle, a discipline that combines flatland BMX tricks with the speed and grace of fixed-gear road bikes, the trio is happily established in Portland. Now they want to connect with other riders and create a community around fixed-gear riding similar to the vibrant scene they left behind in their previous home.
I caught up with them under sunny blue skies and cherry blossoms in Waterfront Park yesterday.

I knew Matt before he rolled up because I've watched a few of his jaw-dropping videos online. I've also become quite attached to his little white Maltipoo named Ernie who rides in Matt's backpack, and who I'm not ashamed to admit I know follow on Instagram. Known to his thousands of fans on social media as Slumworm, Matt's style on two wheels is a fluid, powerful, and exciting mix of derring-do and creativity. Reyes moved to Portland about eight months ago to follow his job as content creator and graphic designer at Chrome (the bag and apparel company that moved their headquarters from SF to Portland in January 2017).
Like many people who love bicycles and come to Portland, it's riding with friends that helps them land on their feet.
"Moving up here," Matt said, pointing to Devin and Ramon, "These were my friends who lived in Portland." "I figured, at least I know I have Devin and I have Ramon — two guys who both ride fixed-gear freestyle who I know will want to go out and ride and do things, and be on filming missions and go exploring and getting kicked out and yelled at all the time."
I met Ramon for the first time eight years ago when I happened upon him and some friends doing tricks under the Burnside Bridge (one of their regular spots). That was right about the time he started Still Pour, a loosely organized, "non-profit community of shred" that organizes meet-ups and sells a bit of merchandise to earn pizza and beer money.
The name Still Pour was inspired by, you guessed it, Portland's seemingly incessant rainfall. "We started under the Steel Bridge," Devin recalled. "We were hiding from the rain. It was still pouring, always pouring!"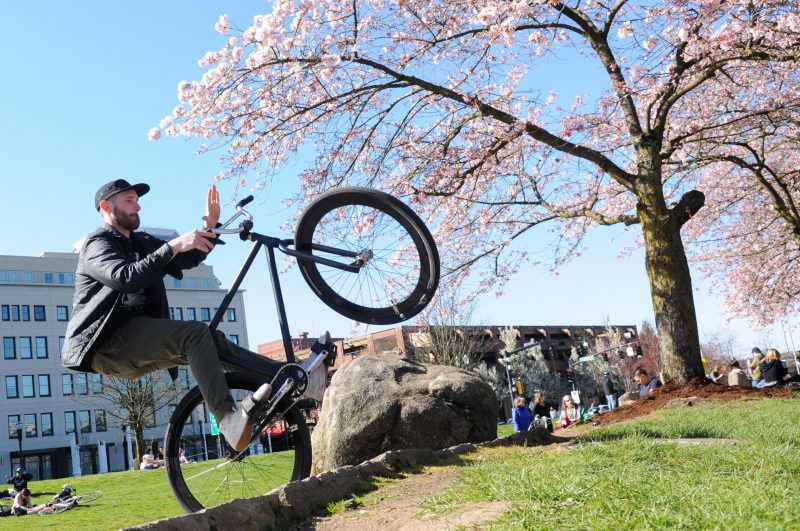 Energized by having his old friend back in town, Ramon now uses the Still Pour Instagram account to announce rides in hopes growing the scene. "In the last couple of months we've been posting group rides and getting people under the bridge to hang out. That network of two [Devin and Matt] has grown to like 30 or 40 people all in just a month or two."
Matt is trying to build a community like the one he had in SF. "If you're a new kid that comes to town, speaking for myself, where's the point of entry? Where the outlet? Where's the place you can meet up and find like-minded people who are doing this thing? There wasn't anything, so we're giving people that entry point." Matt says the idea is to be pick out a well-known location, hang out, have fun, and do tricks. "It's been awesome to see kids who just started becoming really close friends with guys who've been doing this a really long time."
"We want to meet more people, grow the community," Devin added. "Everyone feels like they're riding by themselves, then all of the sudden we come together and it's like, 'Oh my god!' now the network is huge. Everyone's so stoked to realize it's as big as it is."
Ramon, Matt and Devin are planning a big fixed gear freestyle jam this summer and I have a feeling we'll see them a lot during Pedalpalooza.
If you want to get into this type of riding, or find more people to ride with, follow Still Pour on Instagram. To see Matt Reyes' content from the streets of Portland, check out WheelTalkFixed.com
UPDATE: The location where these images were taken is the Japanese American Historical Plaza, which was created to, "raise greater public awareness about the diversity of cultural experiences in America." Some readers have expressed that jumping bicycles and doing tricks in this plaza is disrespectful. I appreciate that criticism and will no longer publish stories that encourage this type of riding in this plaza.
— Jonathan Maus: (503) 706-8804, @jonathan_maus on Twitter and jonathan@bikeportland.org
Never miss a story. Sign-up for the daily BP Headlines email.
BikePortland needs your support.
If you have questions or feedback about this site or my work, feel free to contact me at @jonathan_maus on Twitter, via email at maus.jonathan@gmail.com, or phone/text at 503-706-8804. Also, if you read and appreciate this site, please become a supporter.