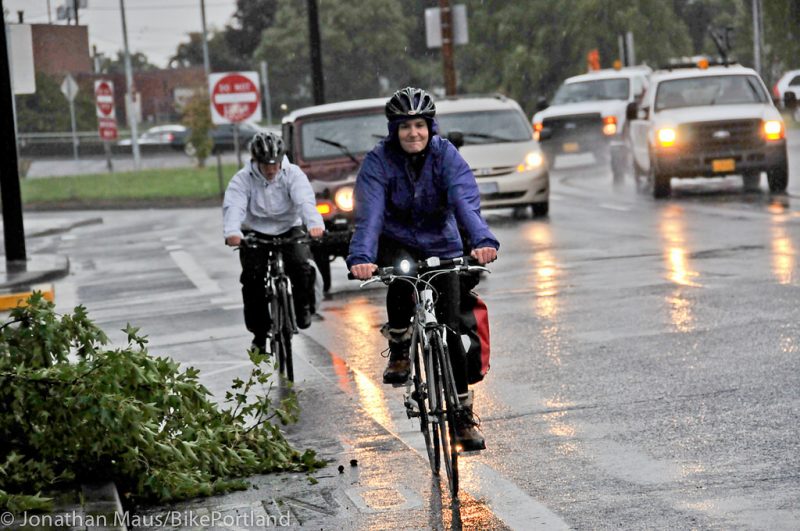 Let's talk about the weather.

I know there have been worse winters; but it's been awfully wet and cold out there for a while now and the forecast shows much more of the same. I'm curious how all of you are holding up.
— Are you still riding as much as you usually do? (Be honest, I've seen some very lonely bike lanes around town lately)
— Is your rain gear holding up?
— Do you have tips for folks who are new to town and whose enthusiasm for cycling might be waning right about now?
We asked our friends on Twitter and here's what we've heard so far:
@Ryanmb30 said: "Still riding, but soggier than normal. Unless it ices over, I won't be leaving the bike home anytime soon."
@banerjek said: "Oregon's "liquid sunshine" always makes for good riding. The rain clears the air and the coolness makes swamping out your clothes a total nonissue. What's not to like?"
@keaton_thomas said: "Getting good use out of the rain gear!"
@jordanpattern said: "Though my weekday workouts are happening on the trainer, I'm riding to work as usual. Definitely need to re-up the waterproofing on my rain pants."
Thanks for sharing, and keep on riding!
— Jonathan Maus: (503) 706-8804, @jonathan_maus on Twitter and jonathan@bikeportland.org
Never miss a story. Sign-up for the daily BP Headlines email.
BikePortland needs your support.