[This is the second part of a two-part post from Northwest Trail Alliance President Chris Rotvik. Don't miss Part 1, a recap of 2017.]
Almost 30 years ago, Theo Patterson spoke up to make sure mountain bikes weren't banned from Forest Park. To help, Patterson founded Portland United Mountain Pedalers, or PUMP. In 2009, PUMP became Northwest Trail Alliance, and we turn 30 this year. With our Big Three-Oh looming, let's glance back and gaze forward.
Advocacy
PUMP formed to advocate for off-road cycling in Forest Park. In 2017, almost 30 years later, NWTA's advocacy efforts took a huge step forward, a three-fold increase in time spent (more than 2,000 hours) engaging in various political arenas. Shaping Portland's Off-Road Cycling Master Plan remains a key focus for us, concluding in 2018 as we actively promote passage by Portland's City Council.
So, what's next for advocacy? Expanding our reach: We're bringing forward the voice of mountain biking to statewide recreation matters via the recently-formed Oregon Outdoors Coalition and the now-forming Statewide Trails Coalition. And separately, we're helping form a statewide mountain biking advocacy organization, an initiative launched out of last October's Mountain Biking Summit, which was co-produced by NWTA.
But let's shift to the fun stuff that comes once advocacy is done— digging and riding.
Gateway Green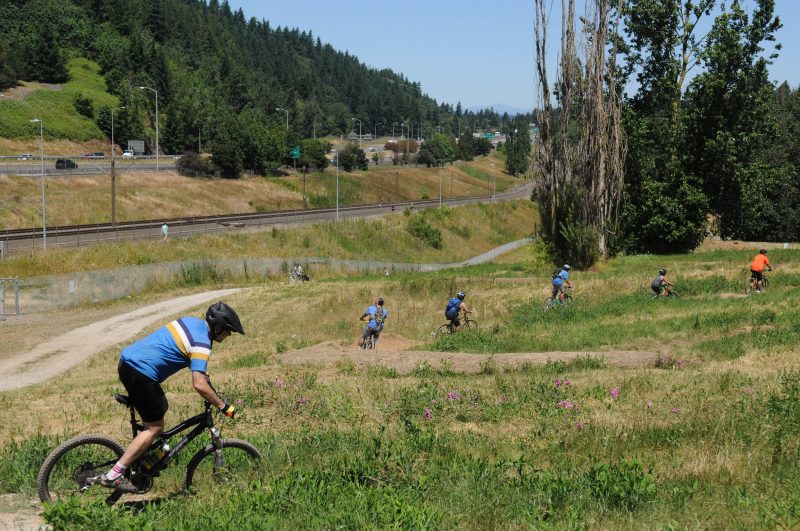 Momentum continues. The current "beta" version (hence the Dirt Lab moniker) of features at Gateway Green laid down the basics for an urban bike park. Over the next few years, as part of ongoing maintenance, we'll progressively evolve the cycling trails, skills area, and jump line, increasing the level of fun and challenge while simultaneously lowering the bar in areas for the youngest riders. You'll see more about this in mid-February.
Above the evolution of existing features, a new gravity line will come about, starting at the top of the park's south hill and descending to an exit near the entrances to the forest trails and the jump line. We'll be participating in the build.
The site's grand opening last year was a huge success, one we hope to eclipse on Sunday April 29 with our season kick-off: a mountain bike festival at Gateway Green. Envision a miniature Sea Otter Classic, bringing together riders and our local bike industry, mixing in demo bikes, food, and beer, and offering competitive and/or exhibition events. There will even be a Take a Kid Mountain Biking Day segment, as Gateway Green will be closed for construction during October's traditional date for this event.
Stub Stewart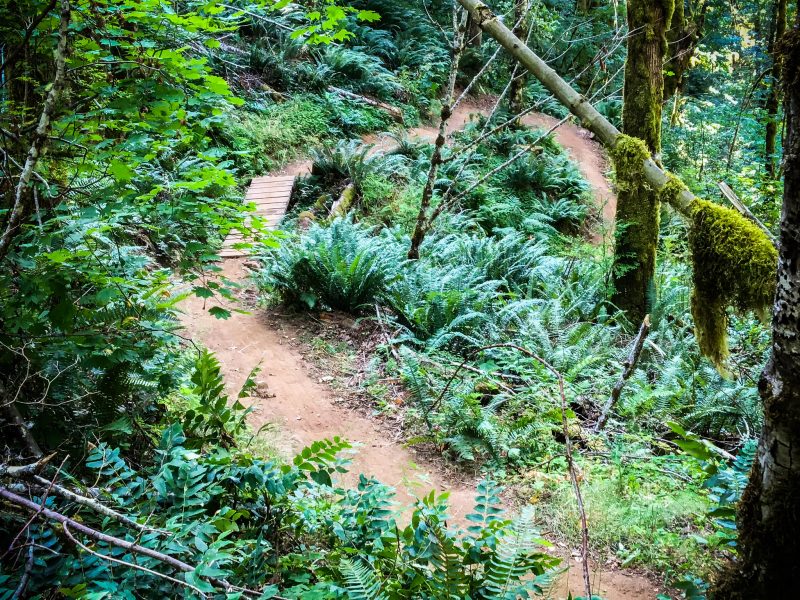 At Stub Stewart, the Williams Creek Horseshoe trail — a 1.8-mile connector to future mountain bike trail expansion lower in the park — will be re-engineered for all-season use. The project, a collaboration between NWTA and Trailkeepers of Oregon, funded by REI, includes re-routing two segments of the trail and engineering four drainage crossings. Work parties will commence in spring and run through the end of the year.
Saturday, May 19 sees LapQuest — our members-only, mass-start time trial — return to Stub Stewart. Ride your heart out for a personal best and then fill your empty tank with barbecue. What's not to love?
Next, StubFest returns June 16–17, Saturday and Sunday, but taking on a new flavor. Produced in partnership with REI, StubFest will blend mountain biking into the classic REI Campout experience. By offering REI campers orientation on the mountain biking trail system at Stub Stewart, group rides of various lengths and skill levels and various times of day, and opportunities to enhance mountain bike skills, we'll be growing the sport. NWTA members, bring your whole tribe this year and enjoy a family (and Father's Day) weekend.
Sandy Ridge
Sandy Ridge moves way up the active development leaderboard in 2018. A new trail, Johnny Royale, is planned for construction in spring. Connecting Two Turntables and a Microwave to the new trailhead, it'll provide a higher degree of challenge than (while lowering the traffic on) lower Hide and Seek. We'll be directly participating in the build, which is partially funded through our prior years' Sandy Ridge Shuttle events. As a side note, the BLM has completed a land swap with Clackamas County, bringing the trails TNT and Little Monkey officially into their system (and NWTA's maintenance responsibilities). Expect work parties to give these popular trails a bit of additional love.
July and September will bring us significantly upgraded Sandy Ridge Shuttle events. These fundraisers — a partnership with the City of Sandy using Mt Hood Express buses and trailers — will also land a mountain bike festival in Sandy Ridge's newly-expanded trailhead (planned for a ribbon-cutting in May). Dates for the upgraded Sandy Ridge Shuttle events have yet to be determined, and may include both Saturday and Sunday.
Elsewhere
Two work-party campout favorites return in 2018— Coldwater Lake and SHIFT. The Coldwater Lake Workparty Campout runs Friday thought Sunday, June 1–3, at the Coldwater Lake Picnic Site, Gifford Pinchot National Forest. Camping (which is not normally allowed) begins Friday night, while Saturday brings on a family-oriented work party. Fill your remaining time with organized group or on-your-own rides.
Coldwater's more rugged big brother, the SHIFT Workparty Campout, runs Friday through Sunday, August 17–19, at the Marble Mountain Sno-Park on Mt St Helens. Camping begins Thursday night, with Friday and Sunday set aside for organized group and individual rides. Saturday's wake-up call — usually a chainsaw at full chat — heralds a multitude of dispersed work parties, which are followed by a beautifully catered meal Saturday evening.
Save the Dates
Here's NWTA's official 2018 event lineup (with work parties to come):
• April 29, Sunday: Gateway Green MTB Festival & Take a Kid Mountain Biking Day
• May 19 (Saturday): LapQuest
• June 1–3 (Friday, Saturday, and Sunday): Coldwater Lake Workparty Campout
• June 16–17 (Saturday and Sunday): StubFest
• July: Sandy Ridge Shuttle
• August 17–19 (Friday, Saturday, and Sunday): SHIFT Workparty Campout
• September: Sandy Ridge Shuttle
Stay tuned to nw-trail.org, as event postings with registration details will be added in the very near future.
— Chris Rotvik, President, Northwest Trail Alliance
Never miss a story. Sign-up for the daily BP Headlines email.
BikePortland needs your support.