The Portland Bureau of Transportation has finished an update to the intersection of Southeast Holgate and 41st/42nd.

This is an offset intersection that has bike lanes running north-south. But the bike lanes used to disappear on Holgate, requiring people to enter the intersection unprotected (legally and physically) to make the crossings.
Here are two before shots: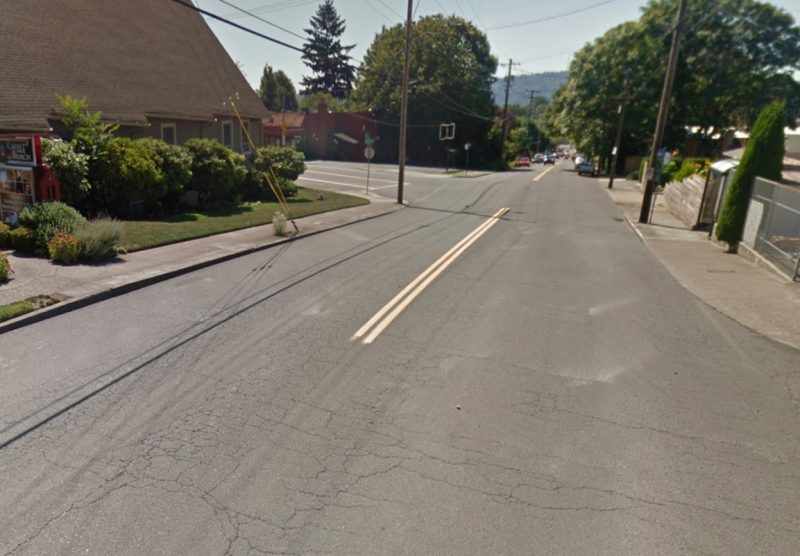 To improve bicycle access across Holgate PBOT has striped buffered bike lanes on both sides of the street. The lanes and turn boxes are colored green and plastic wands have been installed in the buffer zone for added protected. PBOT has also added new, "crossbikes" at both intersections to further facilitate bicycle crossings.
The project is part of 12 updates PBOT promised for 2017 as part of their "High Crash Network" projects that are listed in their Vision Zero Action Plan. Funding for the project comes from the Fixing Our Streets program made possible by an increase in local gas taxes.
This is an area that's not in my normal home/work/play zone so I haven't seen this myself. Anyone ride here and care to comment about how it's working?
— Jonathan Maus: (503) 706-8804, @jonathan_maus on Twitter and jonathan@bikeportland.org
Never miss a story. Sign-up for the daily BP Headlines email.
BikePortland needs your support.