The family of Robert Esparza will be on the Gresham-Fairview Trail late afternoon Sunday to call attention to bicycling awareness, organ donation and Esparza's life.
Esparza, 21, was hit by a Corvette on Sept. 24 of last year while biking through the marked crosswalk near 200th and Glisan at 3:30 a.m. The alleged driver was Alex Jacoby. Esparza, a 2013 Gresham high school graduate, had been on the way to his shift as a welder for medical equipment maker CAPSA Solutions.
Esparza's sister Janelle Ramirez said in an interview Thursday that she and her family will set up a table, bottled water, cookies and pictures of her brother from 3 p.m. to 5 p.m. (Facebook event here.) She expected other family members, friends and supporters to be there or stop by too, though no particular speech or moment is planned.
"I kind of just thought we could talk to people as they approach if they're interested," Ramirez said. "I just want a way to recognize him."
Among local donors to the event is the Community Cycling Center, which contributed a ghost bike. Ramirez said her husband has painted it white in memory of Esparza. It'll be installed Sunday.
In Oregon, people biking through crosswalks have the legal right of way as long as they enter the crosswalk moving no faster than someone walking. Jacoby, 76, was later indicted by a grand jury with charges of second-degree manslaughter and criminally negligent homicide, according to KOIN News. Ramirez said the case is headed for trial.
According to KOIN, police said Jacoby was not driving impaired but that they think "speed was a factor."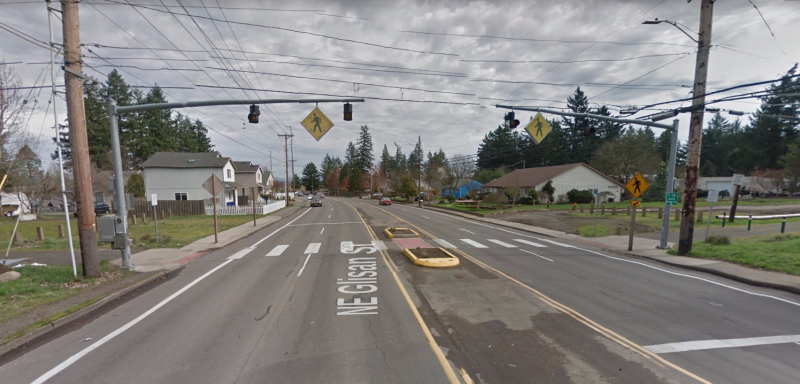 Esparza never got a driver's license, Ramirez said.
"My husband offered to teach him how to drive, and he just wasn't interested in it."

— Janelle Ramirez
"My husband offered to teach him how to drive, and he just wasn't interested in it," she said. "He was like, 'No, I have my bike.' … It's not like he was an avid biker or anything, but that was his means of transportation."
Despite never getting that license — a moment when many people are presented with the choice to become an organ donor — Esparza was also a very conscious organ donor, Ramirez said. She said he'd discussed his strong feelings about organ donation with their mother.
"He researched everything and was very, very intelligent," she said. "I don't think that he ever expected to need it, necessarily, but it wasn't just a box that he checked."
Today, Esparza's heart, kidneys and liver, along with parts of his eyes and other tissues, are at work in the bodies of 17 other people, Ramirez said.
"Some of my family has been able to cope a lot better with that information," she added.
Esparza is also remembered in an obituary page on Legacy.com. Simon Esparza has left a comment on that page almost every month since Robert's death, sometimes signing his name simply as "Dad."
"You have touched more lives than you'll ever know and it you will be the reason so many more lives have an opportunity to become alive and well," Simon Esparza wrote in July after attending a picnic for organ donors and recipients. "I love you so very much. I miss you even more."
— Michael Andersen: (503) 333-7824, @andersem on Twitter and michael@portlandafoot.org
Never miss a story. Sign-up for the daily BP Headlines email.
BikePortland needs your support.