The community of people who love bicycling in Portland is always changing and evolving. As someone who watches over it everday, I've noticed a nice trend of late: A proliferation of riding clubs devoted specifically to women.
It's a very encouraging sign and a testament to the depth and breadth of who's riding bikes in Portland. Statistically speaking (as of 2014), women make up about one-third of Portland's daily bike traffic citywide; but you wouldn't know that if you could see my social media timelines and inbox. Just since the start of summer I've learned of several new groups. Add them to the existing foundation of clubs and initiatives aimed at women on bikes and you've got a connected network where nearly anyone can find a home for their biking passions.
If you're looking for a supportive place to meet other riders, check out the info below. From bikepacking to business, there's something for just about everyone.
I'll share the new (to me, at least) groups first, followed by a list of the older ones…
Bikin' Betties
Bikin' Betties is a ladies-only bike ride on Monday nights. It's a great way to meet fellow female cyclists, get a bit of a workout, learn awesome bike routes around our city, and become more skilled and confident on our bikes. Anyone who gender identifies as a woman or who is gender non-binary is welcome.
Find them on Facebook. You can also join them for a special, culinary-themed ride to the "Black Feast" dinner on September 10th.

BAE BAE PDX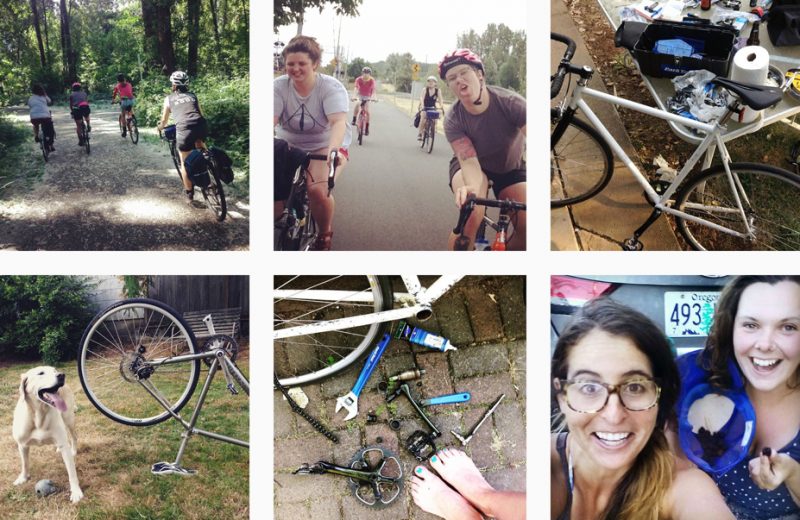 This group calls themselves a "mostly-female" bike club. They've done a few rides a month through summer, including a beach ride to Sauvie Island and a bakery ride in northeast. Here's their manifesto: "We are building the bike scene we want to be part of – one that is fun, challenging, and exciting while also being safe and supportive. We tolerate exactly zero sexist bullshit. We are not about speed or competition or snobbery; we are just a bunch of badass people who love bikes and are all about empowering each other, especially with regard to getting butts on bikes." Sounds good to me! Check out their website and see how much fun they have by perusing their Instagram.
Black Girls Do Bike
The Portland chapter of a national movement, this group says, "It's like a pep rally for black girls on bikes!" Here's more from their Facebook page: "We champion efforts to introduce the joy of cycling to all women, but especially, black women and girls. We are establishing a comfortable place where female cyclist can support, advise, organize meet-ups/rides and promote skill-sharing." Join their Facebook group if you'd like to get involved.
Friends on Bikes
F.O.B. launched earlier this year and they've continued to ride and meet through summer. They exist to, "promote and grow diversity in the cycling scene" and in particular they want to create a supportive environment for women/trans/femme/non-binary people of color (but all women are welcome). Visit their website to get plugged in.
Komorebi Cycling Team
Adventure by bike is the theme for this club. Through clinics and storytelling, Komorebi (a Japanese word that roughly translates to "sunlight shining through the leaves of trees") is all about giving you the inspiration to, "ride your bike somewhere new and sleep outside." Learn more at their website.
Mujeres en Movimiento
Founded in 2014, this group rides together with an aim toward, "Creating community, and healthy active lifestyles for Latinas." Check them out on Facebook.
Ride Like a Girl
This group helps women build cycling skills through coaching sessions and social biking opportunities. Founder Carolyn Jen tells us, "We are a thriving group of 200 women, with almost 20 ride leaders, we have had a packed summer calendar, two bike camps, two bike tours (Hawaii and Eastern Oregon) and next week we are hosting a Cycle Oregon Solidarity Week to support the riders impacted by the canceled event." Sounds awesome! Here's their website.
Sorella Forte
This is Portland's premiere women's cycling team. They've got a solid core of about 40 members who race regularly thanks to a strong base of sponsors. If you're curious about bike racing and/or want to meet other ladies who like to go fast and have fun, click over to SorellaForte.com.
Sweetpea Ladies Auxiliary
Started in 2010 as an amateur cyclocross team, Ladies Aux is a group of women who aren't afraid to race and get dirty. Check them out on their website or Facebook.
Battlekat Racing
This is the team to join if you're interested in racing on a track like Alpenrose Velodrome. Battlekat is a W/T/F focused team started in December 2015 that wants to help you, "release your inner badass!" BattlekatPDX.com.
The Portland Society
This group is a bit different than the others. Now six years old and 50 members strong, it was founded to "cultivate a vibrant community of women supporting each other to achieve their personal and professional goals." See if it fits your needs at PortlandSociety.org.
The Sprockettes
Portland's mini-bike dance team has stood for empowerment for well over a decade now. Their annual Sprockette Camp for Girls is a gem and they're still performing a few times a year. Keep track of them via Facebook.
Women on Wheels
Named after the eponymously named book by author April Streeter in 2010, this Meetup group is still going strong. Learn about their ride (and free yoga) happening this Saturday on their website.
Cyclofemme PDX
Cyclofemme PDX is an annual event where many of these groups come together and ride in order to, "Honor the past, celebrate the present, and embrace the future of women in cycling and the opportunity for social change." Learn more at their Facebook page.
Women Bike/The Street Trust
The Street Trust launched their Women Bike program in 2015. They have regular rides and events and much of the action happens on the Women Bike Facebook group.
Hopefully this helps you find a group to ride with. I'm sure there are more out there! Share what you know in the comments.
Stay tuned! This month we'll publish special stories (here and on our Instagram) about women who bike in Portland thanks to a partnership with Steph Routh from Community Cycling Center and Leah Benson from Gladys Bikes.
— Jonathan Maus: (503) 706-8804, @jonathan_maus on Twitter and jonathan@bikeportland.org
Never miss a story. Sign-up for the daily BP Headlines email.
BikePortland needs your support.