A planned expansion of the Portland Art Museum will (PAM) come at a cost of $50 million in new construction — and it would also come at the cost of public access to our city streets.
As part of their plans to build the "Rothko Pavillion," PAM has asked the City of Portland for permission to close an existing public right-of-way through a plaza between two of their buildings that connects SW 10th and Park at Madison Street. The proposal would add a significant new structure to the museum's footprint and it has architects and cultural backers very excited. But some advocates are concerned that the new plans will further limit walking and rolling in a part of town where street connections are invaluable.
Places where it's easy and attractive to walk and roll have small blocks with lots of connections between them. The tighter the grid, the thinking goes, the better walkability a place has. As city blocks become "superblocks," human-powered trip times increase, which makes walking and biking less attractive.
PAM's latest plans are just the latest in a long history of limiting access to this block.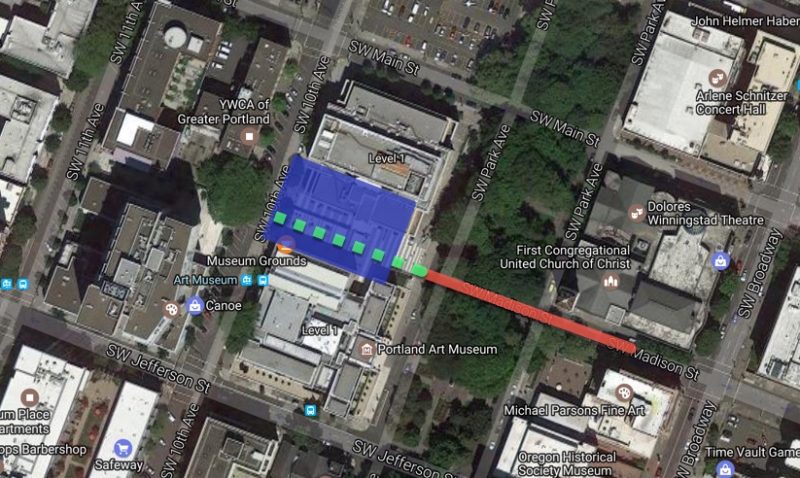 Madison used to connect between 10th and Park, but at PAM's request in 1968 City Council passed an ordinance to "vacate" the street so the museum could complete a major renovation. That ordinance held PAM to three promises: a permanent, eight-foot wide public easement would be provided; the easement should be free of obstructions and well-lit; and that the area be only used as open mall. After several incidents of vandalism in 1984, PAM requested — and was granted — an amendment to the easement to close the right-of-way between 11:00 pm and 7:00 am. Then in late 2012, PAM requested to further limit the hours of public access. They wanted the public to only be able to use the plaza during museum hours. This time however, the City of Portland's Planning & Sustainability Commission shot down the request. According to a briefing on the issue created by PBOT Commissioner Dan Saltzman's office, the museum than unsuccessfully appealed to former Mayor Sam Adams with a threat close public access if hours weren't further limited.
PAM's latest request would allow them to expand their programs between two existing buildings by covering the pavilion. The enclosed space would be free to enter and is being billed by the museum as a "cultural commons" between the buildings.
While the new structure has many benefits for our city, the requested easement change would, according to briefing papers prepared by the City of Portland, "Potentially exclude users of the space that are not utilizing it as pedestrian access between SW 10th Avenue and SW Park Avenue, patronizing Museum offerings (e.g., gift shop, café, etc.), or attending the Museum, as well as and/or including bicycles and animals." Public access would also be reduced by four to eight hours per day.
"More than likely we will request that access be maintained and provided for those who are walking and biking."
— Rithy Khut, Chair of Portland Bicycle Advisory Committee
If the easement is approved it would make bicycle connections to and from SW Madison more difficult and inconvenient. Madison is a major city bikeway east of the museum because of its relatively low-volume traffic and direct connection to the Hawthorne Bridge — the most heavily used bike route across the Willamette River with a peak-season daily average of over 6,000 trips. SW Columbia has no bike lanes and isn't considered a bike-friendly street. Salmon would be comparable, but it would mean a four-block detour.
These concerns, as well as potential impacts to walking, have already surfaced.
Local urban planner Mary Vogel wrote in an op-ed published on January 17th in the Portland Tribune that the closure of the plaza would go agaist Portland's values of reducing demand for fossil fuels. The City should, "Insist on a revision of the Portland Art Museum Rothko Pavilion plan," Vogel wrote, and instead, "focus on strengthening downtown walkability and resilience — e.g. negotiate a Madison Walkway between Southwest 11th and 12th Avenues to break up this superblock."
And a December 2016 article about the project in The Oregonian highlighted concerns of people who live across the street from the museum who worry about losing access:
Neighbors worry that means they won't be able to use it for commutes or to reach places like the Arlene Schnitzer Concert Hall and the Oregon Historical Society.

Ferriso [with PAM] said he recognizes the neighbors' concerns, but whatever's lost by closing the walkway an additional 25 to 30 hours is outweighed by the community benefits of improved educational and cultural opportunities at the museum.

Wendy Rahm, an Eliot resident who is a museum patron and a member of the board of directors of the Architectural Heritage Center, worries the museum isn't listening to stakeholders in her building.

"I think it's gorgeous," Rahm said after attending a presentation about the proposed expansion. "My problem with this is that plaza is a pedestrian-oriented oasis in our very increasingly dense city. It is an asset to this part of town."
PAM's proposal to limit access on this block was also discussed briefly at a joint meeting of the City of Portland's bicycle and pedestrian advisory committees on March 14th. A large majority of committee members raised their hands in opposition to the idea. PBAC Chair Rithy Khut confirmed with us this week that they plan to submit a letter to Commissioner Saltzman and, "More than likely we will request that access be maintained and provided for those who are walking and biking."
This ordinance is scheduled to be heard at City Council on April 20th.
Perhaps Council will consider other options. While in Amsterdam in 2013 I marveled at how that city created a promenade for walking and a path for bicycling through a major museum.
— Jonathan Maus: (503) 706-8804, @jonathan_maus on Twitter and jonathan@bikeportland.org
BikePortland is supported by the community (that means you!). Please become a subscriber or make a donation today.