If you've been around bicycling for a while, you've probably bumped into Surly Bikes. The brand is super-popular in Portland because they make many of the affordable, no-nonsense and useful bikes that are dearly beloved around here: The longtail Big Dummy, the uber-commuter Cross Check, and others.
All you Surly fans out there will be happy to know that next week they're coming to Portland.
We heard from Surly's Kate Echols Moore that they've got two events planned while they're in town — one to show support for bike shop employees and the people who love them, and the other is a "WTF (women/trans/femme) focused event" where everyone is welcome.
Check the details below and make some plans…

Thursday, February 2nd – Surly Bike Shop Party
Revolver (6509 N Interstate Ave) / Velo Cult (1969 NE 42nd Ave)
6 PM Ride – 7 PM Party
More info here.

Surly Bikes Mpls wants to show some love to PDX bike shop workers, friends and supporters. Meet up and ride with us at 6 from Revolver Bikes or show up at Velo Cult Bike Shop at 7 for music and comradery. Bike shop employees get a free beer and some Surly swag while supplies last! Backpack giveaway from NorthSt Bags and live doom by Fasala. Show up and throw down with us!

Things to know:
– Ride rolls out at 6 from Revolver
– Bike employees must show proof of employment (we're asking for pay stubs) to get free beer and schwag
– Giveaways from North Street – this is a super special giveaway backpack…. What could it be?!
Friday, February 3rd – W/T/F Bike Touring Pizza Party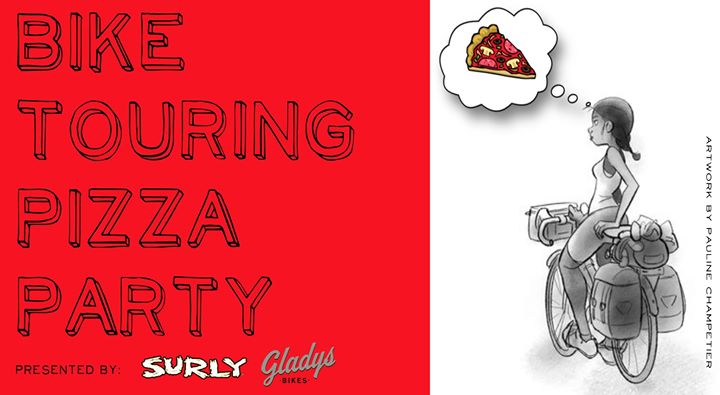 hosted by Team Gladys/Gladys Bikes (2905 NE Alberta St) at 7:00 pm
More info here.
We are excited to be teaming up with the fine folks at The Official Intergalactic Surly Regional HQ for an evening dedicated to you and your bike touring adventures.

Come socialize, win awesome raffle prizes (including a brand new Surly bike — look for all the details in the comments), ask Surly reps and our resident pros your burning touring questions, share your own touring tips and misadventures, check out a variety of touring set ups, eat pizza and, most importantly, get ideas for your next trip!

Hope to see you there! Please RSVP so we know how much pizza to order.

p.s. Program starts at 7:30 and raffle drawing happens at 8:15pm (must be present to win).

Things to know:
– This is a WTF (women/trans/femme) focused event. All are welcome to attend, but it is focused on WTF customers
– Raffle Prizes… including a SURLY KRAMPUS
– Interactive Q&A with WTF tourers and Kate from Surly
– Pizza!
— Jonathan Maus: (503) 706-8804, @jonathan_maus on Twitter and jonathan@bikeportland.org
BikePortland is supported by the community (that means you!). Please become a subscriber or make a donation today.