If all goes according to plan one part of Portland will leapfrog to an exciting new level of bike-friendliness in the next three years. Or should we say, it'll jump?
Portland has just been named one of 10 cities nationwide (out of 80 that applied) to be part of "The Big Jump," a program managed by the nonprofit advocacy group People for Bikes that aims to double or triple the amount of riding in one geographic area by 2019. In Portland's case the focus will be on the Gateway district.
Dubbed the "Gateway to Opportunity" project (more on that name later), the bureau of transportation will zero-in on the area bordered by I-84, East Burnside, I-205 and NE 132nd Avenue with the goal of making it much more bikeable than it is today. With this nudge from People for Bikes, PBOT will look to advance and complete 13 different projects by 2019. The projects include protected bike lanes on the NE Halsey-Weidler couplet in the heart of Gateway, three major neighborhood greenway projects, a bikeway overpass of I-205 to connect to the Sullivan's Gulch trail, and much more. In total, the Gateway to Opportunity project will encompass an estimated $21.35 million in infrastructure spending and create about 39 miles of new bikeways.
As one of the selected cities, Portland will receive the equivalent of $200,000 in technical support from People For Bikes each year for three years, as well as an additional $50,000 in matching funds or financial commitments from local organizations.

The other cities include: New York City; Baltimore; Memphis, Tennessee; Los Angeles; Providence, Rhode Island; New Orleans; Fort Collins, Colorado; Austin, Texas; and Tucson, Arizona. A press release just released from People for Bikes said these cities, "will be laboratories for innovation, ultimately illustrating the ways in which U.S. cities and towns can tap into bicycles to radically improve the health and vitality of their communities."
The projects that will fuel the jump
People aren't willing to jump if they have nowhere safe to land. The key to success with this program will be connecting multiple safe bikeways together so that people can get to the places they want to go without ever feeling like their life is at risk.
Here's a map of the projects that will be a part of this initiative followed by a brief description of each of them (taken from the application*):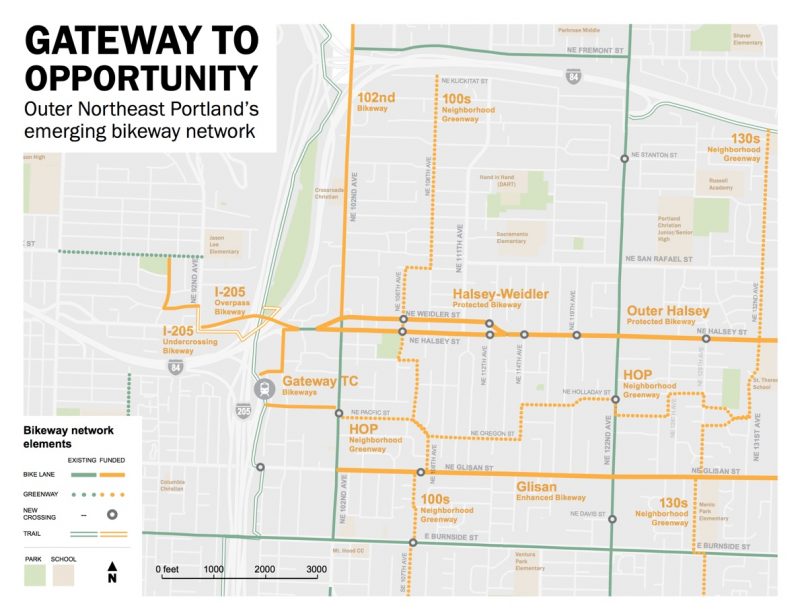 Halsey-Weidler Protected Bikeway – In an area oriented around the automobile, the Halsey Weidler business district stands out as the exception. The only sidewalk facing retail district in east Portland will be transformed with inviting protected bike lanes, making it the most bike friendly business district in the entire Portland region. (Read more about this project here.)

100s Neighborhood Greenway – This north-south neighborhood greenway, which is currently built from the Springwater Corridor to SE Bush Street, will be extended northward over four miles to connect the Parkrose Heights, Hazelwood, Mill Park and Powellhurst-Gilbert neighborhoods with destinations including three business districts, five parks, four schools, one light rail line, and six bus lines.

130s Neighborhood Greenway – North-south neighborhood greenway connecting places from I-84 to SE Foster Rd. through the heart of East Portland and the David Douglas School District.

HOP Neighborhood Greenway – This project will be an east-west neighborhood greenway with the goal of connecting the 130s and 100s neighborhood greenway with Gateway Transit Center, Gateway Green, and Gateway Discovery Park. The project would also connect to Hazelwood Hydro Park and East Portland Office of Neighborhood Involvement which functions as a community hub and hosts meetings where residents come together to discuss neighborhood issues. HOP stands for Holladay, Oregon, and Pacific Bikeway because these are the streets that the neighborhood greenway will use.

I-205 Undercrossing – This project will be a huge benefit for Gateway Green as it makes a car-free connection between Jason Lee Elementary school and the west side of I-205 to Gateway Green Park, I-205 bike path, and Gateway Transit Center. It will unlock Gateway Green to youth from all surrounding neighborhoods, and thanks to neighborhood greenways that feed into the undercrossing, people on bikes will have a safe connection to the undercrossing.

I-205 Overcrossing – This project would connect Jason Lee elementary school to the Gateway District. Currently, the Halsey overcrossing has a narrow sidewalk (north side) with 4 lanes for cars. The goal for this project is to improve connections over the I-205 highway. As part of a pavement overlay, this project would utilize one of the travel lanes to create a protected two-way cycletrack on the south side of the Halsey overcrossing.

102nd Enhanced bike lanes – This project will be a street reconfiguration that will convert 2 of 5 travel lanes to buffered bike lanes. These enhanced bike lanes will make it easier for people to connect to neighborhoods, transit, schools, and Gateway Green. It will also significantly improve the ability for people on bikes to cross I-84… The bicycle facility for this project will likely be 6-foot buffered bike lanes.

122nd Ave. Access to Transit – This general fund commitment in improved access to transit is a partnership with Tri-Met, the region's public transit agency. As a result of strong public demand and prioritization from Commissioner Novick, Portland City Council invested $4.7 million of City general fund in safer crossings and sidewalk infill with the understanding that Tri-Met would then bring the bus on 122nd to frequent service. On Sept 6, 2016, improved bus service began on 122nd, a key north/south corridor that connects people to jobs. Over the next few years, as PBOT projects are delivered, Tri-Met will continue increasing service on the 122nd corridor. By improving service in east Portland, Tri-Met is investing millions of dollars into this area.

Outer Glisan Safety Project (listed as "NE Glisan Enhanced bike lanes" on project map) – This project developed out of somewhat of a unique process. The concept for the Outer Glisan Safety project is the result of engineering analyses related to 100s bikeway, 130s bikeway, and 150s bikeway projects. While working on these north- south bikeway projects PBOT engineers quickly noticed the difficult crossing at NE Glisan. Instead of significantly enhanced crossings on Glisan, after looking at the street, our engineers decided it would be worth considering doing a street reorganization on Glisan itself to allow for safer crossings of Glisan.

Outer Halsey Streetscape Project – This streetscape project comes on the heels of the City of Portland's yearlong Vision Zero action plan process. One of the main outcomes of this process was that street design must play a major role if the City wants to eliminate traffic related fatalities by 2025. Another major outcome was that high injury network streets need to be retrofitted to increase safety and allow for more uses. With this sense of urgency and political leadership, Council voted to provide $1 million of funding toward the Outer Halsey Streetscape project. PBOT would contribute the other $1 million from system development charges.

I-205 Trail & Glisan crossing – This project will improve safety where a high crash corridor intersects with the I-205 bike path & a highway off-ramp. This intersection is a key access point for Gateway Green and Gateway Transit Center. The I-205 bike path is a 13-mile off road bike path that runs from north-south along I-205 from Clackamas Town Center to Vancouver, WA. This project was identified in the fixing our streets project list that Portland voters approved in May 2016.

NE 122nd & NE Davis crossing – Similar to the I-205 trail crossing & Glisan project mentioned above, this crossing was specifically included in the fixing our streets project list that Portland voters approved in the May 2016 ballot initiative. This rapid flashing beacon will help people walking and biking to safely cross NE 122nd Ave., a street listed on our high injury network.

Crossing improvements on high crash corridors – Advocates in east Portland have been working to improve safety along arterials and high crash corridors. Advocates from EPAP worked with state legislators to prioritize funding for crossing improvements and rapid flashing beacons. In the spring 2015 legislative session, state legislators delivered on their promise and were able to secure $1.75 million for 17 crossing improvements in east Portland. One of the reasons this funding is significant is because it represents State investment on streets owned and maintained by the City of Portland. Because all of these crossings involved City streets, PBOT received the funding to deliver these projects. 6 of the 17 rapid flashing beacons are within our "Gateway to Opportunity" project area.
As evident by letters of support included in the application, PBOT has the backing to move forward with these projects from Portland City Council and nearly every relevant major agency and community group.
Why Gateway?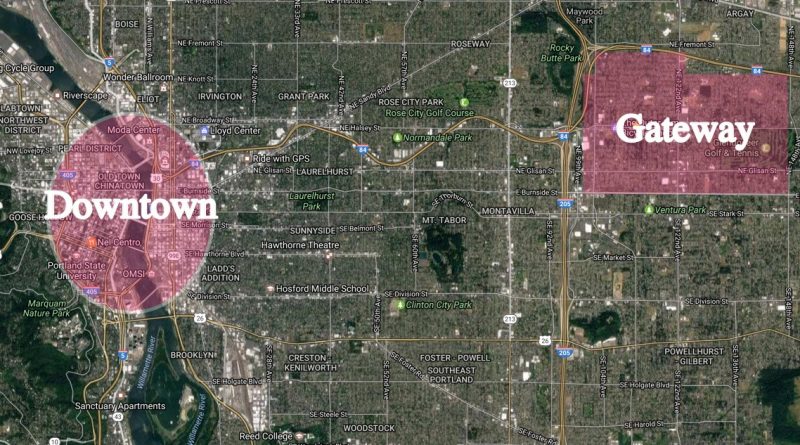 Why Gateway? It goes way beyond People for Bikes and the Big Jump program.
The Gateway District — an area with about 22,000 people that's less white, less wealthy, and less likely to bike and walk than Portland on the whole — has long been on the city's radar for its transportation reform potential. In 2000, Portland City Council adopted the Opportunity Gateway Concept Plan and Redevelopment Strategy (PDF) (that name sound familiar?). That plan lamented Gateway's "unusually high volume of through-traffic that adds no value to the district and detracts from its livability," and surmised that, "Improved connectivity will result in more direct pedestrian and bicycle trips, reducing travel time and making these modes more competitive with the auto for certain trips in both time and cost."
PBOT listed the area's "suburban style development" as one of the main reasons they selected it for this program. They feel like if biking can spur change here, it will not only transform Gateway, it could trigger a similar approach in other parts of east Portland and even other cities across the country.
Here's a snip from Portland's application:
"The Gateway district is significant in a number of ways. First, it is in east Portland, an area that has been historically underinvested. Further, from a transportation perspective, it is very car-oriented and quite different from the "Portlandia" image of Portland many read about in travel blogs. The streets in this outer NE Portland district carry lots of fast moving cars and they can be very difficult to access on foot or bicycle…

Showing success in outer NE Portland in the Gateway district would be transformative for Portland… Making bicycling normal in Gateway would create a sense of connection between two parts of Portland that have for too long been divided by disinvestment and highways.

According to census data, about one percent of commute trips occur by bicycle in the Gateway area. While some bike to work, others use bicycles to access libraries, parks, and schools. In general, the amount of people biking in this area is extremely low. Furthermore, bicycles can sometimes be seen at tools for displacement and discrimination…

We are selecting Gateway as our focus area for the Big Jump precisely because it is an area of Portland that is oriented around the car. Our belief is that if we can show success in an area with suburban style development, it can be a model for communities across the country as they seek to retrofit their streets to better serve their residents by providing them with more options to bike and walk.

…

This post-world war II part of town is defined by single-family suburban-style homes, disconnected streets, large arterials spaced generally on a one-mile grid, an auto-oriented land use, and a distinct lack of sidewalks. The area is among the most diverse in Portland, with a more than 40% non-white population."
The couplet is key
Despite the fact that the streets in the area are designed almost solely for automobile use, Gateway's main commercial district has remained relatively in tact. That's what makes the potential of high-quality protected bike lanes on the Halsey-Weidler couplet so exciting. As we reported back in May, an existing urban renewal area project by the Portland the Development Commission would make this commercial district one of the best places to ride in the entire city. But don't just take our word for it. In their application PBOT wrote, "When implemented next year with parking-protected bicycle lanes this commercial stretch will have the most bicycle-friendly design of any commercial district in Portland."
The current number of people who regularly use a bicycle to get to work in the Gateway District has hovered around 1 percent for decades. In order for Portland to reach its adopted goal of 25 percent bicycle use by 2030, one likely scenario puts the target bike commute rate for east Portland at around 12 percent. For this Big Jump initiative to be successful, PBOT would just have to reach about 3 percent bike mode share by 2019. That's completely doable — and it just so happens to be the same percentage as Metro's Regional Travel Demand Forecasting Model predicts for the Gateway by 2020.
When asked by People for Bikes what they hope to achieve with the project, PBOT said, "Our goal with intentional, focused, and serious investments with biking and walking is that residents will be able (and excited) to use this infrastructure to meet their daily needs: Further, the benefit of this network is that it will be a network. Instead of a singular neighborhood greenway, we expect to provide residents with infrastructure that connects to each other so that transitions from neighborhood greenways to protected bike lanes and bus stops can all be made flawlessly and with limited interaction with cars."
It's a gutsy goal, but Portland is ready to take this leap.
*Congratulations and thanks are due to Timur Ender, the city staffer who worked as transportation policy advisor for former Commissioner Steve Novick (and who now works at PBOT). Ender developed the application and managed Portland's involvement in this program.
— Jonathan Maus: (503) 706-8804, @jonathan_maus on Twitter and jonathan@bikeportland.org
BikePortland is supported by the community (that means you!). Please become a subscriber or make a donation today.