This guest article is written by Noel Mickelberry, the executive director of Oregon Walks
It's a special time of year for people on foot. It's a little rainy, there are patches of sun, and it's the perfect time to prep yourself for Halloween – it's Walktober, an entire month of walking fun that Oregon Walks has been organizing for the past five years.
Think of it as the Pedalpalooza of walking – anyone can lead a walk or join a walk, and they are all on our online calendar
Two of our favorite ways to enjoy Walktober are by walking for social change, and walking for exploration – and there are plenty of walks to do that this year!
How will you Walktober? Here are some ways to join us!
Walking as a MOVEment
These are walks that support advocacy, community engagement, and grassroots energy. Learn from local and national experts, and give your input to important plans across the region.
Walk to Vision Zero
Wednesday, October 12th at 2pm
*This walk has been cancelled due to concerns over protests scheduled at City Hall.*
City of Gresham Presents: Walk, Talk, Eat
Sunday, October 15th at 10am
The City of Gresham wants to understand how getting around town can help you stay active, fit, and healthy. Join them for a 2.2 mile walk from Gresham's Civic Center on Eastman to the new Rockwood Rising site on 187th and Stark St. Along the walk we want to hear from YOU about what street improvements would make walking and biking easier, safer, and more enjoyable in Gresham. The Walk will be followed by a feast at the Sunrise Center (18901 E. Burnside St.)! – Come try foods from many different cultural cuisines made by local food vendors. More info here.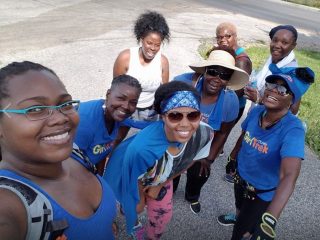 Building a Grassroots Movement: walk with Vanessa Garrison of GirlTrek
Wednesday, October 19th at 12:30pm
Are you working for change in your community, or hoping to get a movement off the ground? As co-founder of GirlTrek, Vanessa Garrison took her concern over the health of her family and community and turned it into a national movement centered on walking. Her experience showed how women can mobilize around their own health to address issues such as street violence, harassment and social justice in their communities. Walk with Vanessa to hear her story and learn the three steps she took to create a grassroots movement: offer a feasible first step; train women to be leaders in their own communities; and focus on culturally relevant content. More info here.
Curb Parking Walk-Shoup
Thursday, October 20th at 5pm
How nerdy can you get? Join Portlanders for Parking Reform on a walk through Northwest Portland. We will discuss Portland parking policy topics such as: residential minimum parking requirements, parking permits, metered parking, performance pricing, and more! You will be joined by Brian Davis and Gwen Shaw from Lancaster Engineering's StreetLab. Brian and Gwen will teach us how a parking occupancy survey is performed and give insight into how the changes to parking management in NW Portland are being monitored. More info here.
Vision Zero: Outer Halsey Walk
Wednesday, October 25th at 12pm
Remember when I wrote to BikePortland about how Vision Zero could incorporate social justice and equity issues? Well the proposed Vision Zero plan for Portland actually does those things, something we have yet to see anywhere in the US. It's exciting what can happen when transportation is treated as an intersectional issue – and all human life on our streets is valued. In addition, the Portland Bureau of Transportation has asked for $2.9 million to improve Outer Halsey, from 122nd-city limits – a high crash corridor in East Portland. This would show immediate commitment to the goals of the Action Plan. Come learn about the proposed changes and how to support this project getting funded! More info here.
Exploregon
Walktober is a great excuse to explore new neighborhoods. Here are some walks that highlight the unique aspects of local neighborhoods and help you discover new places, food, and fun.
Lloyd Scavenger Hunt
Saturday October 15th at 3pm and Wednesday October 19th at 12pm
GoLloyd is hosting TWO scavenger hunts this Walktober! You can't miss out. Get to know the Lloyd neighborhood while you compete for prizes from area businesses! More info here.
Mt Scott/Arleta neighborhood walk to the Mercado
Wednesday, October 19th at 6pm
Join LeeAnne for a walk in the Mt Scott/Arleta neighborhood! You'll meet in front of the Mt. Scott Community Center, then take a lazy stroll around the park, through the neighborhood and end up at the Mercado on 72nd and Foster for some tasty cart food and beverages. Dinner is not provided so please bring your wallet and support the great vendors at the Mercado! More info here.
PCC Piedmont Prowl
Monday, October 24th at 1pm
Join members of the Portland Community College Cascade campus community as we meander through the Piedmont neighborhood. We'll check out a Carnegie library, the Little Chapel of the Chimes, the Piedmont Conservation District, and the city's first test rose garden located in Peninsula Park. The walk is a flat 2 miles that we will aim to complete in one hour. More info here.
We hope to see many of you out on the streets! Happy Walktober!
— Noel Mickelberry, Oregon Walks
BikePortland is supported by the community (that means you!). Please become a subscriber or make a donation today.