Skjelse Rapoch thought she'd just had a very bad crash while riding her bike. Now the police her family thinks she might have been attacked.
It happened Tuesday night while Rapoch was riding on the Columbia Slough path en route to Portland International Raceway where her husband (who works at Velo Cult Bike Shop) was competing in a cyclocross race. Details of the incident are scarce because Rapoch doesn't remember anything. It was only after she was recovering in the hospital that she spoke to police and began to put the pieces together.
"What we initially thought was a terrible bicycle accident," her family says, "is the result of something far more sinister…. it would appear an individual(s) was hiding along the path and hit Skjelse in the face with a rock while she was riding by."
According to statements from Rapoch and her family, the police are now investigating this as a possible assault (update: the police say there is no evidence to suggest it was an attack).
A rider who found Rapoch says they saw a lone suspect fleeing the area as they rolled up. Rapoch says police have found a bloody rock has been found nearby that matches her facial trauma.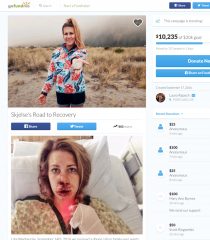 While we don't know much about the motives of the attack or the identity of a suspect, what we do know is that Rapoch has been very seriously injured. She was found unconscious on the path and suffered a severe concussion as well as numerous facial injuiries. She faces an long and arduous road to recovery and her family has started a fundraising campaign to alleviate some of the financial burden. So far over $10,000 has been raised.
The path she was riding on is very popular and recently received a significant upgrade that includes new connections to PIR and North Denver Avenue that leads up into the Kenton neighborhood. In 2014 we shared a ride report and said this path is perfect for families.
Over the past year or so we've heard from several readers who say a group of people live in tents and other housing structures along the Columbia Slough — especially under the bridge that connects Schmeer Road and Denver. In December of last year we got a report of a suspected chop shop in this area. One reader said he saw shopping carts full of bike parts and frames. The addition of people living along these paths has changed the riding environment.
If you'd like to help Rapoch get through her injuries and the medical pills that are headed her way, hit the GoFundMe link. If you have any information about what happened to her, please contact the Portland Police non-emergency line at (503) 823-3333.
UPDATE, 9/19: Here's the latest from the Portland Police Bureau:
At this point, we cannot verify whether or not it was an assault as the victim has no memory, there are no eyewitnesses or suspect information. The information about people hiding along the trail and throwing a rock that struck the victim has not been verified. The incident is suspicious enough to warrant further investigation. Anyone with information should call Assault detectives at 503-823-0400.
— Jonathan Maus, (503) 706-8804 – jonathan@bikeportland.org
BikePortland is supported by the community (that means you!). Please become a subscriber or make a donation today.