"Ride a bull. Bag an elk. Land a steelhead. Climb a mountain. There is no shortage of adventure to be had in Myrtle Point." That's one of the marketing slogans you'll find on the City of Myrtle Point's website.
After a 104-mile journey yesterday through the forests and river valleys that surround this small town, I think they should add, "Ride a bike" to that list.
Speaking of lists, I found a road yesterday that should be on yours: the Coos Bay Wagon Road.
I started the day in Canyonville, rode north through the lumber town of Riddle then Myrtle Creek. Northwest of Myrtle Creek I rode through towns that time has forgot: Lookingglass (near Roseburg), Reston, Dora, and Sitkum.
These towns used to be stops along the Coos Bay Wagon Road, an historic connection between Roseburg in Douglas County and Coos Bay on the coast. It was built by the federal government and completed in 1872. According to a 2012 article in The Oregonian, it was one of four road contracts given out by the feds to help connect the growing west. And it's the only one that still exists.
When Highway 42 was built about a century later, the Coos Bay road — and the rural communities along it — fell out of favor. If you're a bike rider, you know what that means: a nearly traffic-free wonderland that offers enough challenge and adventure that you'll have no trouble imagining how difficult it must have been to cross in a wagon.
I rode about 30 miles of the 50-mile road, turning south to my destination in Myrtle Point as the rode continues northwest toward Coquille or Coos Bay on the coast. The section I rode started in a place called Lookingglass, home of a century-old general store that's still open for business (and a must-stop for refueling).
From Lookingglass you head into a valley and then the road tilts up. There are two tough climbs, with the one to the summit featuring double-digit inclines for several miles. The road is smooth and well-maintained, except for about 10 miles of gravel on the descent before you get back into the valley flats.
The gravel section is very fun if you're ready for it. It clings tightly to the East Fork Coquille River which roars and trickles through the steep canyon forest into fantastic pools and rocky waterfalls.
The riding is superb: You start and end in bucolic valleys dotted by historic barns, on the way up it's just you and the forest, and the way down is a thrill ride.
Riding this road yesterday was made even more interesting because I started the day by rolling on an intact segment (ruts and all) of the 1846 Applegate Pioneer Trail. Ted Romas from the Myrtle Creek Chamber of Commerce had told me where to find it. And I'm glad he did because it's very easy to miss. Right off NW Dole Road as you leave town there's a barely visible grassy, dirt road that veers off to your right.
Once I saw it I knew it was the Applegate. It's hard to see in photos, but the naked eye can discern it. What a thrill it was to roll my tires along the same stretch of dirt that Oregon's pioneers once rolled theirs.
Here are photos from the ride: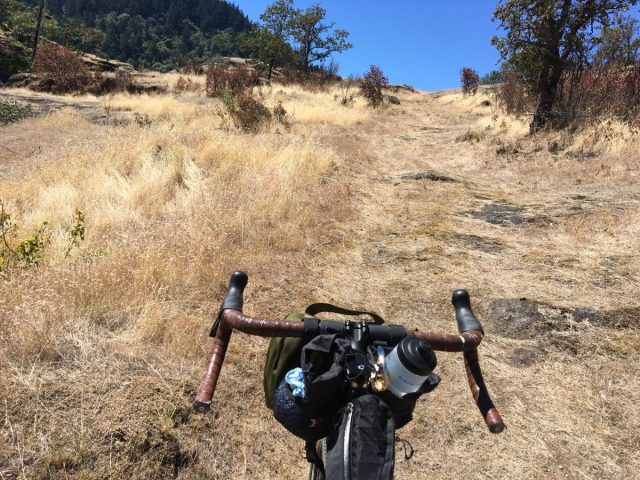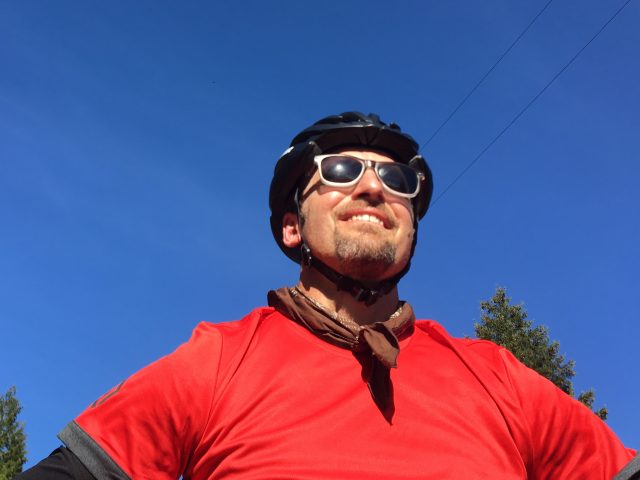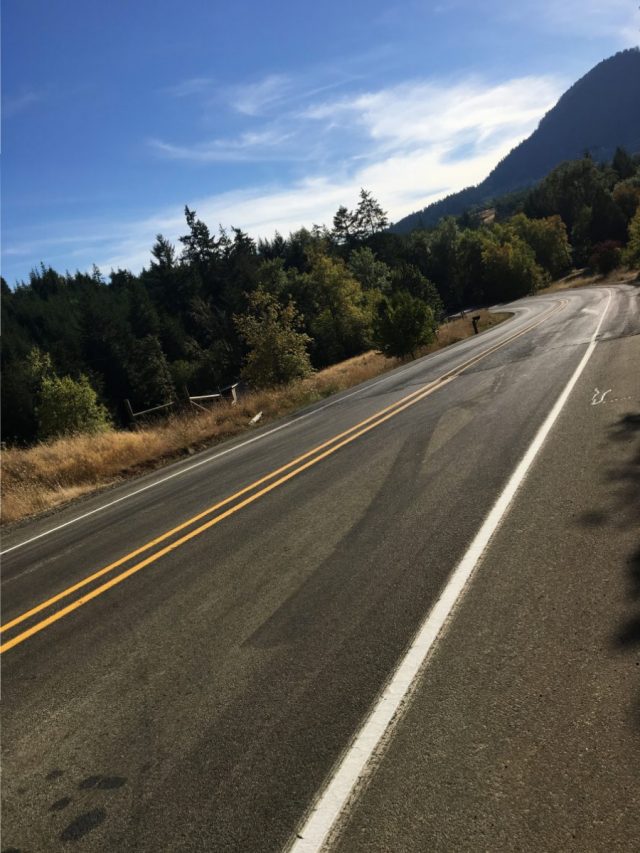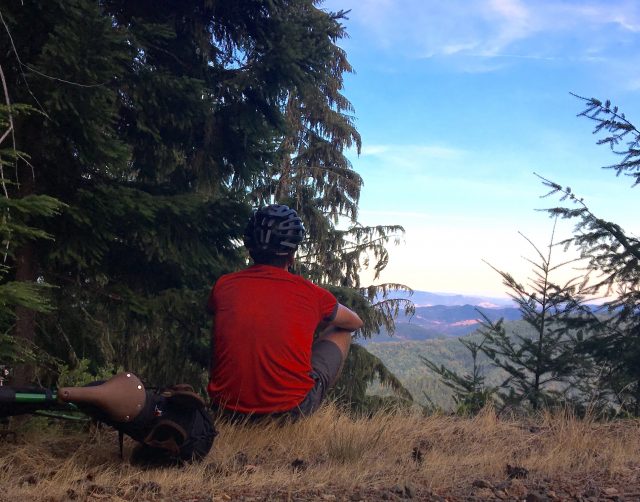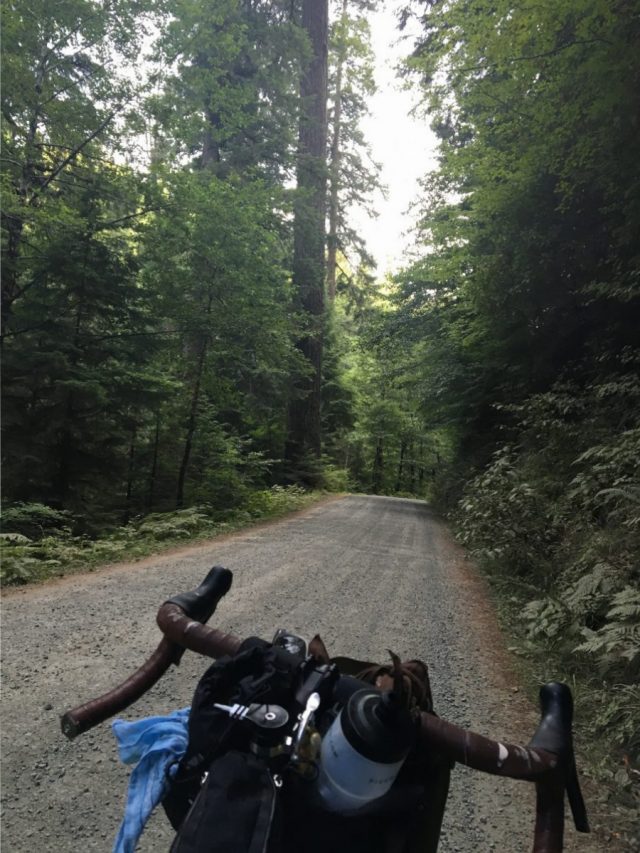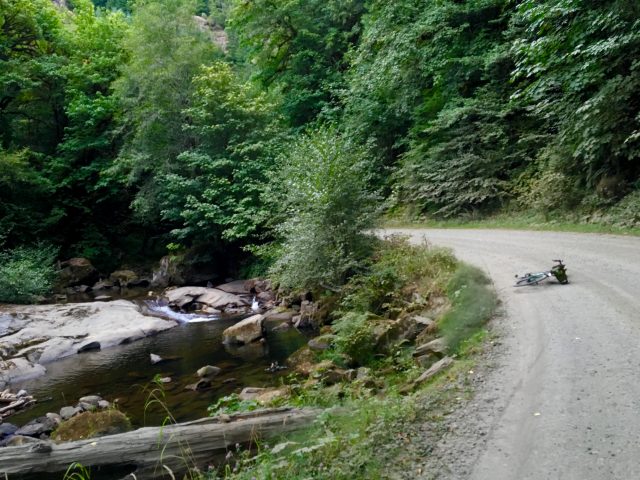 I'm in Myrtle Point now, about to explore the town (I hear they've got a great logging museum) before shoving off to Bandon on the coast.
These stories are made possible through a partnership with Cycle Oregon. If you're going on their Week Ride (registration still open), you'll get to sample a paved section of the the Coos Bay Wagon Road (please note: I'm only loosely basing my routes on the Cycle Oregon route). Also thanks to Western Bikeworks for supporting this trip with some great gear.
— Jonathan Maus, (503) 706-8804 – jonathan@bikeportland.org
Our work is supported by subscribers. Please become one today. You can also make a one-time donation here.