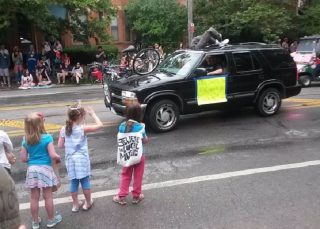 This week's Monday Roundup is brought to you by the Brompton Urban Challenge, a citywide adventure game/ride coming to Portland this Saturday July 16th. All bikes (and humans) are welcome and all proceeds benefit BikePortland!
Here are the bike-related links from around the world that caught our eyes this week:
Ready, set, Pokemon Go: Nintendo's new "augmented reality" game has taken over streets worldwide. Expect many interesting headlines in the days and weeks to come.
Parade threat: An anonymous float at a Columbus parade depicted an SUV-bike crash and carried a handwritten sign saying "I'll share the road when you follow the rules."
Longevity advice: The oldest U.S. resident, Goldie Michelson, died at 113 in Massachusetts. "I never used a car if I could walk," she said. "One of the great joys of life was when I sold my car."
Walking while black: When a Jamaican immigrant moved to the U.S., his favorite activity began to require a "pantomime undertaken to avoid the choreography of criminality."
Traffic violence: People killed by police during routine traffic stops ought to count as traffic fatalities, argues David Levinson.
Automatic error: A setup error in an Orange County red-light camera resulted in "hundreds" of inaccurate citations over the last year.
Gas tax polling: Young people and poor people are more likely to favor it. Eighty-four percent of Americans 18-24 said they'd favor a 10-cent gas tax to reduce global warming.
Boise bike lanes: A county commission has rejected parking-protected bike lanes in a 3-2 vote. One commissioner called them a "recipe for disaster."
Rising fatalities: Preliminary figures show that biking deaths rose 13 percent nationally last year, the fastest-growing category. Walking deaths came second at 10 percent.
Street hockey decline: Even on Canadian streets, it's "somewhat of a dying activity."
Housing alliance: Angeleno Shane Phillips sketches out what "a pro-housing, pro-tenant platform" might look like.
"Londonize": The British capital is to public transit what Copenhagen is to biking, argues Daniel Kay Hertz: a model city that feels within reach.
Urban growth: When you look at city population growth in ways that ignore annexation, many "growing" sun belt cities don't look so hot.
"Gravel grinders": They're "the hottest, fastest growing category of bicycles," says Forbes in a guide to what to look for.
Washougal bike park: The city across the Columbia River from Troutdale is moving to develop a new multi-acre bike park.
Bus collision: Kitsap Transit in Bremerton, Wash., has spent $2.75 million to settle a lawsuit from a woman hit by a bus while biking.
Bike robbery: A man being mugged for his mountain bike in Vancouver fought back with a knife.
Exec fined: Seattle Transportation Director Scott Kubly will be fined up to $10,000 for failing to get a waiver before working with his former employers at Alta Bicycle Share to launch the Pronto system.
If you come across a noteworthy story, send it in via email, Tweet @bikeportland, or whatever else and we'll consider adding it to next Monday's roundup.
— Michael Andersen, (503) 333-7824 – michael@bikeportland.org
Our work is supported by subscribers. Please become one today.
Michael Andersen was news editor of BikePortland.org from 2013 to 2016 and still pops up occasionally.