by Jonathan Maus (Publisher/Editor) on April 24th, 2017 at 10:24 am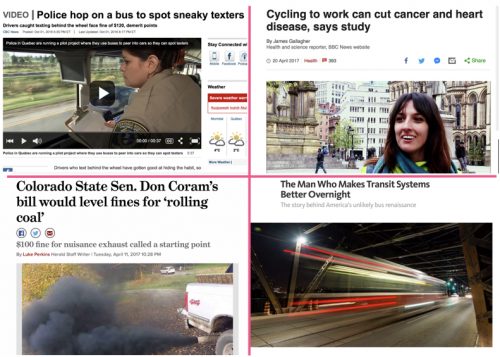 Welcome to Monday! We've got lots of fun and important stories to share this week. But lets not forget where we came from.
Here are the best bits of news and bike-related reporting we came across last week…
Elevating women and people of color: Meet Gritchelle Fallesgon, one of the founders of Friends on Bikes, in this short but sweet Q & A she did with the adventure riding enthusiasts at Our Mother the Mountain.
Highway boondoggle detection guide: This "anatomy of a highway boondoggle" should be required reading for every elected official and policymaker in America. Please stop wasting our money. Thanks.
Earth Day of remembrance: Portland economist Joe Cortright reminds us that we came from proud legacy of smart transportation decisions — and now is not the time to kneel down to the all-mighty freeway lobby.
Meanwhile in New York State: NY's Governor has announced he'll spend $112 million in federal funding on 81 projects that will make biking and walking better.
[Read more…]