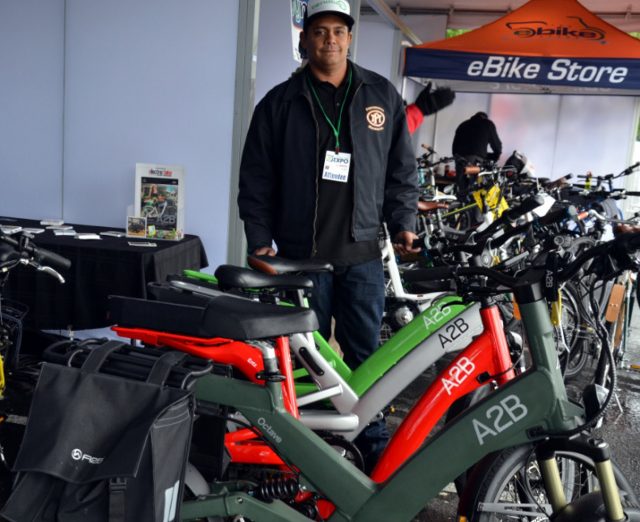 As Jonathan wrote on Friday, this weekend's Electric Bike Expo has been a milestone for Portland, a metro area that offers a rich bike-friendly culture but also has enough hills that many people are effectively shut out of it.
Enter e-bikes. And enter the expo, a free event outside the Lloyd Center movie theater that brought in vendors from around the country. As an e-bike newbie — I've written about them plenty but only ridden one before — I spent a few hours there on Saturday to see some of the products and talk to the customers and sellers. Here's a quick tour of what I found.
Trek's urban e-bikes
The first seller I spoke with Saturday was David Studner, Wisconsin-based product manager for city bikes at Trek. It's great to see pedal-assist e-bikes being treated as just one more segment of that product category. Their new Trek Conduit+, which goes for $2,999, comes with built-in automatic front and rear lights: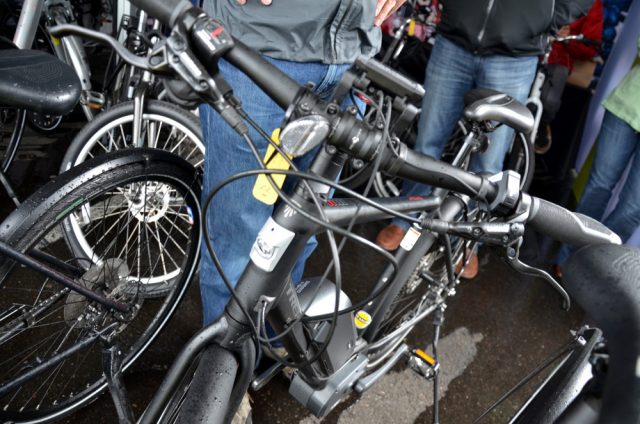 and a rear cargo rack: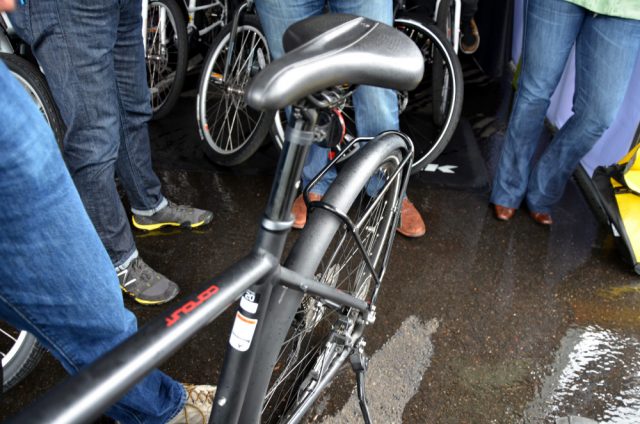 They're also offering the Lift+, which sells for $2,799 and offers an extremely upright seating.
"I don't care if you have a carbon fiber $7,000 bike — you cannot average 25 mph."
— David Studner, Trek
"It delivers on a promise that this is what a bike should feel like to someone who hasn't ridden a bike in a long time," Studner said.
Or for a bit more cash you can get the XM700+, which has a 28 mph top speed, enough to more or less keep up with car traffic on many city streets.
"I don't care if you have a carbon fiber $7,000 bike — you cannot average 25 mph," Studner said. The XM700+ retails for $3,499.
Studner doesn't personally specialize in mountain bikes, but we took a moment to talk about the state of e-bikes in mountain biking. He made the interesting argument that bikes should eventually be regulated not based on their equipment but on the behavior of their users.
"Every car in America is capable of breaking every posted speed limit," Studner said. "With the current state of mountain biking, there's nothing to say an aggressive biker can't bomb down a certain trail."
KTM: Mountain biking specialists, thinking ahead
Fans of mountain e-bikes say they have huge promise both for mountain biking (apparently they make the climb slightly easier) and for e-bike retailers. But there's that nagging fact that many states and the federal government restrict their use on off-road trails.
"People are like an e-bike weighs more. I'm like, no, what if you had a rider that was 20 pounds heavier? You could say the same thing for a fat bike. Fat bikes wear the same as an e-bike."
— Freddy Viera, KTM
Freddy Viera of KTM respectfully disagreed with Studner, saying he thinks the country is moving toward allowing Type 1 mountain bikes — no throttle but a pedal assist of up to 20 mph — on almost all mountain biking trails.
"Having a speed limit and a governor that can't be turned off is a good idea," he said. "If you don't have some sort of limit, the liability for the parks is going to be higher."
Viera, who lives in Miami, described himself ruefully as "the No. 1 hated guy right now on the mountain bike trail, because I'm an advocate" for e-bikes, he said.
"The wear and tear on the trail is dependent on the rider," Viera explained. "People are like an e-bike weighs more. I'm like, no, what if you had a rider that was 20 pounds heavier? You could say the same thing for a fat bike. Fat bikes wear the same as an e-bike."
Ultimately, Viera said, every vehicle is only as sensible as the person using it.
"If you're driving your car going too fast in the rain down a mountain, at some point you're going to be like, oh fuck, I'm going too fast," Viera said.
KTM offers three Type 1 mountain bikes, all with mid-drives (at the pedals) to improve their handling, ranging from $4,295 to $5,370.
As I wrapped up with Viera, Jonathan Crutcher (right in the photo above) got back from a test ride of KTM's hardtail.
"It'd be nice if it went a little bit faster," Crutcher said. "Other than that, it was awesome."
Price buster: A $1200 e-bike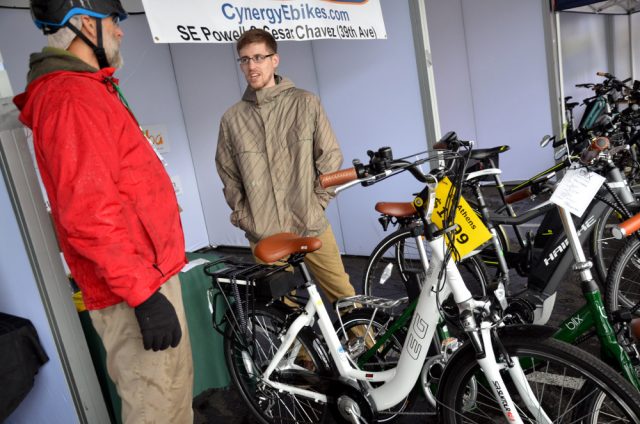 At the booth of southeast Portland shop Cynergy E-bikes, I saw the EG Athens 250, which retails for a startling $1,199.
"It's pretty uncharted territory," Cynergy's Tyler Desjardines said. "At least for an e-bike that isn't…" He trailed off.
"Shit?" I offered.
"You can say it, I can't," he said. "You talk about failure percentages, this is the best bike. They go out the door and they never come back."
I asked Desjardins what the price secret was. Basically, he said, it's the entry-level components, including rim brakes. (Desjardins mentioned that if he had his druthers, EG creator Wayne Hui would also make a version with hydraulic disc brakes.)
Desjardines said the 54-pound Athens 250 doesn't make major sacrifices on its battery, which puts out 250 watts and offers 40 miles per charge.
Sleek beauty: The Faraday Porteur
Cynergy was also showing off an e-bike that doesn't look like an e-bike: the Faraday. With its batteries slipped up the downtube (they're accessible through the bottom bracket) and basic controls beneath the seat, Faraday looks and feels simple. Its carbon belt drive keeps the service costs down.
"I call it the iPhone of e-bikes," Desjardines said.
The Porteur retails for $3,500; the cheaper S version uses a chain drive and costs $2,499. For this weekend, Cynergy had it outfitted with a bamboo-trimmed front rack ($225) and a leather U-lock holster ($85).
Local pioneer: The eBike Store innovates on service
Portland now has a jaw-dropping seven e-bike specialty stores. At least, that's the count from the guy who started the first one.
"About a third of our customers are getting out of their car."
— Wake Gregg, eBike Store
Wake Gregg, who founded north Portland's eBike Store after a 2008 trip to China, said competition has brought pluses and minuses but on balance it's forced him to keep coming up with new ideas. His latest is a new roadside assistance program and rapid-service guarantee.
"About a third of our customers are getting out of their car," Gregg said. When an e-bike is your primary vehicle, Gregg said, you need to be ready when something goes wrong with it. So, to accompany this weekend's show, Gregg rolled out what he said is Portland's first service maintenance plan for e-bikes. For $195 per year, he'll be offering:
• 24/7 roadside assistance from the Better World Club, including up to two rides of up to 30 miles
• up to 10 flat repairs per year
• unlimited immediate brake, shifting or seat adjustments
• a free tune-up
For another $90 per year you can upgrade that tune-up to an overhaul, plus a 10 percent discount and a free loaner bike for scheduled services and emergencies.
Among other one-less-minivan type products, Gregg showed off the Juiced Rider (pictured above), a longtail with a throttle and 330 ounds of cargo capacity (not counting the rider) that gets 60 miles of median range assuming three hours at 20 mph. It retails for $2,000.
A2B's motorcycle-inspired lineup
A2B is a distinctive brand that originated in the United Kingdom but has also put down stateside roots.
"It was one of the first purpose-built e-bikes in the U.S.," said Keola Munos, the western U.S. sales manager.
"These actually took a close resemblance to World War II motorcycles," Munos said. "That's how a lot of my customers relate to it — it's just a little motorcycle."
Though as long as the top stays below 28 mph, Munos noted, they don't require a driver's license.
The oldest, sturdiest A2B model is the Octave, named for an aviation pioneer who worked with the Wright Brothers. It weighs 90 pounds and offers dual battery capacity (it comes with one). Each battery has a 15-20 mile range and retails for $3,500 to $3,800. Their newest version, not yet widely available, is the $5,000 Entz, which offers an option between automatic or manual shifting.
But the A2B's leading model in the U.S. is its folding Kuo electric bike, which goes for $1,700 and offers an 18-20 mile range at up to 18 mph speeds. Munos said it's about 60 percent of his business, thanks to popularity among people who combine it with RVs, airplanes and boating.
Opening politicians' eyes
There wasn't enough time to get to every vendor, sadly. But as I was wrapping up my round and getting ready for a few test rides of my own, Rich Fein, the owner of Cynergy E-Bikes and a co-organizer of the expo, flagged me down.
Fein wanted to make sure we didn't neglect another benefit of the show: a visit that Milwaukie Mayor Mark Gamba had arranged so various regional elected officials could try using e-bikes — and realize that as they spread, they have the potential to open biking as a regular transportation option for many more people.
"I took them on a ride up Alameda Ridge," Fein said. "They got really giddy. They really got it. … Nobody understands these bikes until they're on them."
Fun on the test-ride track
I expect to be in the market for a longtail e-bike in a few years myself, so before things wrapped up Saturday, I wanted to try getting some time in a few saddles — but first I got a few shots of other folks shopping or enjoying themselves on the temporary circular track that had been set up in the Lloyd Center movie theater's parking lot.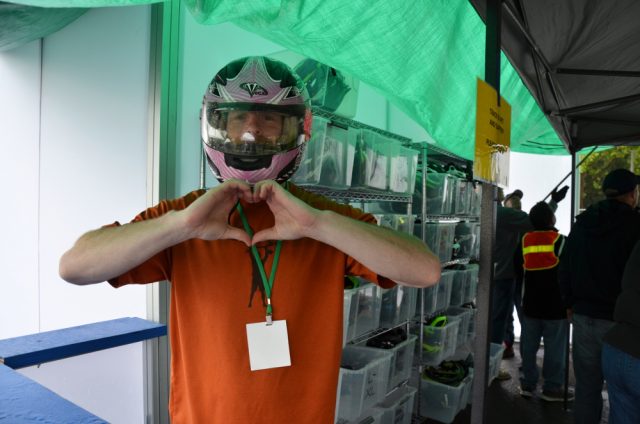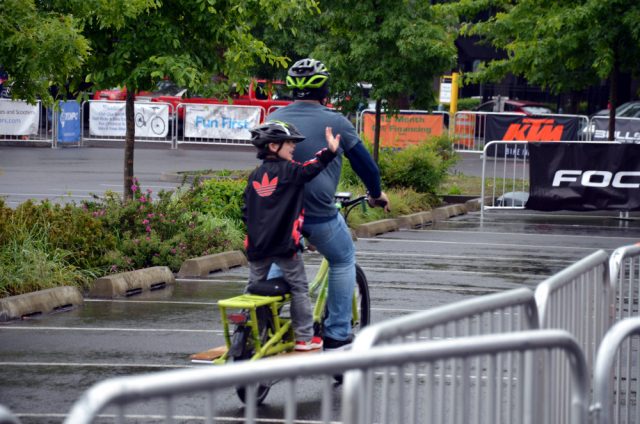 Among the great things about this event was that it was attracting people I don't see at many of the bike events I attend: more women, more older folks, speakers of more languages (I think I overheard four) and more variety in people's colors and cultures. I don't know what the reason might be. But organized bike advocacy can sometimes feel like a small tent. If e-bikes can help us build a bigger one over the years to come, that'll be exciting.
CORRECTION: This story was originally published with the price of the Faraday Porteur S as $2,700. The price is $2,499. Sorry for any confusion.
— Michael Andersen, (503) 333-7824 – michael@bikeportland.org
Our work is supported by subscribers. Please become one today.