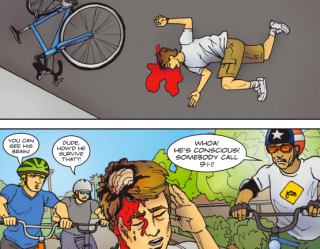 This message brought to you by the City of Phoenix.
Here are the bike-related links from around the world that caught our eyes this week:
Dangerous activity: Phoenix decided to promote safe bicycling with a series of "graphic novels." In the first, a dog runs in front of a young man biking without a helmet; he flips 180 degrees upside down and smashes his head on the ground, making his brain visible.
Healthy activity: Every hour a Dutch person spends cycling adds one hour to their life expectancy.
Walking safety: Louisville decided to promote safe walking with a program that issues fake jawalking tickets to schoolchildren.
Good goal: Louisville is the latest city to set a goal of reducing miles driven.
Bad goal: Days after officials bragged to Politico that a new federal transportation rule would be "groundbreaking," the Obama administration proposed a new rule that continues to define transportation success as how fast cars are physically moving rather than how long it takes people to get places. (Transportation for America also has a scathing summary.)
DIY literature: Portland-based bike-book publisher Microcosm is primarily female, primarily ages 20-30, primarily low-income and primarily of color, Joe Biel tells Bicycle Times in a profile, because that's who turned out to be interested.
Self-driving transit: Elon Musk says Tesla Motors is developing an autonomous vehicle for central cities that is "not exactly a bus."
Philly bike share: The system in the bike-friendliest city on the eastern seaboard is up to 8,300 memberships and is getting 300 more bikes for its first birthday.
Brazil tragedy: A coastal bike path in Rio de Janeiro, built in preparation for this summer's Olympic Games was broken by a wave and collapsed, killing two people.
Fatality sentencing: A new Washington law is extending the sentencing range for vehicular homicide. The Columbian talks to the families of traffic violence victims.
Solar access: Because urban living is so energy-efficient, San Francisco's new law preserving solar access will probably increase carbon emissions by letting fewer people live there.
Yimby politics: The NYT profiles Soja Trauss of SFBARF, the city's build-everything-right-now advocacy group.
Transit stats: A rich new web tool offers detailed statistics on transit quality for any geographic location.
Transit parking: Seattle's proposed transit levy includes $661 million worth of new car parking, 9,700 new stalls at $80,000 per space.
Displaced by wealth: "Portland is quickly becoming accessible only to the wealthiest iconoclasts," warns Colorlines in a harrowing look at racial displacement in Portland.
Bike restrictions: What happens when your state mandates helmets and IDs for anyone on a bike? Australians share their observations.
Peaceable kingdom: This thread of tips from natives for bicycling in Copenhagen doesn't mention cars at all.
If you come across a noteworthy bicycle story, send it in via email, Tweet @bikeportland, or whatever else and we'll consider adding it to next Monday's roundup.