What better way to embrace this warm and sunny start to spring than to pedal your bike over 14,000 feet in elevation over 100 miles. Right? If the thought of that makes you smile not cringe than you should make plans to ride the De Ronde and La Doyenne rides coming up later this month.

These two rides are loosely organized and unsanctioned but they've both gained a huge following. It's a big accomplishment to finish either one of them. Do them back-to-back and you earn serious street cred.
The De Ronde was first held in 2008. It follows a relentless roller-coaster route (see below) of Portland's nearby West Hills and tackles nearly every major climb (and many minor ones) between NW Saltzman Road and Council Crest Park. It's named after the Tour of Flanders, a famous one-day race in Belgium. In 2013 a fan of the De Ronde, Andrew Springer, created the La Doyenne (nickname of another Belgian spring classic, the Liège-Bastogne-Liège) ride on the steep hills around his home in the Happy Valley/Mt. Scott area of southeast Portland. Then he sadistically scheduled it on the same weekend as De Ronde and this legendary double weekend was born.
Check out the route map, elevation profile, and a cool heat map of the steepness for De Ronde:

And here's a look at the same for La Doyenne: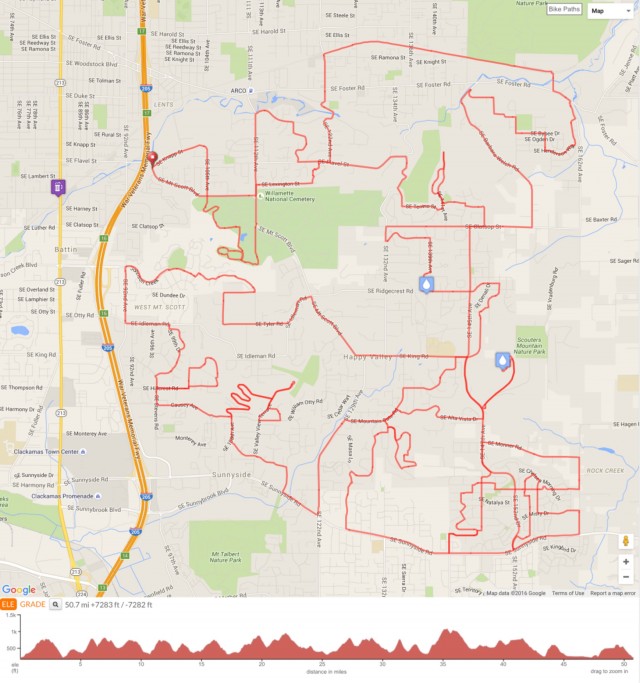 And here are a few pics to get you in the mood:
The big weekend is April 23rd and 24th. The De Ronde meets at 10:00 am in front of Pyramid Brewery in the northwest industrial area (2730 NW 31st) and La Doyenne meets at 9:30 am at Cartlandia for coffee (SE 82nd and Springwater Corridor). Good luck out there. I recommend doing these with friends because you'll need the motivation and mental support. Happy climbing!
If you're new to town and want more info, check out our story archive and also watch this great Oregon Public Broadcasting piece from 2009.

— Jonathan Maus, (503) 706-8804 – jonathan@bikeportland.org
BikePortland can't survive without subscribers. It's just $10 per month and you can sign up in a few minutes.
If you have questions or feedback about this site or my work, feel free to contact me at @jonathan_maus on Twitter, via email at maus.jonathan@gmail.com, or phone/text at 503-706-8804. Also, if you read and appreciate this site, please become a supporter.