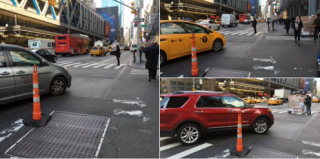 Here are the bike-related links from around the world that caught our eyes this week:
Instant curb extension: Doug Gordon of Brooklyn Spoke has discovered that a single well-placed traffic cone can create big improvements in car turns.
Escalator capacity: Much like on streets, you can increase throughput on some escalators by removing the passing lane.
Helmet logic: "Despite the fact that car accidents are the number one cause of all fatal head trauma among teenagers, the suggestion that teens wear helmets when they drive is simply brushed off," observes Howie Chong in a data-rich essay on the helmet decision.
Autocentrism summarized: "The car must not conform to the city," writes The Stranger in a refreshing summary of the "ideology" that leads people to blame distracted pedestrians for their own deaths. "The city must conform to the car."
Missing bikes: Paris drained a canal and found 100 Velib bikeshare bikes.
Activity promotion: An English ad campaign called "This Girl Can" led an estimated 2.8 million women aged 14 to 40 to do "some or more" physical activity.
Trail sabotage: A 64-year-old woman in Vancouver, BC, got three years' probation for dragging logs across mountain bike trails.
Red-light running: 94 percent of drivers say it's unacceptable but 36 percent admit they've done so in the last 30 days.
Rolling stops: As promised, San Francisco Mayor Ed Lee vetoed a de facto legalization of stop-signs-as-yield-signs.
Sharrows fail: They did nothing for Chicago streets that didn't also get traffic calming.
Indian carsharing: "When people own cars, they end up using them all the time," says Shreya Gadepalli about trends in increasingly car-filled Chennai, India. "However, with good taxi and car sharing services, people tend to live car-free lives. They start walking, cycling and using public transportation more since taxis or shared cars are always available when the need for a car arises."
Suburban main street: Vancouver's Felida neighborhood just got a new strip of sidewalk-facing two-story buildings inspired by a developer's trip to Europe.
Car rationing: Dehli's two-week test of odd/even car rationing "now seems like a two week holiday" from chronic congestion, reports the BBC.
Vision Zero: Volvo has promised zero fatalities from the cars it sells after 2020.
Civilization's price: "We are not paying taxes," writes the Danish Meik Wiking in a summary of why his country is among the world's most taxed and most happy. "We are purchasing quality of life."
Bus priority: Copenhagen is testing sidewalk LEDs to indicate the points when people boarding buses have priority over passing bikes.
2015 traffic: The hottest year in modern history will also probably be the one with the most car miles driven.
I-5 bridge: Two legislators in Clark County, Wash., are once again looking to restart conversation about replacement.
Segregation now: The more power a city gives to neighborhood groups, the more likely it is to segregate by income.
If you come across a noteworthy story, send it in via email, Tweet @bikeportland, or whatever else and we'll consider adding it to next Monday's roundup.
— Michael Andersen, (503) 333-7824 – michael@bikeportland.org
BikePortland can't survive without paid subscribers. Sign up in January and get a $20 Bike Gallery gift card.