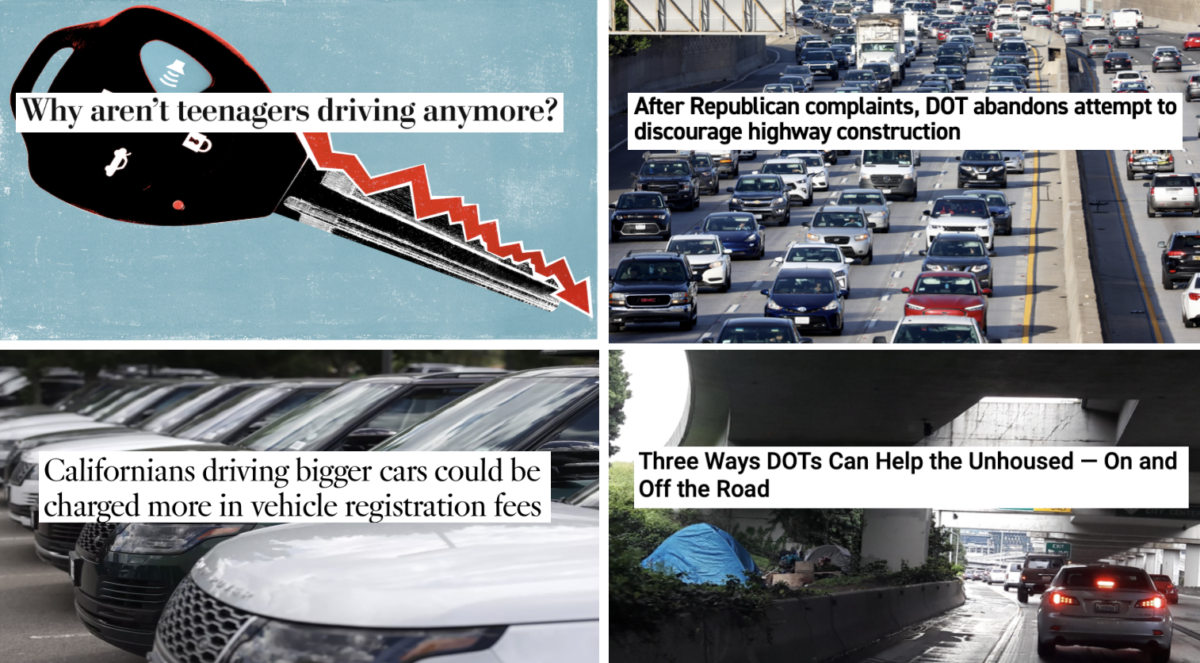 Welcome to the week. Hope you're staying warm and safe from the cold temps and ice!
Here are the most notable stories our writers and readers have come across in the past seven days…
Another look at why young people aren't driving as much: In last week's Monday Roundup, we featured a story from The Economist about why young people in North America and Europe are turning away from cars as transportation. But the media momentum for this phenomenon isn't over yet. Here's another story on the youth's war on car culture. (Washington Post)
USDOT backs off about freeway expansion: The U.S. Department of Transportation has previously been encouraging states to spend money from the Infrastructure Investments and Jobs act on fixing highways instead of expanding them. But Republican backlash has prompted to rethink this strategy. (Politico)
How state departments of transportation can help unhoused people: What role might state DOTs have in addressing homelessness? Turns out, there are some things they could do to make a difference. (Streetsblog)
Why Portland Parks is removing lampposts: The City of Portland is dealing with an impending lawsuit by someone who was injured after a lamppost at Irving Park fell when they tied a hammock to it last summer. Now, the Portland Parks Bureau is removing hundreds of lampposts from parks around the city. (Willamette Week)
Which states give the most (and least) money to transit?: New research from Transportation for America and the National Campaign for Transit Justice show how U.S. states allocate money to public transit. Most of them dedicate less than $12.50 per person to public transportation annually, but Oregon is doing slightly better. (Transportation for America)
How public transportation access impacts community college students: Apparently, nearly 50% of community colleges in the U.S. are located more than 4.5 miles away from a public transit stop, putting affordable education out of reach for people who don't drive. (Streetsblog)
Walking is good for you (who knew?): Data shows that people who live in walkable cities are healthier. Unsurprising, maybe, but just another reason to prioritize planning for active transportation. (CityLab)
The War on Cars turns 100: One of our favorite podcasts, The War on Cars, released its 100th episode last week, and it features some shoutouts to Portlanders like Jenna Phillips and local organization the Parking Reform Network. Check it out here (or wherever you listen to podcasts).
Home organization tips for bike people: Need help fitting a bike in a small space? This article has some advice for storing your bike if you don't have a lot of room. (Washington Post)
California may recognize the dangers of heavyweight cars: People who drive heavy SUVs and trucks in California might need to pay more for vehicle registration due to the increased threat these cars pose to vulnerable road users. (Los Angeles Times)
Taylor talks biking in Europe with Active Towns: BikePortland staff writer Taylor Griggs was featured on the Active Towns channel last week for an interview about her recent bike-centric trip to Europe. Check out the video or listen to the audio-only podcast. (Active Towns)
---
Thanks to everyone who shared links this week.