The new campaign logo.
After a long pause to gather its strategy and thoughts, Portland's city council is expected to launch its latest plan Wednesday to raise money for the city's streets.
The new concept, a public vote for a temporary local gas tax of 10 cents per gallon, comes endorsed by a 93-page report from the City Club of Portland and at least two mayoral candidates (Jules Bailey and Ted Wheeler) as the least bad way to slow the city's deepening pavement problem while getting some high-priority safety improvements on the ground.
And in a new development, it looks as if some resources have been found for one of such a ballot issue's biggest needs: an organized "yes" campaign.
If approved by voters on May 17, the tax would raise $16 million each of the next four years.
It's not nearly enough to stop all the city's roads from falling apart further; that'd require $50 million a year, according to the City Club. Nor is it enough to achieve the city's "Vision Zero" to eliminate preventable traffic deaths.
But the campaign's backers say it's a start, one that would give the city a burst of new revenue that could address pressing problems like damaged pavement on Southeast Foster Road and Southwest 4th Avenue; missing sidewalks on Southwest Capitol Highway; car and bike traffic that mixes haphazardly downtown; and speeding traffic near schools like Lents Elementary and David Douglas High School.
Gas taxes are always a hard sell politically. But unlike other ways of raising money, a gas tax would let the city get some revenue out of people who use Portland's streets without living here.
Because richer people tend to drive more than poorer people, backers say, a gas tax is also modestly progressive.
Finally, the gas tax proposal comes after a long and lasting drop in the actual price of gas.
In Oregon, the average gas price is down more than $1 since winter 2014. For context: It's actually fallen by 10 cents, the amount of the proposed tax, in the last 10 days.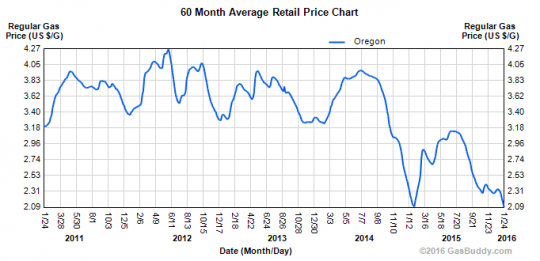 You can read the city's full description of how it would spend the gas tax on this PDF that auto-downloads from its website.
In an interview Saturday, Fix Our Streets campaign manager Aaron Brown said he thinks the campaign will appeal to a wide number of local institutions.
"I don't want to speak ahead of other organizations that wish to come out and make their own announcements about this, but I am optimistic that this is a proposal that a variety of organizations with different interests in Portland can and will get excited about," Brown said.
Brown said he couldn't yet share details about the funding of the Fix Our Streets campaign but that "we'll have a full release about where the money's coming from and that sort of stuff on Wednesday."
Brown, who also serves as the president of the board of Oregon Walks, also said that to pass, the campaign will need a lot of volunteer support.
"This is it," said Brown. "We're going to vote on it, May 2016. Everyone who has ever sat around thinking about how great it would be that they had a chance to tell elected officials how they deeply care about road safety and maintenance and show that they care about investing in their infrastructure, should save May 17, 2016, as the day they need to get their ballots in, and should prepare to help out with the campaign."
He hopes people will be able to show up to city council on Wednesday to support a council vote to refer the issue to the ballot.
"If you're interested in providing electoral support for livable streets in Portland, we need you Wednesday at 2 o'clock," Brown said.
— Michael Andersen, (503) 333-7824 – michael@bikeportland.org
BikePortland can't survive without paid subscribers. Please sign up today.