This local business profile was written by BikePortland contributor Jessie Kwak. Her last piece was about how bicycles are helping a Portland man recover from a traumatic brain injury.
When I lived in Seattle, I didn't own a rain jacket or an umbrella. The city may get a bad rap for rain, but the precipitation most often comes as a week-long drizzle, rather than the heavy rain showers I've become familiar with since moving to Portland. And with a particularly rainy winter in the forecast, you can bet I'm looking for a cycling rain jacket that can handle Portland downpours.
Enter Showers Pass.
Showers Pass has been a Portland staple for over 10 years, designing well-reputed raingear for commuters, mountain bikers, and racers from their office in Southeast Portland. They've been expanding their product line like crazy over the last few years, and I stopped by their office to talk about what they've got planned for the future.
The office looks like any other small-company space, complete with a doggie gate separating the desks (and a pair of gorgeous rescue dogs) from the reception area. The glass wall that separates out the conference room is covered by grey-and-white city map prints – but we'll get to those later.
I met with president Kyle Ranson and marketing director Stephanie Leikas-Homolya to check out the newest samples for 2016. The showstopper came out first: a pair of reflective jackets. That's what the map prints were all about: sample fabric designs. Kyle pointed out the eventual winner, a print which seamlessly interweaves the city grid of Portland, New York, Boston, Paris, and other cities all over the world, with a river that weaving through the whole thing.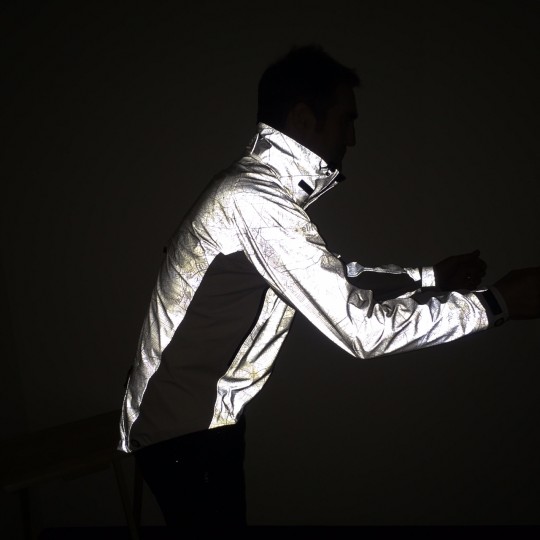 Kyle told me that it's been tricky to get the technology right. There are technologies that let you print reflective ink, but it's not reflective from all angles, which is a problem. Their solution has been to print their design over reflective material. "I've been wearing this one," Kyle said, pointing to the one with the most reflective material. "You don't see it while you're riding, but your're lit up like a torch."
The jackets will be coming out in 2016, but Showers Pass has been working on the reflective designs for almost 3 years. Along with reflectivity, they also needed to ensure breathability and waterproofness – and with such a small team, every step takes time. "People think were a lot bigger than we are," said Kyle. "Our outside persona is a lot bigger than the inside." Inside, the Showers Pass team consists of only nine people – eight here in Portland and one in Europe.
"If you buy a high-end hiking jacket, you may not use it very often. But with our stuff, an enthusiastic commuter is trashing it day in and day out."
— Kyle Ranson, president
Over half the staff has been with the company seven years or more, which Stephanie equated to being like a family. "One thing that's been fun is that a few years ago none of us had kids," said Stephanie. "Now we have four between three of us." (The newest addition is home with mom; Showers Pass offers three months of paid maternity leave.)
This growing family was the inspiration for one of their newest products, the "Little Crossover" kids' jacket, which we wrote about earlier this year. They're planning on expanding the kids' line as the opportunity arises, and Stephanie told me they've had many requests for kids' rain pants.
Whether designing reflective map fabrics or shrinking their favorite adult pieces into kid-sized garments, it's all about the puzzles at Showers Pass. "We pride ourselves on solving a particular problem for our customer," said Kyle. "Whether they're an entry-level commuter, or someone winning the Tour de France. How can we best protect them?" Their upcoming Spring Classic jacket handles one such problem. Designed with feedback from Team Katusha, the pro team they sponsor, it's designed to fit like a jersey but protect racers like a hardshell.
"Our stuff has to be bulletproof," said Kyle. "If you buy a high-end hiking jacket, you may not use it very often. But with our stuff, an and enthusiastic commuter is trashing it day in and day out." Despite how trashed their garments get, they have an incredibly low warranty rate – another perk of the small company size is that they're able to capture problems almost as soon as they come up, and design them out before the next run.
The warranty cases that do make it back to Showers Pass often come with the most intriguing stories. Kyle remembered opening one warranty package to find the zipper completely corroded. When he called the young woman who had sent it in, she asked if the corrosion, "could have anything to do with rowing across the Atlantic?" Her name was Katie Spotz, the youngest person to row solo across the Atlantic. And she did it in the Showers Pass Elite 2.1 jacket.
— Jessie Kwak – jessiekwak@gmail.com