Posted by Michael Andersen (Contributor) on October 5th, 2015 at 9:18 am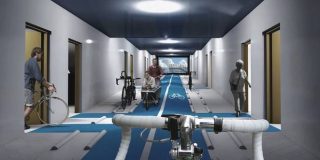 Here are the bike-related links from around the world that caught our eyes this week:
All-bike office: What would an office building look like if it were designed around the assumption that everyone biked there?
Social distance: An excellent roundup of scientific studies into how your commute affects your life includes a haunting detail: "car commuting was associated with lower levels of social participation and general trust."
Social policing: In suburban Des Moines, the Norwalk Police Department is putting patrol cops on bikes because the chief thinks it improves their connection to the community.
Vision Zero problems: Former Portlander Adonia Lugo explores her nuanced qualms about Vision Zero as a response to traffic violence, including what she sees as a blindness to the problems of police enforcement. "It's strange to me that a movement so focused on rejecting car-dominated engineering would think that the solution is more large-scale, top-down planning."
Seattle bikeshare: The city is responding to underuse of its Pronto system by spending $18 million ($5 million from the city) to expand from 500 bikes to 2,500, maybe including e-bikes.
Braking issue: If your bike has front disc brakes and wheels with quick-release levers, it might be subject to a big new recall.
SF stop: A San Francisco Chronicle columnist attempts some useful moderation in the city's debate over letting people treat stop signs as yield signs while biking, but ignores the fact that the proposed rule wouldn't prohibit crackdowns on anyone who blasts egregiously through stop signs.
Philly streets: A few days after the Papal visit gave Philadelphia a few days of a car-free downtown core, Mayor Michael Nutter is fast-tracking a proposal for regular open-streets events.
Cycling spectatordom: "You do not go to a bike race to watch riders laugh," writes the WSJ's Jason Gay in an attempt to explain his affection for watching bike races. "You go to watch them suffer."
Positive thinking: Bicycles are the embodiment of optimism and possibility in a new ad from Oppenheimer Funds.
Bike lane lawsuit: A New York software engineer is suing UPS for letting its trucks constantly disrupt his commute.
Bike-lane satire: The Late Late Show's James Corden mercilessly lampoons last week's Coronado bike lane critics, saying their complaints resemble "my new BMW's air conditioner works a little too well."
Unequal casualties: The costs of traffic violence fall overwhelmingly on the least educated, and the gap has been getting much worse, in part because auto safety features are expensive:
The hidden inequality of who dies in car crashes: http://t.co/Tjst3cEBN7 pic.twitter.com/9guJxgQxcn

— Emily Badger (@emilymbadger) October 1, 2015
Village of widows: Casulaties from India's National Highway 44 have left the tribal village of Peddakunta, which sits along the road, with only three living adult men.
Distracted driving: As Oregon officials puzzle over a 31 percent spike in traffic fatalities this year, they observed that "60 percent of fatal crashes involved a car drifting from its lane."
Protected intersection: As Salt Lake City prepares to open its first, PSU professor Jennifer Dill attempts to help describe them on public radio.
Data reporting: The News-Press of Fort Myers, Florida, shows how much a newspaper can bring to a problem like Florida's nation-leading number of bike fatalities when it wants to.
"It's kind of, like, majestic." If the kids interviewed in this new one-minute spot from Metro doesn't make you feel great about about the benefits of biking (and walking and rolling) to school and elsewhere, I don't know what video of the week ever will.
If you come across a noteworthy bicycle story, send it in via email, Tweet @bikeportland, or whatever else and we'll consider adding it to next Monday's roundup.